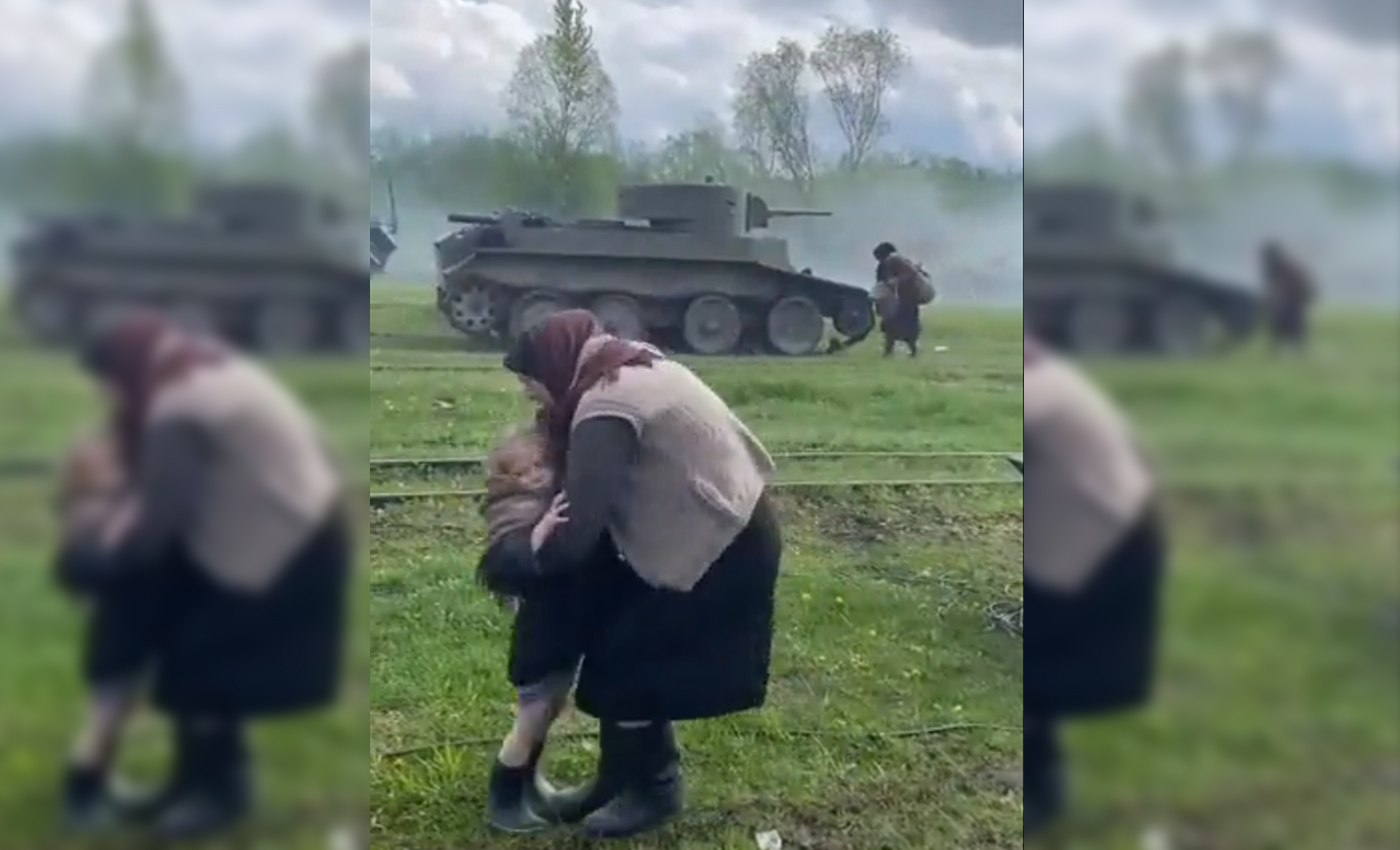 A 2016 video of a historical reconstruction of fight scenes from a 1942 event in a Russian village has been misattributed to the current war.
The Russian invasion of Ukraine has gained traction on a global scale. Many social media posts are circulating, referring to the attack in February 2022. One such Twitter post by user @DonJerr84190237 shared a video in which people can be seen running, with a battle tank in the background. Sounds of gunfire can be heard as what appears to be a corpse is thrown in the air. The post was captioned "The terrible war between Russia and Ukraine, oh my God. See how people die in the way...." However, this claim is false.
By translating the Russian text in the video, we found that it mentioned a place name, Tesovo Netylsky, and featured a hashtag: "forgotten feat" (ТЕСОВО НЕТЫЛьский #забытыйподвиг). With the help of the place name and hashtag, we found that the video was recorded during a festival that took place in Tesovo Netylsky, a village in the Novgorod region, Russia.
According to an article published by Krasnodarik, a regional news website of Krasnodar, the video was filmed in dedication to the events of spring in 1942; the death of the Second Shock Army under the command of Andrey Vlasov. The video shows models of BT-7 tanks, which were produced in the 1930 and 1940s. The clothing worn by the people in the video is also of a typical style from that period.
Visit Novgorod, a travel guide website, has also published images related to the event, stating that the international festival "Forgotten Feat: The Second Shock Army" is one of the largest independent military-historical events in the northwest region of Russia. It also includes a screenshot from the reenactment video in question.
According to a 2016 article about the same festival, by the Borin Yeltsin Presidential Library, the fourth year the festival took place specifically featured a program of events which included the historical reconstruction shown in the video, along with heavy military vehicles and artillery and an interactive exhibition of military life.