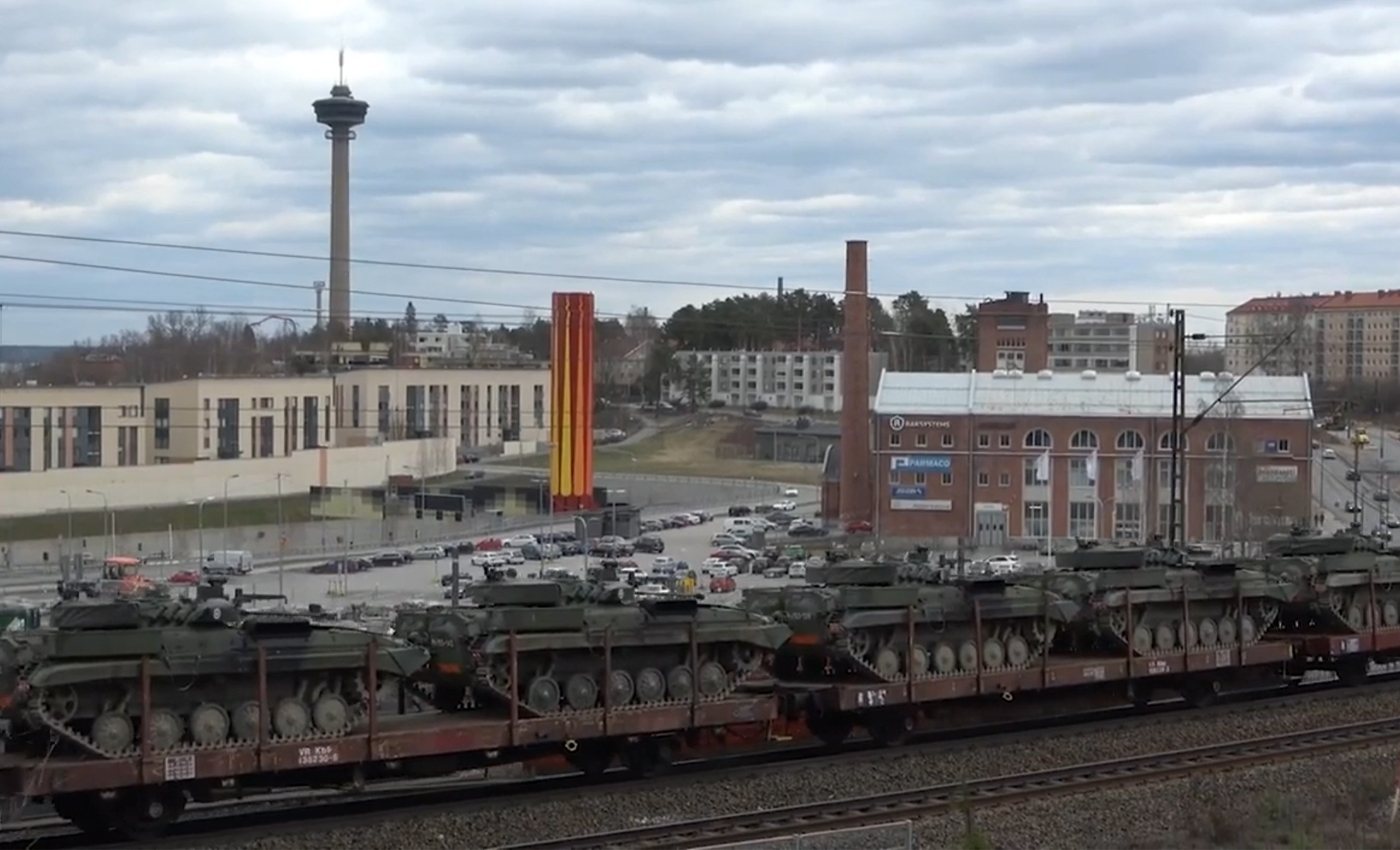 Military tanks were moved to southwestern Finland for a scheduled army exercise in early May 2022. This is unrelated to Russia's invasion of Ukraine.
Recently, countries such as Sweden and Finland have taken positive actions toward joining the North Atlantic Treaty Organization (NATO). Consequently, Finland has received backlash from Russia, leading to tensions between Moscow and Helsinki, the two countries' capitals. Reuters reported on May 14, 2022, that Russian President Vladimir Putin warned that this step could have a negative impact on Russian-Finnish relations. He said that "abandoning the traditional policy of military neutrality would be a mistake since there are no threats to Finland's security."
A video showing a moving train carrying military tanks has been circulating online, claiming that it is a Finnish train moving military equipment towards the Finnish-Russian border. There are also claims that this is happening to strengthen Finland's eastern border. However, the video has been misattributed.
By conducting a reverse image search of the video screenshots, we found the exact video on MTV Uutiset, a Finnish news site, dated May 4, 2022. The article headline reads, "Multi-hundred-meter tank hose recorded on camera in Finland - international media incorrectly reports equipment moving to the eastern border" (translated). Photographer Tim Ollikainen filmed the tanks passing through the city of Tampere, Finland.
On May 4, Finnish Defense Forces tweeted a clarification about the viral video. They explained that "the tanks were being moved to the army mechanized exercise Arrow 22," which took place in Niinisalo and Säkylä. On May 14, Finnish Defense Forces published a report about the exercise, where they explained that "Arrow 22 is to develop mechanized units' operating in a multinational environment and the capability for receiving international assistance and providing host nation support." Additionally, on May 17, Maavoimat, the Finnish Army school, tweeted images of the train and wrote, "the equipment arrives for the LIST22 exercise in Rovajärvi, here from the Armored Brigade, e.g., heavy armored vehicles."
On May 15, 2022, the Finnish President Sauli Niinistö and Prime Minister Sanna Marin announced the decision to apply for NATO membership in a joint press conference at the Presidential Palace in Helsinki, Finland. According to BBC News, Finland shares a 1,300-km (810-mile) border with Russia. Finland has not joined NATO due to bilateral relations with its eastern neighbor Russia.
The training shown in the video occurred at Niinisalo, North-West of Helsinki, and Säkylä, province of Satakunta in southwestern Finland. The Russian border is in the east, and the Finnish Defence Forces confirmed this was a regular military exercise. Therefore, there is no relation between the equipment movement and Russia's invasion of Ukraine.