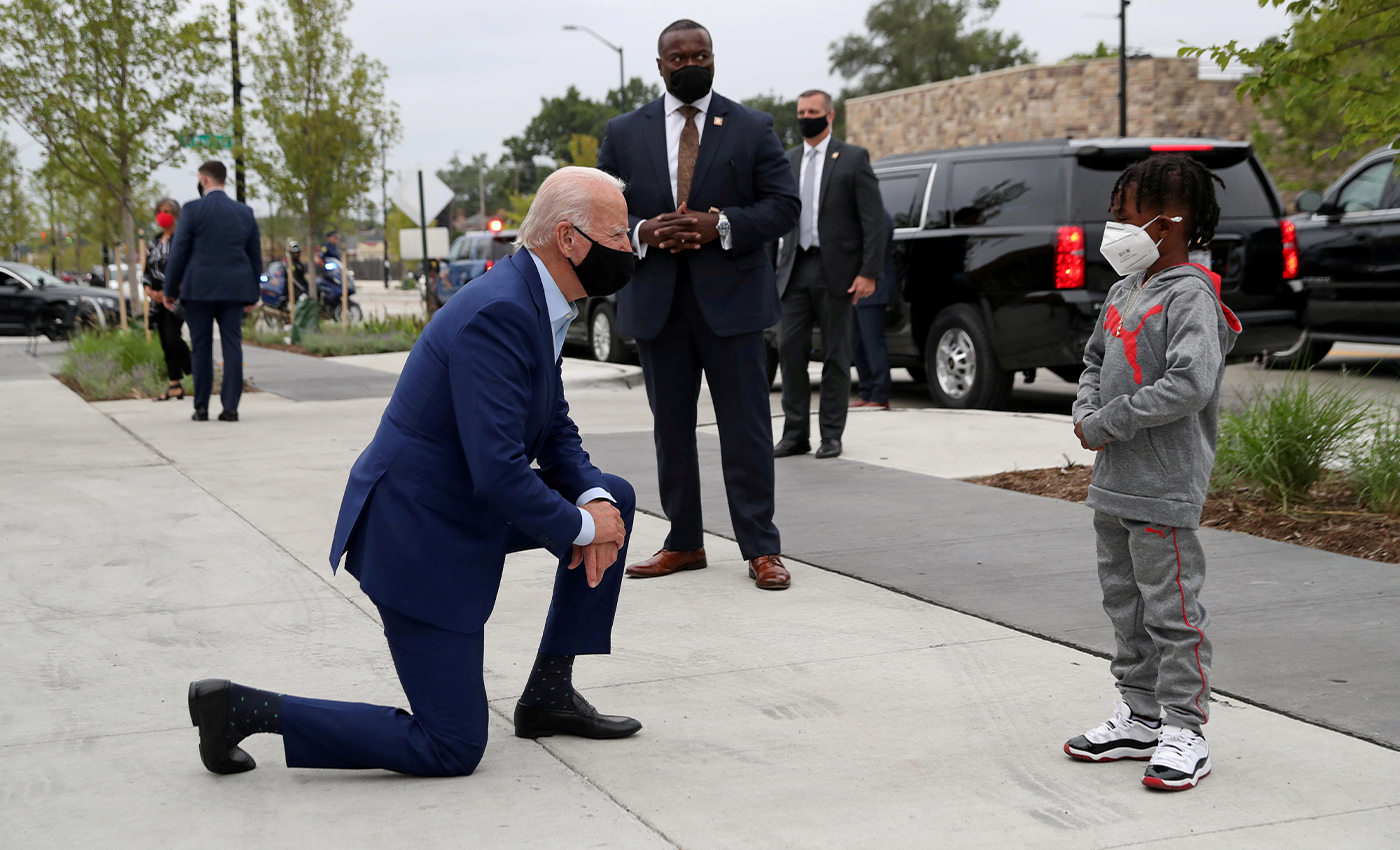 Joe Biden is seen kneeling in front of a store owner's son in Detroit and not George Floyd's daughter.
George Floyd, an African American, died after former Minneapolis police officer Derek Chauvin pinned him down by kneeling on the suspect's neck. The incident ignited violent protests across the U.S, condemning police brutality. The judicial trial of Chauvin that began on March 29 found him guilty of murder, and the sentencing is expected sooner. President Joe Biden welcomed the jury's decision and said that such decisions are a giant step forward towards justice in America.
In light of this, a viral image of Joe Biden kneeling in front of a child has surfaced on the internet, claiming that he is seen publicly apologizing to George Floyd's daughter.
However, using google's reverse image search, we found that the image was taken in September 2020 while Biden visited Detroit, Michigan. The image was captured by Reuters photojournalist, Leah Millis and posted with the caption "Democratic U.S presidential nominee and former Vice President Joe Biden speak to CJ Brown as he the makes a brief stop at "Three Thirteen" clothing store to buy a few items for his grandchildren while visiting Detroit, Michigan."
We also found the same image posted on Biden's Instagram account on September 15, 2020, and the write-up did not suggest that the child was George Floyd's daughter. Further, ABC News White House correspondent, Karen Travers, had tweeted the image identifying the kid as shop owner CJ Brown's son.
The picture was also found in a report published by Detroit Free Press which said that Joe Biden was shopping at the apparel store with the help of the owner's son C J Brown and took a knee to speak with a young boy at the store.
We mark the claim as False as the child in the image is not George Floyd's daughter.
Reference links
Instagram
Reuters
Twitter
Detroit Free Press