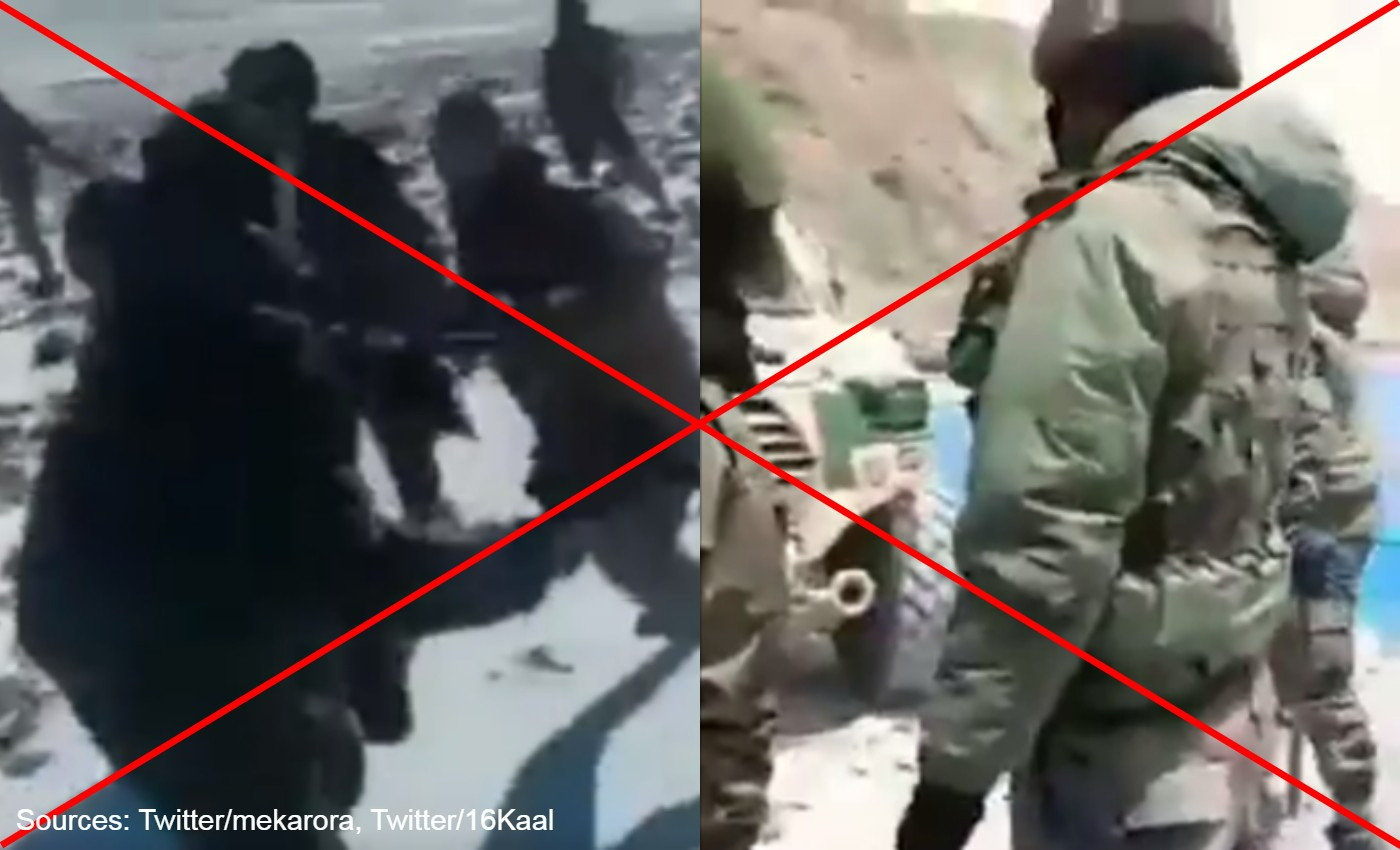 Old videos have been falsely shared, claiming to show the recent skirmish between Indian and Chinese troops in Arunachal Pradesh.
Context
Indian troops clashed with Chinese forces in Arunachal Pradesh's Tawang sector on December 9, two years after the Galwan valley stand-off in 2020. On December 13, 2022, Indian Defence Minister Rajnath Singh informed parliament that soldiers from both sides sustained minor injuries in the scuffle, with "no fatalities or serious casualties" reported in India.
Several unrelated visuals from 2020 are being shared with the narrative that they depict this incident. We discovered two such videos; in one 2-minute-long video, soldiers were seen throwing objects at an army vehicle during a brawl. The video begins with someone saying, "this is China Army," while other army personnel can be heard conversing in Hindi. The second video shows soldiers fighting in a snow-covered area.
In Fact
A reverse image search revealed that the first video, showing soldiers throwing objects, was shared by Twitter user Rigzin Dawa on May 30, 2020, with the hashtag "#IndiaChinaBorderTension". Mahaa News, a Telugu news channel, published the same video on June 17, 2020, with the caption "Indian Army Caught Chinese Military Vehicle, One Soldier At Ladakh Border." From this, we ran keyword searches, but could not find any concrete evidence to support the statement made by the news channel. However, it's evident that the video has existed on the internet since May 2020 and has no connection to the recent 2022 clash between Indian and Chinese troops.
The second video was published on NDTV's YouTube channel on June 22, 2020, with the title, "Shows High Altitude Clash Between Indian, China Soldiers In Sikkim." The description stated that the video emerged one day after the Indian and Chinese soldiers clashed in Ladakh. In a news report, NDTV clarified that it could not establish when the video was shot. On June 15, 2020, 20 Indian soldiers were killed and 76 suffered injuries in a clash with Chinese forces in the Galwan Valley, Ladakh.
The same viral video was also published on digital news organization Crux's YouTube channel on June 23, 2020. It was reported that the video surfaced as Indian and Chinese troops had a face-off at a high-altitude area in Sikkim. The description states that it is not known when the video was shot.
It is clear that both videos were not from the recent face-off in Arunachal Pradesh, but have been on the internet for around two years.
The Verdict
Two old videos are being shared with a false connection to the recent clash between the Indian and Chinese soldiers in Arunachal Pradesh. Therefore, we have marked this claim as false.