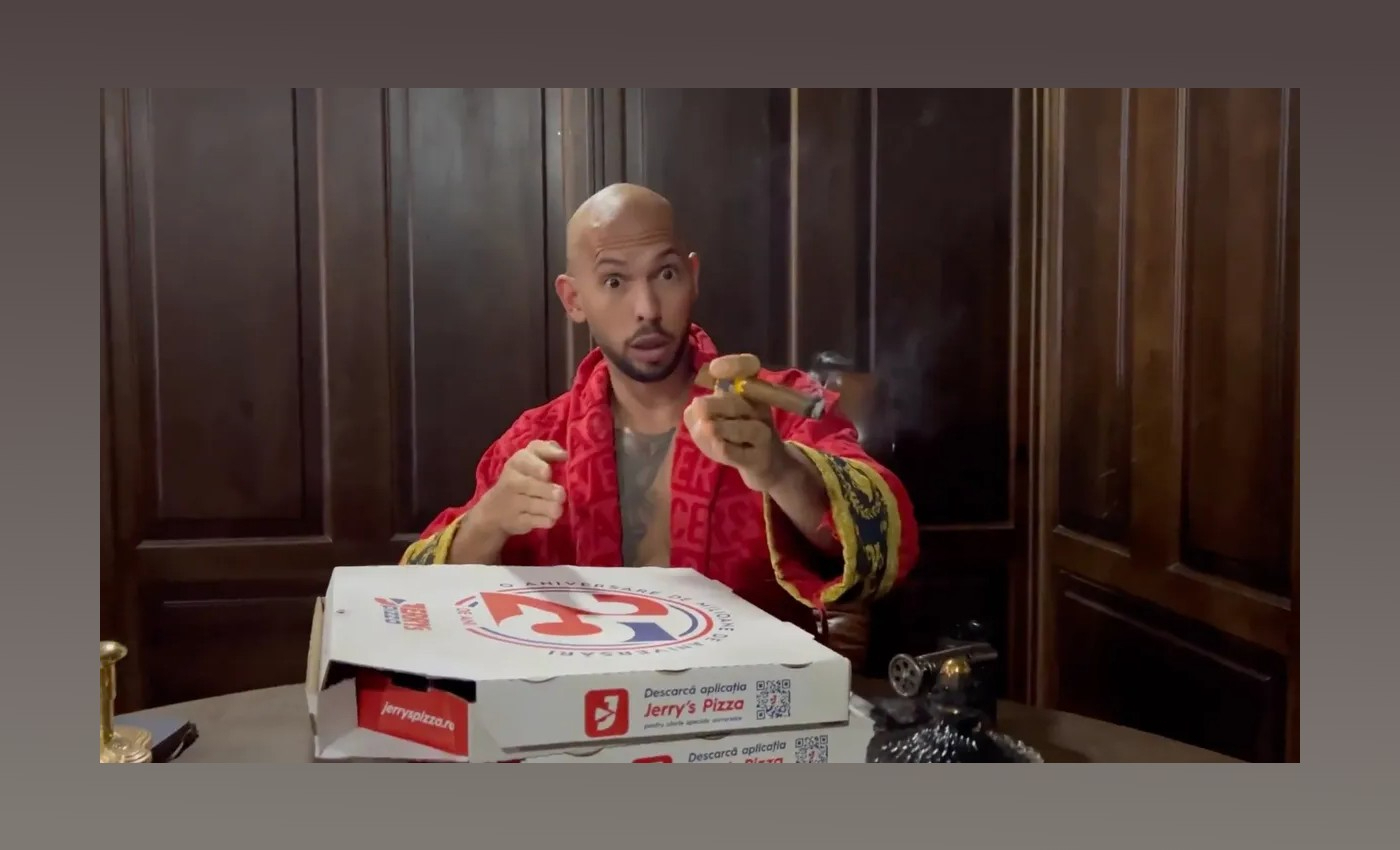 Romanian Police refuted the claim that the pizza boxes helped locate Tate who was arrested for human trafficking and rape.
Context
On December 30, 2022, Andrew Tate, a controversial social media influencer and former professional kickboxer, was arrested in Romania under charges of human trafficking, rape, and forming an organized crime group. A few days before his arrest, in an attempt to troll climate activist Greta Thunberg, Tate had tweeted a picture of himself standing next to a Bugatti and bragged that he owned 33 emission-heavy cars. His tweet led to a war of words between the two, and one of Tate's responses included a video of him receiving "Jerry's Pizza" boxes which he wanted to make sure were "non-recyclable."
As the standoff between Thunberg and Tate received a lot of attention on social media, many users and websites claimed that the pizza boxes helped the police confirm Tate's presence in Romania. On December 30, 2022, Pop Crave, a media outlet dedicated to covering pop culture, tweeted that "Andrew Tate reportedly inadvertently tipped off Romanian authorities of his presence in Romania with his response video to Greta Thunberg. The pizza boxes shown in the video are from the Romanian chain Jerry's Pizza." This tweet has garnered over 7.6 million views, 6,797 retweets, and more than 114,000 like so far. Online media outlet Pop Base and media personality Carol Vorderman also made similar claims raking in thousands of likes and retweets. Even SpaceX founder and chief executive officer of Twitter Elon Musk appeared to take a dig at Tate when he tweeted: "Sometimes it's just better to make pizza at home."
In Fact
Romanian police officials have refuted the claim that the pizza boxes seen in Tate's video were instrumental in locating him. Ramona Bolla, a spokesperson for Romanian anti-organized crime agency DIICOT (Directorate for Investigating Organized Crime and Terrorism), refuted the online speculations and called the claim "funny," AP News reported. A Reuters story on Tate's arrest also reported that the Romanian police had denied making the arrest based on the pizza boxes.
According to a BBC report, on December 29, 2022 the DIICOT issued a statement saying two British citizens and two Romanian citizens were suspected of being part of a human trafficking group. DIICOT did not specifically mention Tate in its statement. Officers had identified six people "sexually exploited" by an "organized criminal group," the statement said. The four suspects were initially detained for 24 hours but will now be held for 30 days during the investigation, Bolla told AP News.
The Guardian reported that Tate and his brother were also questioned by the Romanian police in April after their mansion in Bucharest was raided by police officials following a tip from the U.S. embassy. The two were accused of holding a 21-year-old American woman against her will. "The Tate brothers were questioned and later released, but the investigation was expanded to cover rape and human trafficking allegations," the report said.
Tate is a former professional kickboxer and is mostly known for misogynistic comments on social media platforms. The British-American has also been accused of promoting violence against women. In 2016, he was a part of the reality TV show Big Brother but was soon kicked out for hitting a woman with a belt. In August 2022, he was removed from Facebook, TikTok, and YouTube for violating their policies. In November 2022, Tate's Twitter account was reinstated.
The Verdict
Andrew Tate's video with pizza boxes did not help the police confirm his presence in Romania. Hence, we have marked this claim as false.