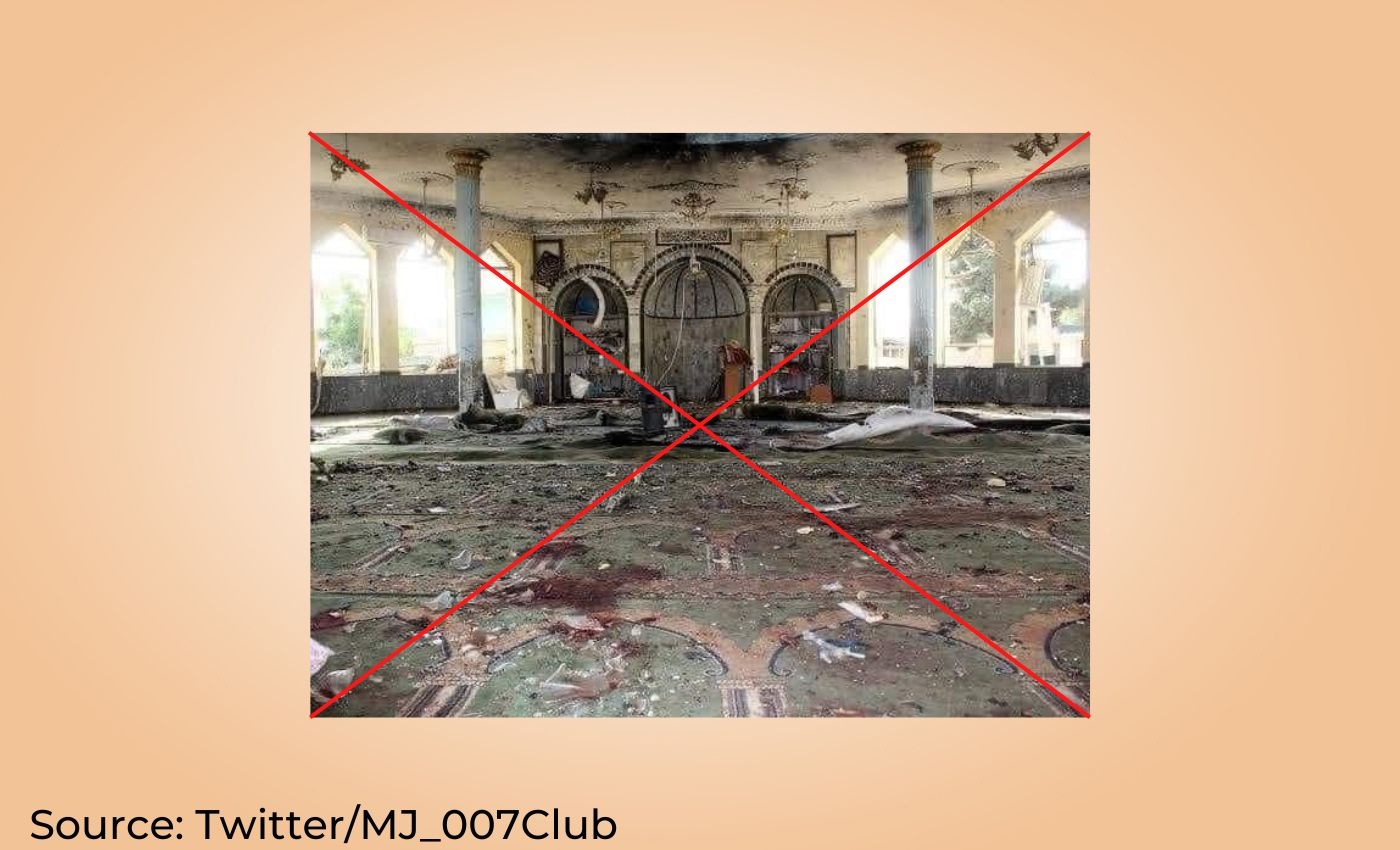 An image from a suicide bomb attack in Afghanistan in 2021 has been falsely linked to the January 30 suicide bombing in Pakistan.
Context
On January 30, 2023, a suicide bombing in northwestern Pakistan's city of Peshawar killed at least 100 people and left at least 157 injured. The blast targeted police officers and occurred during the afternoon prayers at a mosque especially built for law enforcement officers and their families. Soon after the incident, several images surfaced online claiming to show the aftermath of the attack at the mosque. One such image claims to show the scene inside the attacked mosque, with the ceiling covered in soot and blood stains on the floor carpet. Several social media users shared this photo, and captioned their posts with death tolls, and attached hashtags such as #Peshawar, Pakistan #Peshawarblast, and #Peshawarunderattack.
In Fact
A reverse image search of the viral image led us to an article by Reuters dated October 8, 2021. The report, which published the same image and a video, was headlined: "Suicide bomber kills scores in Afghan mosque attack." The attack was the third of its kind in a week that targeted a religious institution in Afghanistan. The United Nations estimated that at least 100 people died in the attack. These attacks came after the Taliban seized the country in August 2021 and carried out operations against the Islamic State. A report by Associated Press(AP) also included similar images of the mosque and reported that an Islamic State bomber blew up the mosque filled with Shiite Muslim worshippers in Kunduz city, northern Afghanistan. AP described the impact of the blast, which shattered the windows, burnt the ceiling, and left debris and metal scattered across the floor.
These reports illustrate that the image of the mosque being shared now has no connection to the attack that happened in Pakistan on January 30.
Further, BBC shared photos and videos of the mosque destroyed in the Pakistan attack, which does not resemble the one in the viral pictures. BBC added that visuals of the mosque bombed in Peshawar showed that one of the walls of the buildings had caved in, and the rest was left covered in debris.
On February 5, 2023, Pakistan experienced another blast. CNBC TV18 reported there was a massive explosion near a checkpoint in the Pakistani city of Quetta in the Balochistan province. The blast occurred at Quetta Police Lines Area, leaving five injured, mostly police officers.
The Verdict
A photo of a mosque in Afghanistan, targeted in an attack in October 2021, is being shared and linked to a recent suicide bombing in Pakistan's Peshawar. Therefore, we mark this claim false.
Reference links
Reuters
AP NEWS
CNN
BBC News