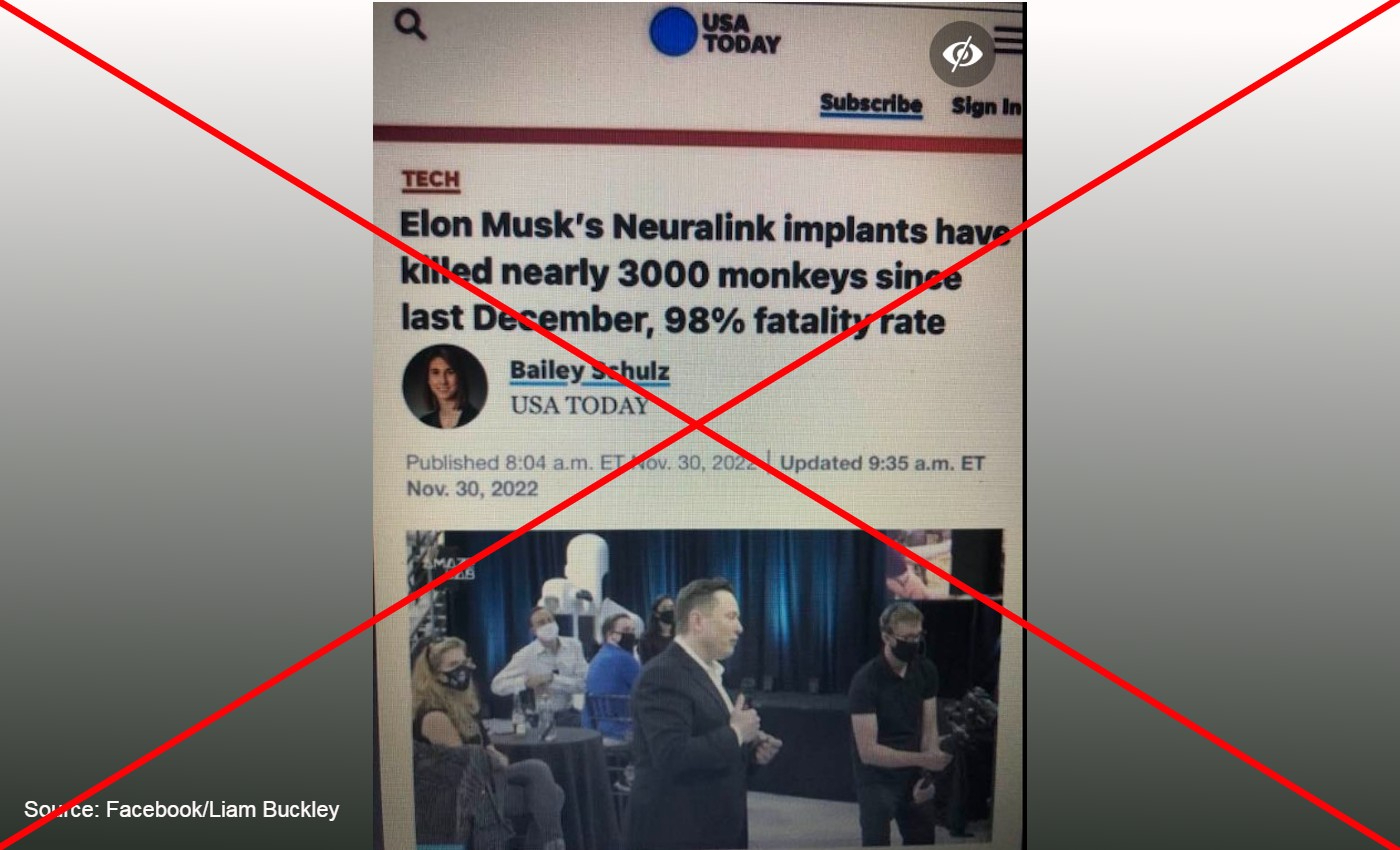 USA Today did not report that Neuralink's implants killed nearly 3,000 monkeys. The viral screenshot shared online has been fabricated.
Context
On November 30, during an event at Neuralink's Fremont, California, headquarters, the company's co-founder Elon Musk revealed that it was 'expecting' to begin human trials for its implant – that aims to allow a person to control a computer with their brain – within six months. Following this news, Facebook users shared a screenshot of an article allegedly published by the American news website USA Today, titled "Elon Musk's Neuralink implants have killed nearly 3,000 monkeys since last December, 98% fatality rate." According to the image, the article carries the byline of a reporter, Bailey Schulz, and was supposedly published on November 30, 2022. The image was also shared on Twitter and Instagram. However, the screenshot is not of an actual article published by USA Today.
In Fact
On carrying out a reverse image search of the screenshot, we found the same picture was uploaded on December 1, 2022, by writer and comedian Sophia Benoit on her Twitter account. The tweet, which carried the image and the text "no one is talking about how 60 monkeys can now make hands-free phone calls," has garnered over 100k likes and 8k retweets. However, the next day Benoit tweeted in the same thread as the viral image, clarifying that the screenshot was fake and was intended to be a joke.
We then searched the USA Today website to see if it had published any article making a similar claim. We did not find any article with the alleged headline, including by Bailey Schulz, who is a reporter with the media house. We were, however, able to find a USA Today article by Schulz from December 1, 2022, with the headline, "Elon Musk's Neuralink wants people to control computers with their minds. How close are they?"
This article reports what Musk said at the Neuralink event about expecting to begin human testing in 2023, but notes that the company has had to change its timelines in the past. It also notes that Neuralink has admitted that eight monkeys were euthanized during the research conducted during its collaboration with the University of California, Davis (UC Davis). The USA Today article does not mention any claims of 3,000 monkeys being killed or a 98% fatality rate.
The same details in this article on USA Today were also included in a previous article by Schulz on its website on November 29, ahead of the Neuralink event. The November 29 article includes a video at the start, a screengrab of which appears to have been used for the fake screenshot being shared on Facebook and social media.
According to a statement from Neuralink on February 14, 2022, eight monkeys were euthanized for various reasons during its collaboration with the California National Primate Research Center at UC Davis from 2017-2020. They argue that all animal testing procedures were approved by UC Davis' Institutional Animal Care and Use Committee (IACUC) in accordance with federal U.S. law. Two monkeys were euthanized at scheduled times to gather data, while six were euthanized for medical reasons, Neuralink said, including one because of a complication involving the surgical adhesive BioGlue.
We also found an article published by CNN on February 17, 2022, about Neuralink's statement. CNN journalist Hannah Ryan noted that Neuralink admitted that monkeys died as part of its testing procedures but denied allegations of animal cruelty. The report also explains the context behind the statement: it was released soon after a letter by the Physicians Committee for Responsible Medicine (PCRM) to the U.S. Department of Agriculture requesting an investigation into "apparent egregious violations of the Animal Welfare Act related to the treatment of monkeys used in invasive brain experiments."
The non-profit organization has alleged that the records of the 23 monkeys used in Neuralink's experiments at UC Davis reflected a "pattern of extreme suffering and staff negligence," including the use of BioGlue in procedures. The letter is based on records obtained from UC Davis as part of a public records lawsuit in connection with the Neuralink research collaboration. PCRM has also filed a second public records lawsuit against UC Davis to reveal the photographs and videos it has relating to the treatment of the monkeys. In September, PCRM claimed that UC Davis had claimed to have 185 photos relating to the monkeys which died, along with 186 other photos, which they did not intend to release for public viewing.
According to Business Insider, PCRM had claimed in their draft complaint to the U.S. Department of Agriculture that of the 23 monkeys which were part of the research for Neuralink at UC Davis, only seven survived and were transferred to Neuralink's facilities in 2020. Neuralink's statement confirms that the initial research involved cadavers and 'terminal procedures', which means that this may not contradict its claims of euthanizing eight monkeys. Either way, it would be impossible for 3,000 monkeys to have died as a result of Neuralink research as there were never these many monkeys involved in the programme.
On December 6, 2022, Reuters published an exclusive report in which it claimed that the U.S. Department of Agriculture had opened an investigation into potential violations of animal welfare regulations by Neuralink at its own facilities. Company records reviewed by Reuters and sources with knowledge of the animal testing operations reportedly revealed that about 1,500 animals have been killed following experiments by Neuralink since 2018. Around 280 of these were sheep, pigs and monkeys, while the company also conducts research using rats and mice. Reuters noted that the deaths do not in themselves mean any violation of regulations, and that regulatory filings show the company had passed all inspections of its facilities by the U.S. Department of Agriculture.
The Verdict
The viral screenshot being shared on Facebook and other social media with the claim that USA Today reported that 3,000 monkeys had been killed by Neuralink implants, is a fabrication. The alleged author of the article, Bailey Schulz, wrote no such report for USA Today. In articles by Schulz about Neuralink on November 29 and December 1, she wrote that 23 monkeys were involved in Neuralink brain implant chips tests and mentioned the eight monkey deaths that Neuralink has confirmed. The article did not claim that 3,000 monkeys were killed, and even the non-profit organization which has filed complaints regarding Neuralink's treatment of monkeys have never made this claim. Therefore, we have marked this claim as false.