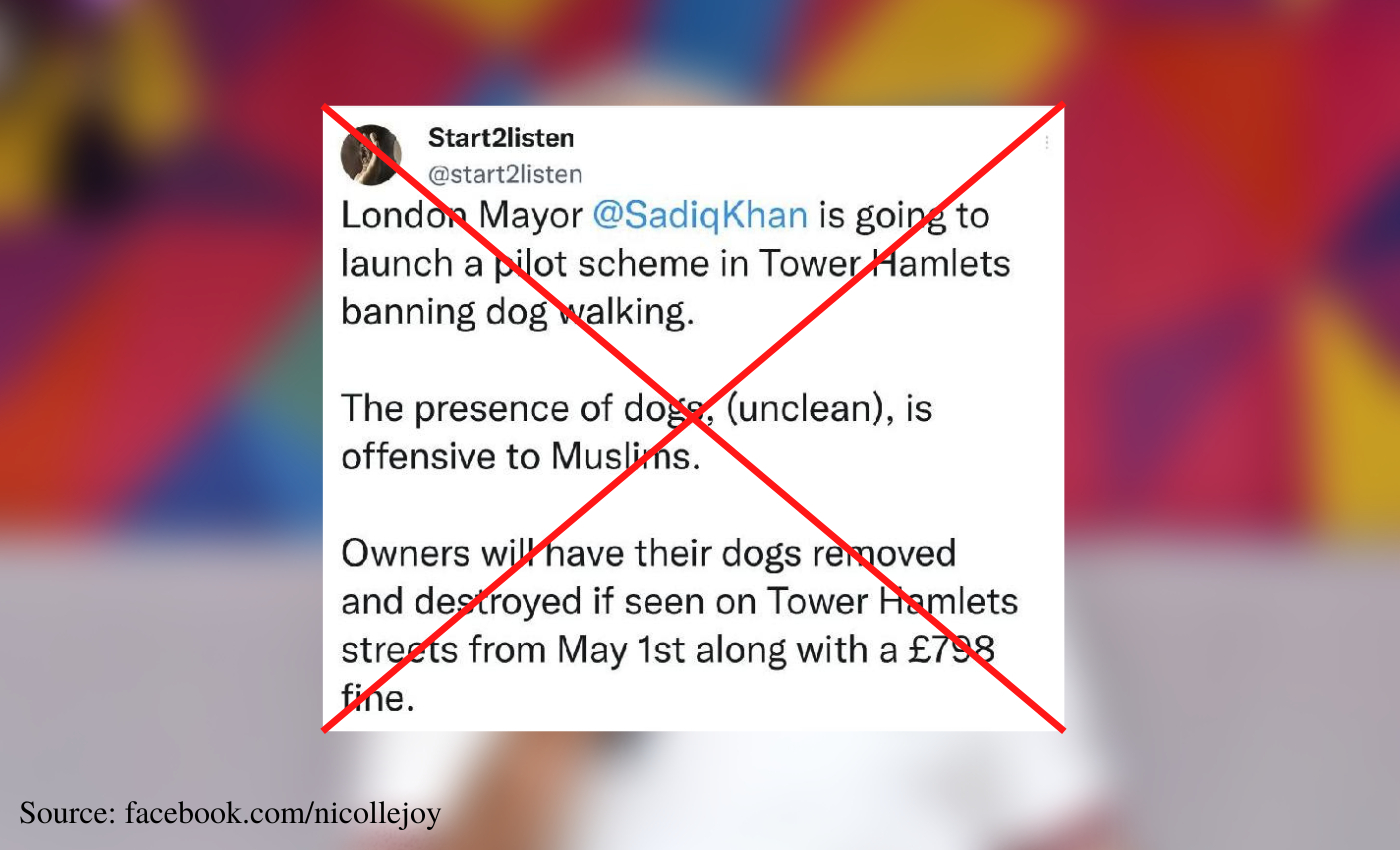 Sadiq Khan has not proposed a scheme to ban dog walking; the claim in the shared tweet is false.
Context
A screenshot of a tweet has been circulating on social media claiming that the Mayor of London, Sadiq Khan, will launch a pilot scheme to ban dog walking in the borough of Tower Hamlets. The now-deleted tweet, posted by user @Start2listen, claims that Khan is planning to ban dog walking because the presence of dogs "is offensive to Muslims." The tweet adds that from May 1, 2023, owners will have their dogs removed and destroyed if seen on Tower Hamlets' streets, and will be fined £798.
Several users shared screenshots of the tweet on Twitter and Facebook, claiming that Khan, a Muslim, proposed the scheme because dogs are offensive to his religion. However, this is false.
In Fact
Neither the Mayor's office nor Sadiq Khan has made any announcement banning dog walking in Tower Hamlets. We also found no news reports on the issue. Further, regarding the claim that dogs are offensive to Muslims, the Mayor is a dog owner and has been seen walking his dog Luna, a labrador he adopted in 2017, on the streets of London multiple times.
Logically also contacted the Mayor's Press Office for comment on the claim. Isabella Wilson, a Senior Press Officer with the Mayor of London's Press Office, responded, "This is completely false, and we have reported it on Twitter."
The Verdict
The Mayor of London has not proposed a plan to ban dog walking in Tower Hamlets. A lack of reports about such a move, coupled with a denial from the Mayor's office, demonstrates this. Therefore, we have marked this claim as false.
Reference links
Sadiq Khan
Alamy Editorial