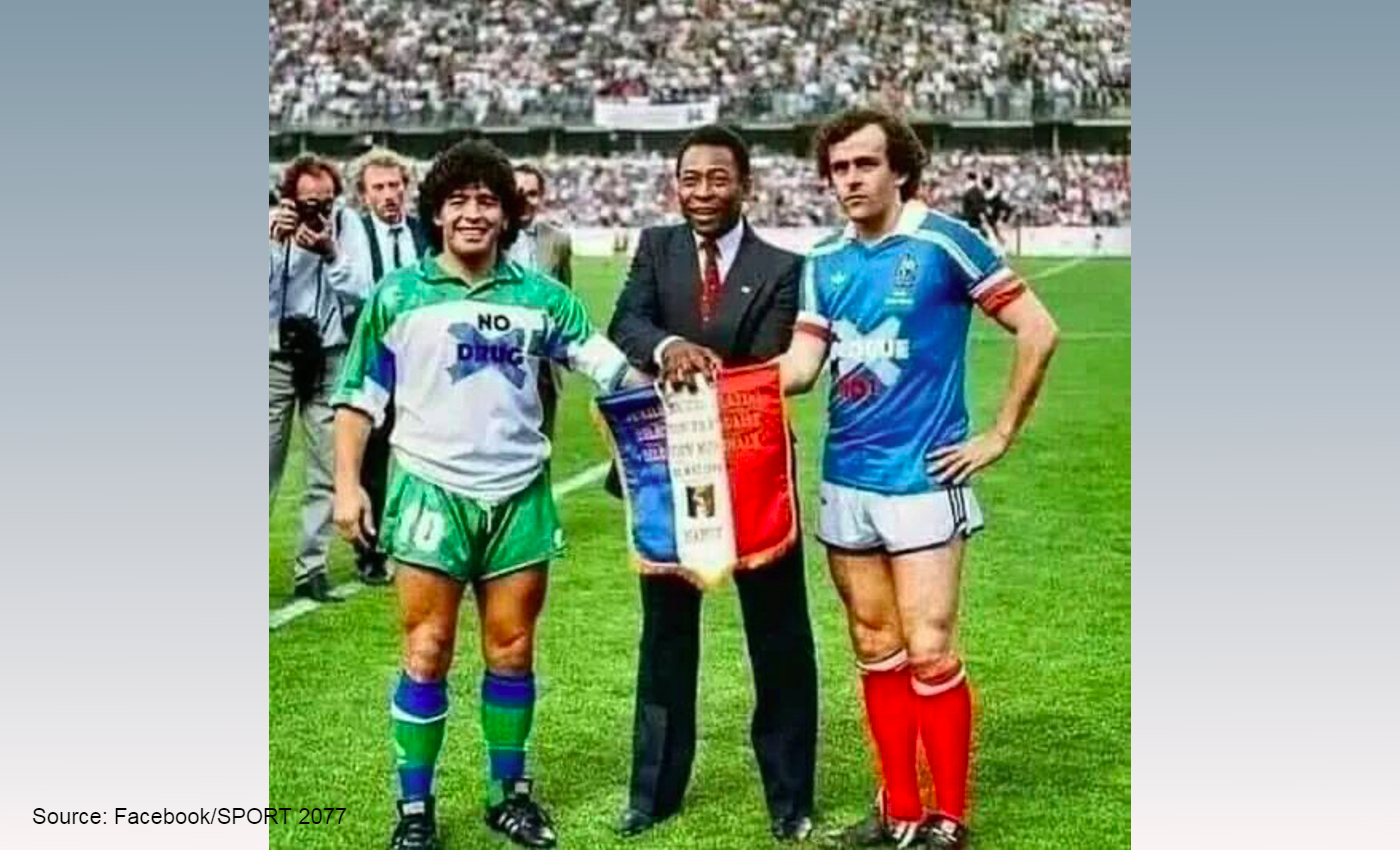 Diego Maradona and Michel Platini were both wearing jerseys with anti-drug messages in a 1988 match. The post falsely claims it was in 1986.
Context
An old photo of football legends Diego Maradona and Michel Platini, along with Brazilian footballer Pele has gone viral on Facebook, claiming that the image from 1986 shows Maradona wearing a shirt with an anti-drugs message while Platini is wearing a jersey condemning corruption. The claim posted by a Facebook page named SPORT 2077 on January 15, 2023, further states that Maradona overdosed and Platini was arrested for corruption years later, implying that the turn of events is ironic. The post has garnered 26k likes and 4k shares.
In Fact
A reverse image search of the viral photo led us to the website of AP images, according to which the image was taken on May 23, 1988, at Nancy Stadium, Eastern France, by AP photographer Lionel Cironneau. The AP website further mentioned that the photo was taken on a 'Platini Jubilee' match between select international football stars and France's best players, celebrating one year of Platini's retirement.
Consequently, we found the website of AS Nancy Lorraine, a French football club where Platini began his professional career. An article in French from July 18, 2019, headlined, "Were you at the Platini jubilee?" on the website carried similar photos from the 1988 occasion. They clearly show Platini wearing a jersey that says "Drogue No!". 'Drogue' is the French word for 'drug,' it is clear that Platini was wearing a jersey with an anti-drug message like Maradona, and there was no corruption-related message on his shirt.
Sports Illustrated also published the viral image as part of an article on Pele on October 23, 2016. According to the article, Pele was promoting an anti-drug campaign just before the match with Maradona and Platini.
Platini has multiple allegations of corruption against him, including the illegal siphoning of FIFA funds that came to light in 2015. A FIFA disciplinary committee found him guilty of ethical violations and banned him from the game for six years after a reduced suspension. However, after a seven-year investigation, he was recently acquitted in the FIFA funds case by a Swiss Court in 2022. In 2019, Platini was detained in a case involving a criminal investigation into alleged corruption in FIFA's decision to organize the 2022 World Cup in Qatar. His name also appeared in the Panama Papers in 2016, but he denied any wrongdoing.
Maradona famously struggled with drug and alcohol addiction. He had to end his international career after a failed drug test in 1994. In 2000, he almost died of a cocaine overdose-induced heart failure.
The Verdict
Maradona and Platini were wearing jerseys with anti-drug messages, and there was no usage of corruption-related messages in the particular match held in 1988 at Nancy stadium, Eastern France. The claim that in 1986, Maradona wore a shirt with an anti-drugs message while Platini wore a jersey condemning corruption is only partly true.