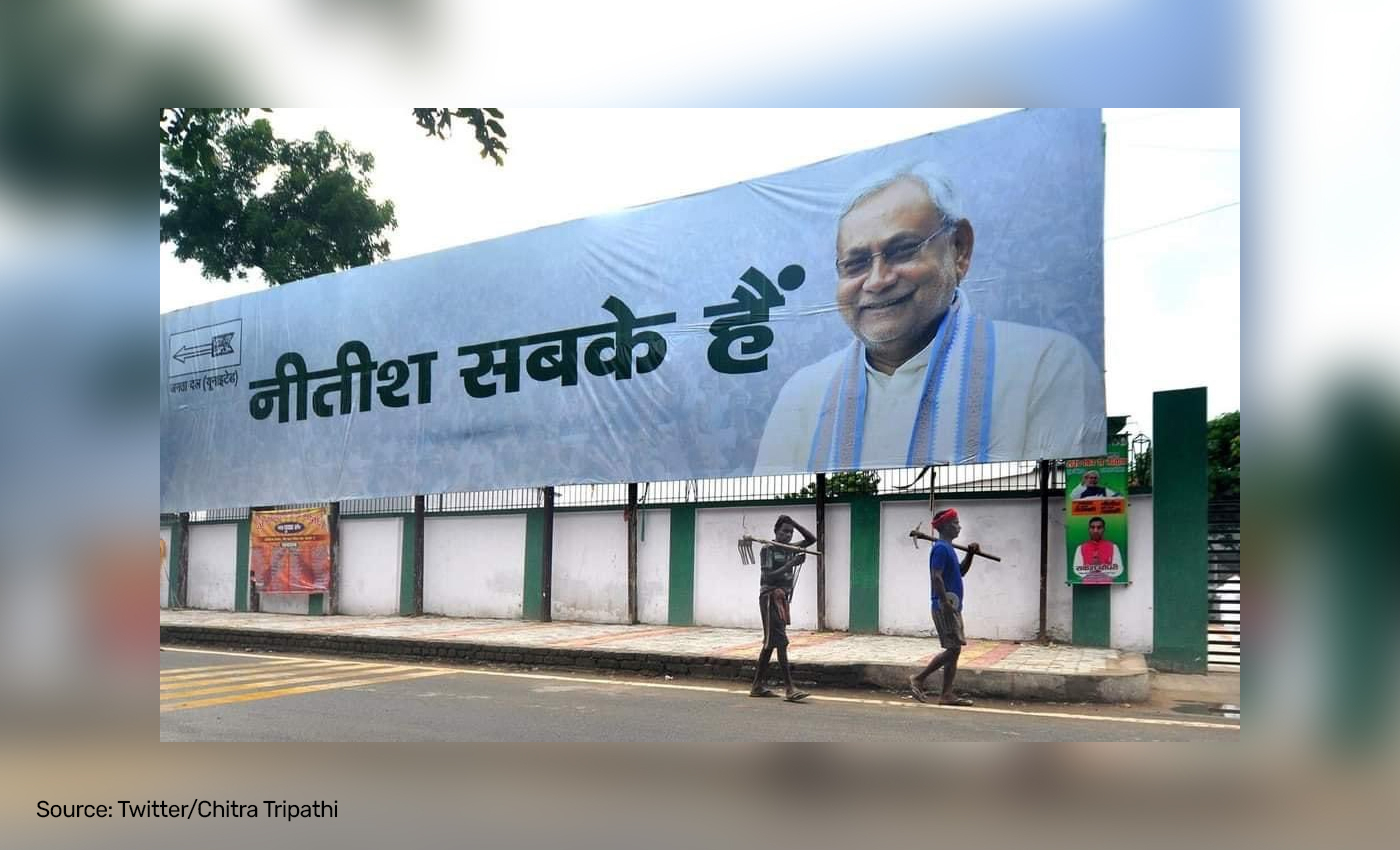 A poster from 2020 was shared as a recent one after Nitish Kumar resigned as the Chief Minister and joined hands with RJD and left alliance with BJP.
Context:
On August 9, 2022 Bihar Chief Minister Nitish Kumar ended his party JDU's (Janata Dal (United)) alliance with Bharatiya Janata Party (BJP) and resigned as CM to form the government with Rashtriya Janata Dal (RJD) the following day. Various false claims have resurfaced on social media following these political developments. A photograph of a poster with Nitish Kumar's image with a text in Hindi that read "Nitish Sabke Hai" (Nitish belongs to everyone) has gone viral on social media. Several news organizations like ABP News, Republic Bharat, NDTV, and news agency ANI also shared the image claiming that the poster had recently been put up outside Patna's JD(U) office.
In fact:
Logically found that the image was published originally by BBC Marathi on November 10, 2020. The picture was clicked by photojournalist Sharad Badhe. The report mentioned that such posters of Nitish Kumar were put up amid the Assembly elections in Bihar in 2020. Nitish Kumar was declared the chief ministerial candidate for the state on behalf of the then JD(U)-BJP alliance. A similar image was published in a LiveHindustan.com article in October 2020.
Upon further investigation, we found a corresponding YouTube video uploaded by ABP Bihar on October 2, 2020. In the ground report, the reporter states that the poster was placed outside the JD(U) office. Even Aaj Tak anchor Chitra Tripathi tweeted the same image on October 6, 2020. Another similarity in the photo from 2020 with the viral one is two men walking in front of the poster. Apart from this, the wrinkles in both posters are similar, which proves the viral image it is at least two years old.
Nitish Kumar had ended his alliance with RJD in 2017 after Bihar's former chief minister, Lalu Prasad Yadav's son, was allegedly involved in a money laundering case. However, in 2022, he re-allied with the RJD again after walking out of the alliance with BJP as the saffron party replaced Sushil Kumar Modi and Nand Kishore Yadav as ministers and selected Tarkishore Prasad and Renu Devi elected as Nitish's deputies. According to The Wire, Nitish Kumar did not agree with the BJP's selection of Vijay Kumar Sinha as speaker as well.
After being elected leader of the RJD-JD(U)-Congress-Left parties Mahagathbandhan (Grand Alliance), Nitish Kumar took an oath as Chief Minister again at the Raj Bhavan on August 10, 2022, and Tejashwi Yadav was sworn in as the Deputy Chief Minister. Notably, it is the eighth time Nitish Kumar has been sworn in as Chief Minister of Bihar.
The verdict:
The posters featuring Nitish Kumar were at least two years old and were put up during the 2020 Bihar Assembly elections. Hence, we have marked this claim false.