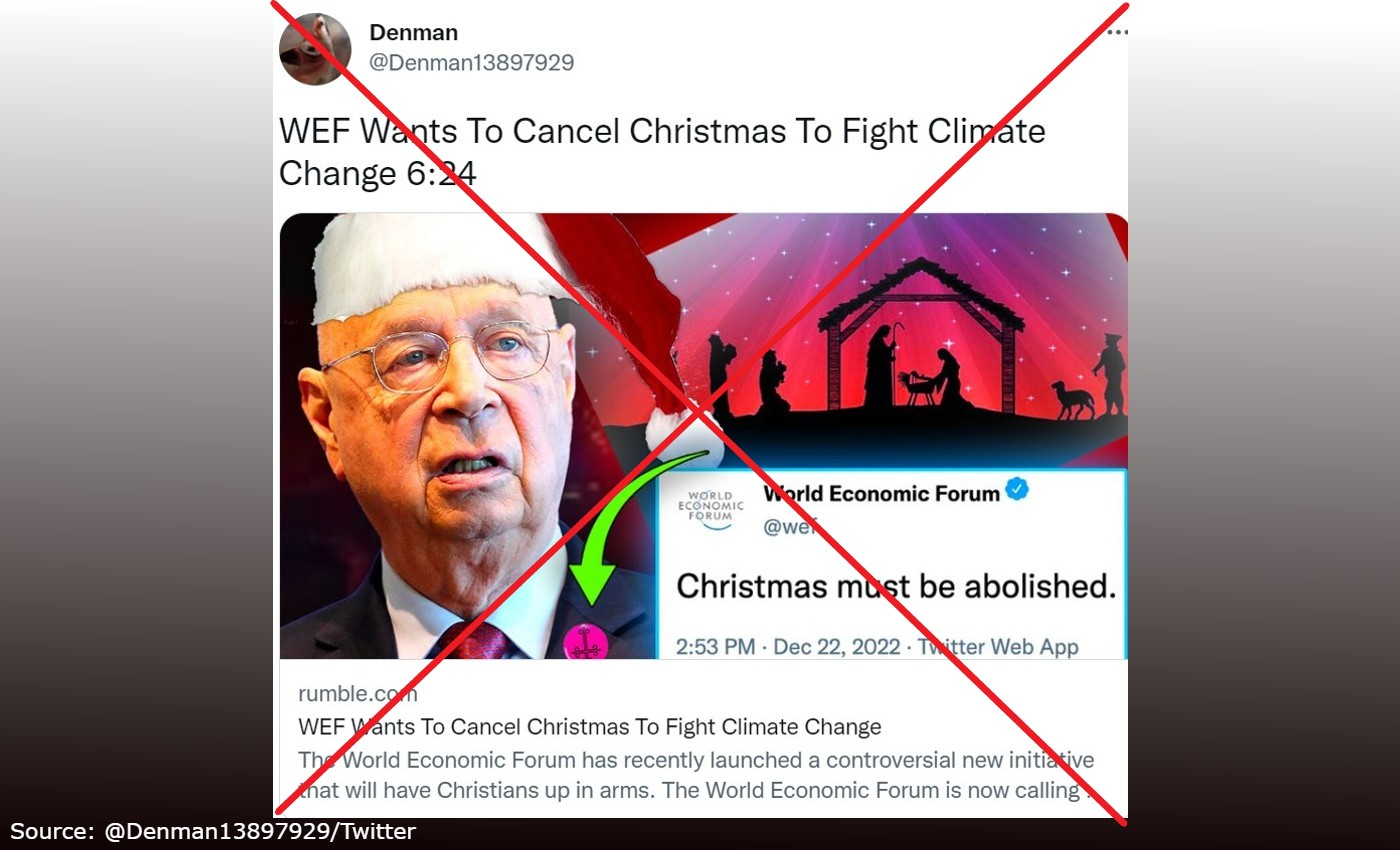 Claims of a WEF initiative aimed at canceling Christmas traditions are fake and originated from a website known for spreading misinformation.
Context
Ahead of Christmas 2022, a video clip shared on social media claimed that the World Economic Forum (WEF) launched an initiative to cancel Christmas traditions to save the environment. This video was shared on multiple platforms. The longer version of the video was initially published by NewsPunch, a known fake news website, and can also be found on alt-tech platforms like Bitchute and Rumble.
The video's thumbnail featured a screenshot of a purported tweet dated December 22, 2022, by the WEF stating, "Christmas must be abolished." However, the claims made in the video and the examples presented to justify these claims are incorrect and unwarranted.
In Fact
There are no reports about a WEF initiative aimed at canceling Christmas traditions, and neither did the WEF tweet about abolishing Christmas. The tweet from the WEF is fake.
This video surfaced weeks before the WEF's Davos summit, where climate change and environmental issues will be hugely debated. A December 22, 2022, article on the WEF website suggests Christmas gifting ideas using sustainable and eco-friendly methods.
The speaker in the video is Sean Adl-Tabatabai, the founder of NewsPunch, who has a history of making baseless claims and propagating conspiracy theories. Logically has previously debunked misinformation that originated from NewsPunch, including other faked tweets from the WEF.
In the video, Tabatabai also referred to media outlets like CNN and the Guardian as "mouthpieces of the globalist agenda." He cited a Guardian article titled "Dreaming of a green Christmas? Here's how to make it come true" and claimed that this article implied that Christmas gifting traditions and enjoying meals were "vulgar" and that the Guardian claimed they needed to stop. However, the article never made any such claims.
It was also claimed in the video that CNN asked people to cancel Christmas travel plans last year and that it asked to cancel Christmas this year to save the environment. The video of CNN is from December 7, 2020, where Dr. Leane Wenn, an American physician, asked people to reconsider traveling for Christmas as this could trigger an increase in COVID-19 cases. This information and recommendations to follow COVID-19 appropriate norms were shared by Dr. Wenn as a precautionary measure. CNN did not ask people to cancel Christmas celebrations in 2022 to save the environment.
The Verdict
A video that originated from a website known for propagating misinformation and baseless conspiracy theories has been shared to show that WEF is trying to eradicate traditional Christmas celebrations. NewsPunch has fabricated tweets from the WEF in the past. We have marked this claim as false.