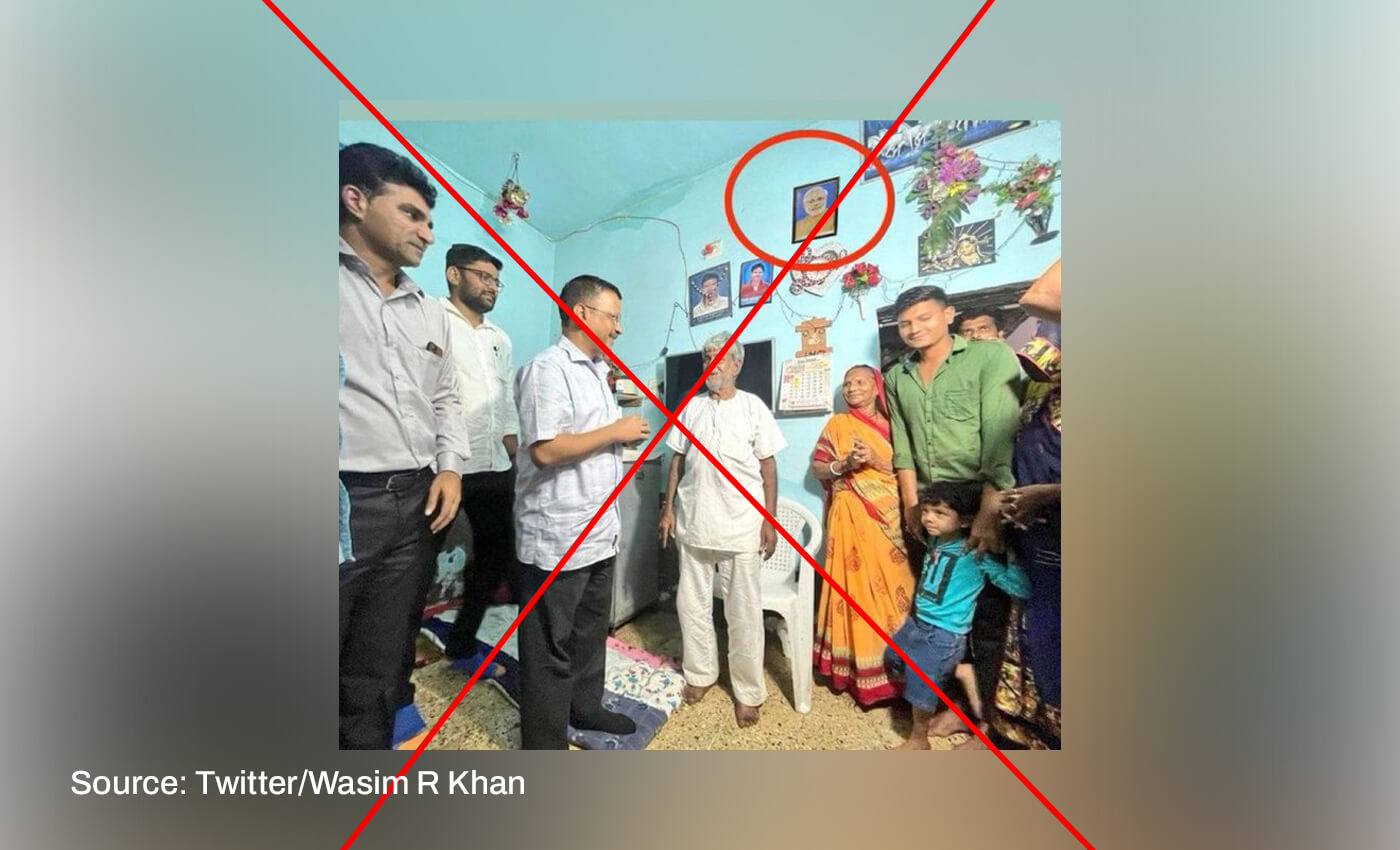 The photo has been edited to replace a portrait of someone else with Prime Minister Modi's portrait.
Context:
A photo of Delhi CM and AAP chief Arvind Kejriwal at an autodriver's home in Gujarat with a photo of Prime Minister Narendra Modi hanging on the background wall is being shared with the claim that the resident of the house is a Bharatiya Janta Party(BJP) supporter. The claim further asserts that everyone in Gujarat eversupports the BJP. The claim is very viral on social media, and one of the many people who shared it is BJP leader and Chairman of Waqf Development Committee, Wasim R Khan. Khan's tweet had garnered over 2,000 retweets and 16.3k likes.
In fact:
On conducting a reverse image search, we came across the same photo on Kejriwal's official Instagram handle as part of a gallery of three images from his dinner at one Vikram Dantani's home. The caption of the photo, in Hindi, loosely translates to: "In Ahmedabad, auto driver Vikrambhai Dantani lovingly took me home for dinner, introduced me to the whole family, treated me with delicious food and with great respect. Heartfelt thanks to Vikrambhai and all the auto driver brothers of Gujarat for this immense affection." On looking closely at the photo, we saw that the portrait, which in the viral photo shows PM Modi, actually is of someone else. We also found the same photo on Kejriwal's Twitter handle and the AAP's handle. A comparison of both photos clearly showed that the original portrait, one of three on the wall, had been replaced with one of PM Modi in the viral photo.
Months ahead of the Gujarat Assembly election, Kejriwal was recently on a two-day visit to Gujarat. During his visit, CM Kejriwal addressed a gathering of auto-rickshaw drivers in Ahmedabad, after which he also accepted an invitation from one of them to have a meal at his home. Autodriver Vikram Dantani had picked up Kejriwal and some other AAP leaders in his auto rickshaw, and they all had dinner at his home, India Today reported.
According to the report by India Today, Kejriwal has also invited Dantani and his wife to Delhi for dinner at his residence. His wife told India Today that they would also accept the invite.
The verdict:
No picture of PM Modi was hanging on the wall in the picture taken at the residence of auto-rickshaw driver Vikram Dantani. The viral photo has been maliciously edited to claim that he is a BJP and PM Modi supporter. Therefore, we have marked this claim false.
Reference links
Arvind Kejriwal
Aam Aadmi Party
India Today