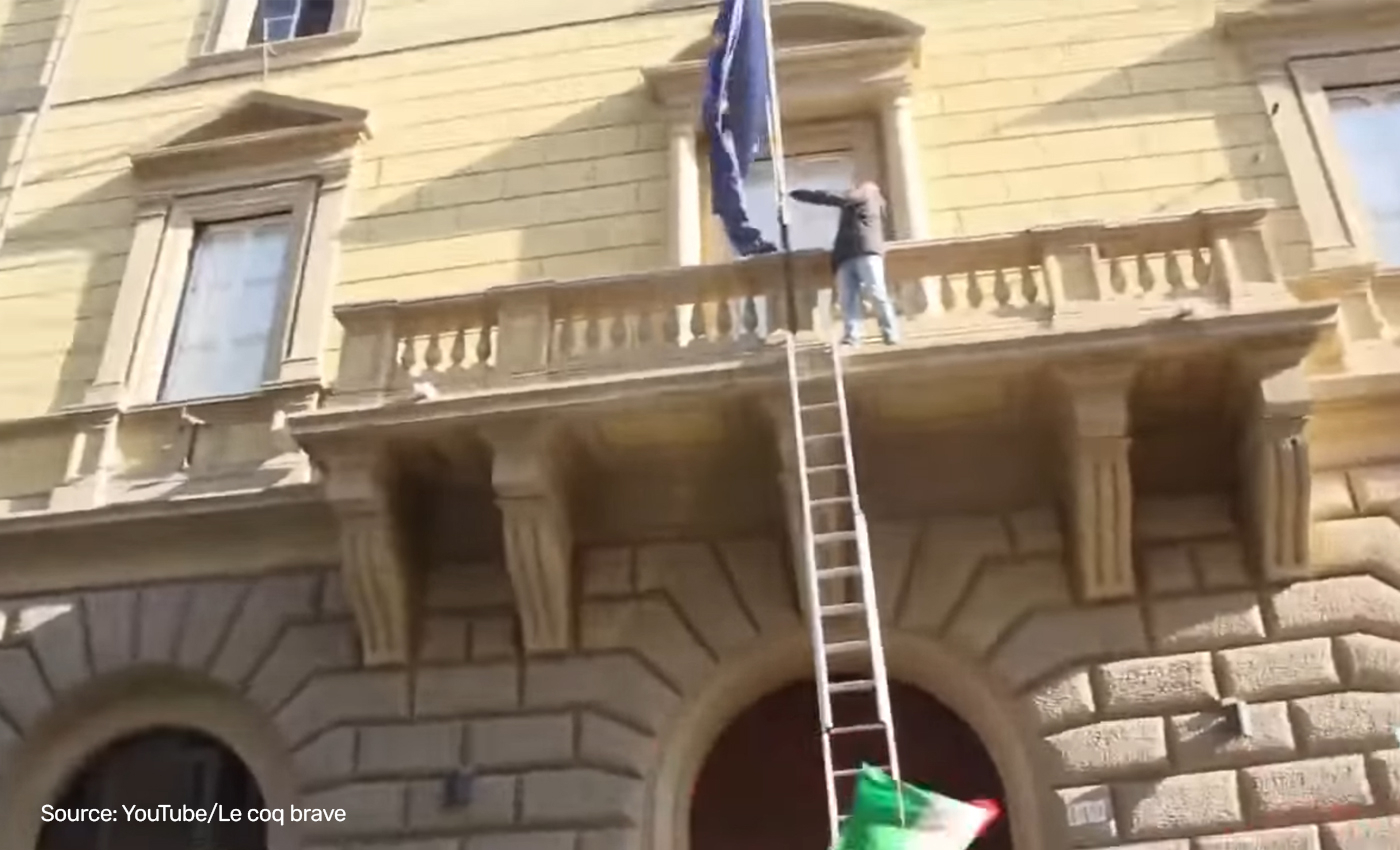 A 2013 video of a neo-fascist group member replacing the EU flag has been recirculated after the 2022 Italian election results were announced.
Context:
Giorgia Meloni is set to become the next Italian Prime Minister, succeeding Mario Draghi. One viral claim, shared on Facebook with a video, says that in the wake of her election, "Italian patriots" brought down the EU flag and replaced it with an Italian flag. In the video, we can see a group of protestors. In the video, one masked protester climbs the front of the European Commission's Rome headquarters, the European Union's executive arm. He then removes the European Union flag and replaces it with the Italian one. However, it is an old video that is doing the rounds again.
In fact:
This protest occurred in 2013. By doing a reverse image search on the video clips, we traced back the original video and found clips of it uploaded on YouTube on December 14, 2013. We also found coverage of the incident in La Repubblica, an Italian daily, the Italian politics news site Termometro Politico, as well as Reuters.
The protest was staged by CasaPound, a neo-fascist Italian political group. The original footage of this protest being shared now comes from their YouTube page.
Termometro Politico reported that a member of CasaPound Italia can be seen changing the EU flag. It added that protestors stood around waving flags and chanted slogans against the government and the parties, whose offices - they shouted in the chorus - "are full of corrupt and Freemasons." Police reached the area and arrested CasaPound's then Vice President Simone Di Stefano, who had taken down the flag, for "aggravated theft, resistance to a public official, and an unscheduled demonstration."
Reuters reported in 2013 that the far-right group wanted to protest economic insecurity and the government. In addition, they reflected anger at a "discredited political class and Italy's longest post-war recession, which for some has fuelled skepticism about Italy's membership in the EU and the single currency."
In September 2022, Giorgia Meloni of the Brothers of Italy party became the first female prime minister and also a leader of the government. Reuters reported on September 24, "Brothers of Italy traces its roots back to a post-fascist movement created at the end of World War Two" that rose out of dictator Benito Mussolini's fascists.
The verdict:
The video in question dates back to a demonstration of a neo-fascist protest in 2013. It has no connection to the 2022 Italian election results. Hence we have marked the claim as false.