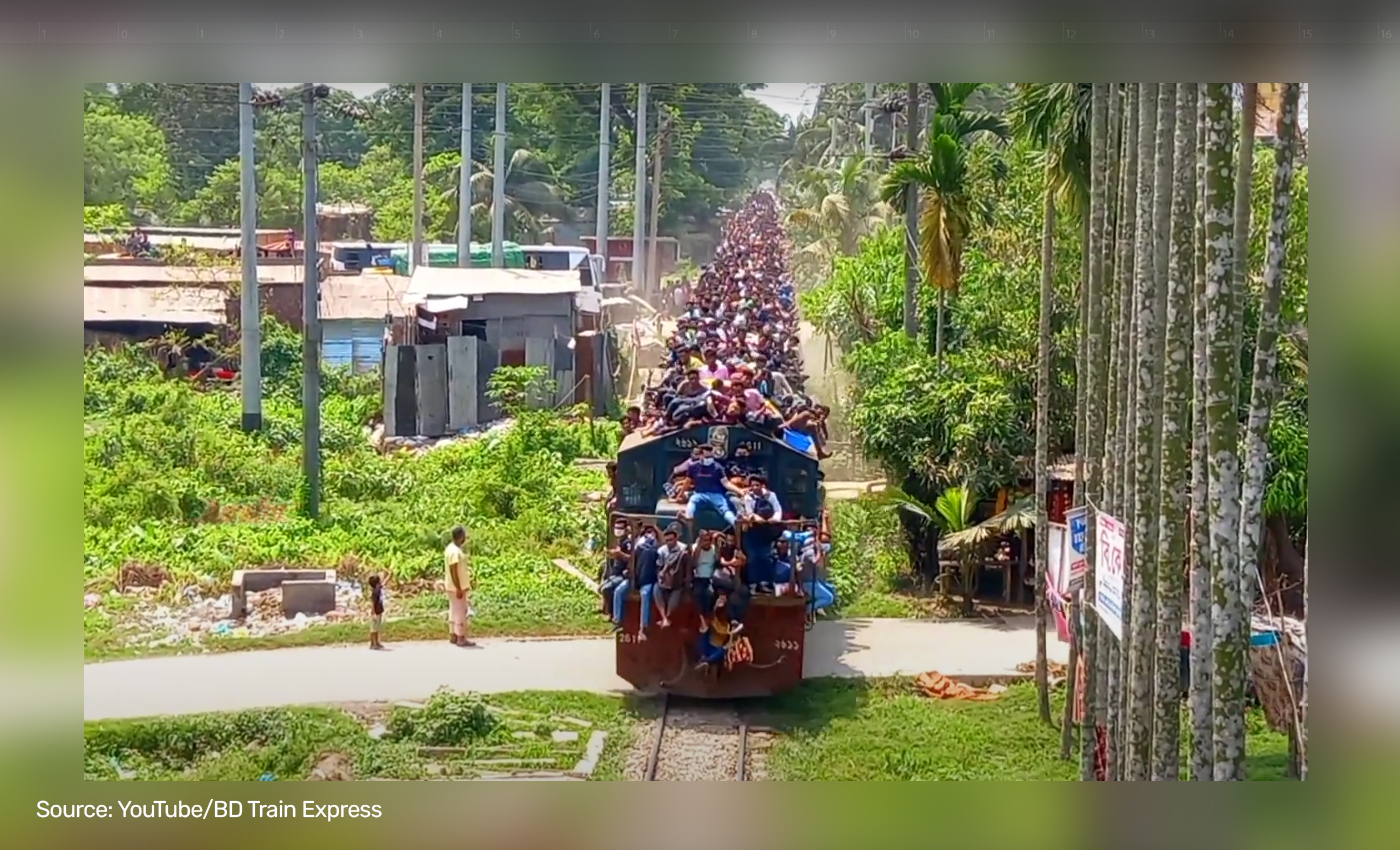 A video of people returning home on train before the Eid celebration in Bangladesh is wrongly attributed to Rohingya Muslims leaving for Bihar.
Context:
The political landscape in Bihar witnessed a lot of turbulence after Chief Minister Nitish Kumar's party JDU (Janata Dal (United)) snapped its alliance with BJP(Bharatiya Janata Party). A day after bringing an end to the previous coalition government, JDU joined Rashtriya Janata Dal (RJD) party, led by Lalu Prasad Yadav, and took oath as the Chief Minister of Bihar for an eighth term. Amidst all the turmoil, a video shared on Twitter claimed to show a train full of Rohingya refugees allegedly leaving Bangladesh for Bihar. The tweet's description read, "#BiharPotiticalcrisis After Lalu Prasad Yadav and #NitishKumar shake hands together, jubilant Bangladeshis and Rohingyas flock to Bihar." The video has garnered over 28,000 views on the platform.
In fact:
The original video was shared on YouTube and uploaded by an account 'BD Train Express' on May 1, 2022. The video caption read, "This has not been seen since people have been banned from traveling on trains for exactly 2 years due to Corona. Eid has come by seeing people returning home in such a hurry." The video description added that the train "was 47 Up Dewanganj Commuter. Location Balashpur Overpass, Mymensingh." The caption has been translated to English from Bangla using Google Translate.
The location mentioned in the video on YouTube also corresponds with the street view on Google Maps. Google Maps shows the imagery of the railway track in Mymensingh, a city located north of Bangladesh's capital Dhaka. The buildings and the advertisement holdings tied to the coconut trees in the video can also be viewed on Google Maps street view.
The screenshots from the viral video were also featured in an article published on May 13, 2022, by Mail Online, a news website by British tabloid The Daily Mail. Also, we could find several reports quoting that trains in the country usually see heavy passengers during the Eid festival as people rush to celebrate it with their families. Eid al-Fitar was celebrated on May2-3 this year.
Further, in June 2022, some senior BJP leaders demanded that Rohingya refugees in Bihar not be included in the caste-based survey, as it would be used to allegedly gain Indian citizenship illegally. Chief Minister Nitish Kumar, an ally of the BJP back then, had refused to comment on the matter. After the JDU-BJP coalition collapsed in August 2022, claims implying that the Nitish Kumar-led government is trying to bring in more Rohingya refugees to change the state's demography have surfaced on social media platforms like Twitter. These claims are baseless and propagated by far-right elements to create friction among the general public.
According to BBC, "hundred of thousands" of Rohingya Muslims in Buddhist-majority Myanmar had to flee to neighboring countries to escape the "deadly crackdown" by the Army. Bangladesh had accepted a majority of the refugees, while a few of them also traveled to India. False claims about Rohingya refugees have been made by several right-wing groups in the country.
The verdict:
The video is from Bangladesh and has nothing to do with Rohingya refugees or the formation of a new government in Bihar. Hence, we have marked this claim as false.