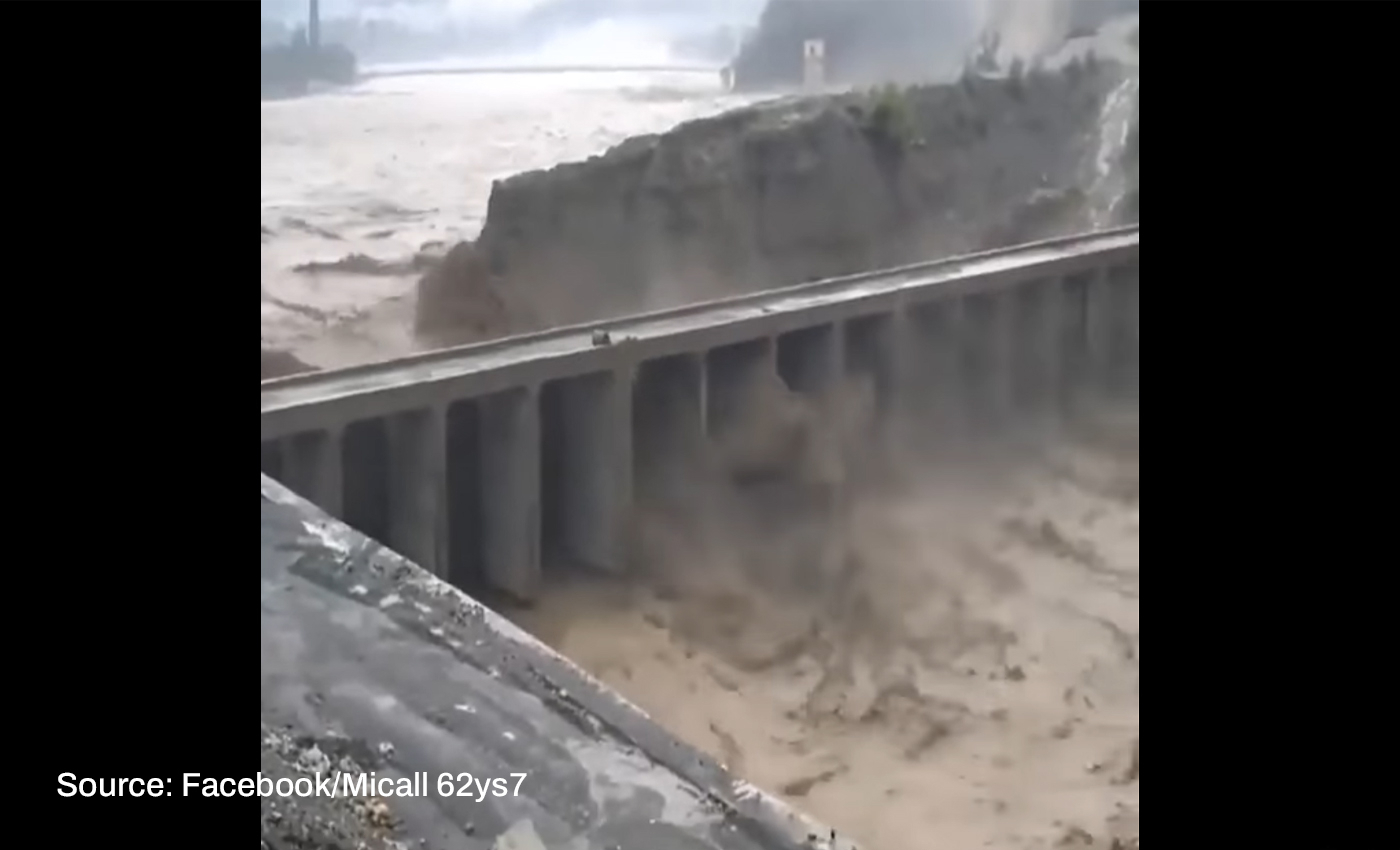 The video does not depict an explosion at the world's largest dam in China. It shows flooding in Uttarakhand, India, in 2013 that damaged a structure.
Context:
A video that claims to depict an explosion at the largest hydroelectric dam in the world is being circulated on social media. The 5.51minutes long video shows what appears to be a dam that has been significantly flooded due to massive water inflow. One Facebook user wrote, "The World's Largest Hydroelectric Dam Explodes." This video has been viewed over 2.5 million times.
In fact:
China's Three Gorges Dam is the largest hydroelectric dam in the world. In 2012, the Three Gorges Dam in China surpassed the Itaipu hydroelectric power project in Brazil and Paraguay as the largest hydroelectric dam in terms of energy production. In 2020, The New York Times reported that the Three Gorges Dam reached its highest level since it started to store water in 2003 as the Sichuan Province and the city of Chongqing experienced flooding. As of August 2022. the Three Gorges Dam is not reported to have exploded by any media outlet or the Chinese government.
When we watched the viral video, we could hear people speaking in Hindi in the background at certain timeframes. By conducting a reverse image search on one keyframe of the viral video, we found that it was uploaded on VT MotoVlogs's YouTube channel on December 21, 2013. The original video was 6.55 minutes long and was titled "Kedarnath Tragedy ||Chardham|| Uttarakhand Disaster, Dam Burst in Srinagar Garhwal Uttrakhand." The YouTube channel VT MotoVlogs description said the video depicts a flood that swamped a power station in Srinagar, Uttrakhand, India, in 2013.
Heavy rainfall in June 2013 caused flooding that affected Himachal Pradesh, portions of western Nepal, and the many parts of Uttarakhand. Massive floods and landslides killed many people and severely disrupted property. According to The Hindu, based on GVK group's statement, water had entered the powerhouse of their upcoming Srinagar hydroelectric power station in Pauri, Uttarakhand during the 2013 floods damaging the structure.
The verdict:
An old video from the 2013 Uttarakhand floods is being incorrectly shared as the world's largest hydroelectric dam burst. There have been no such reports of the Three Gorges dam or any other large dam collapsing or exploding lately. Therefore, we have marked this claim false.