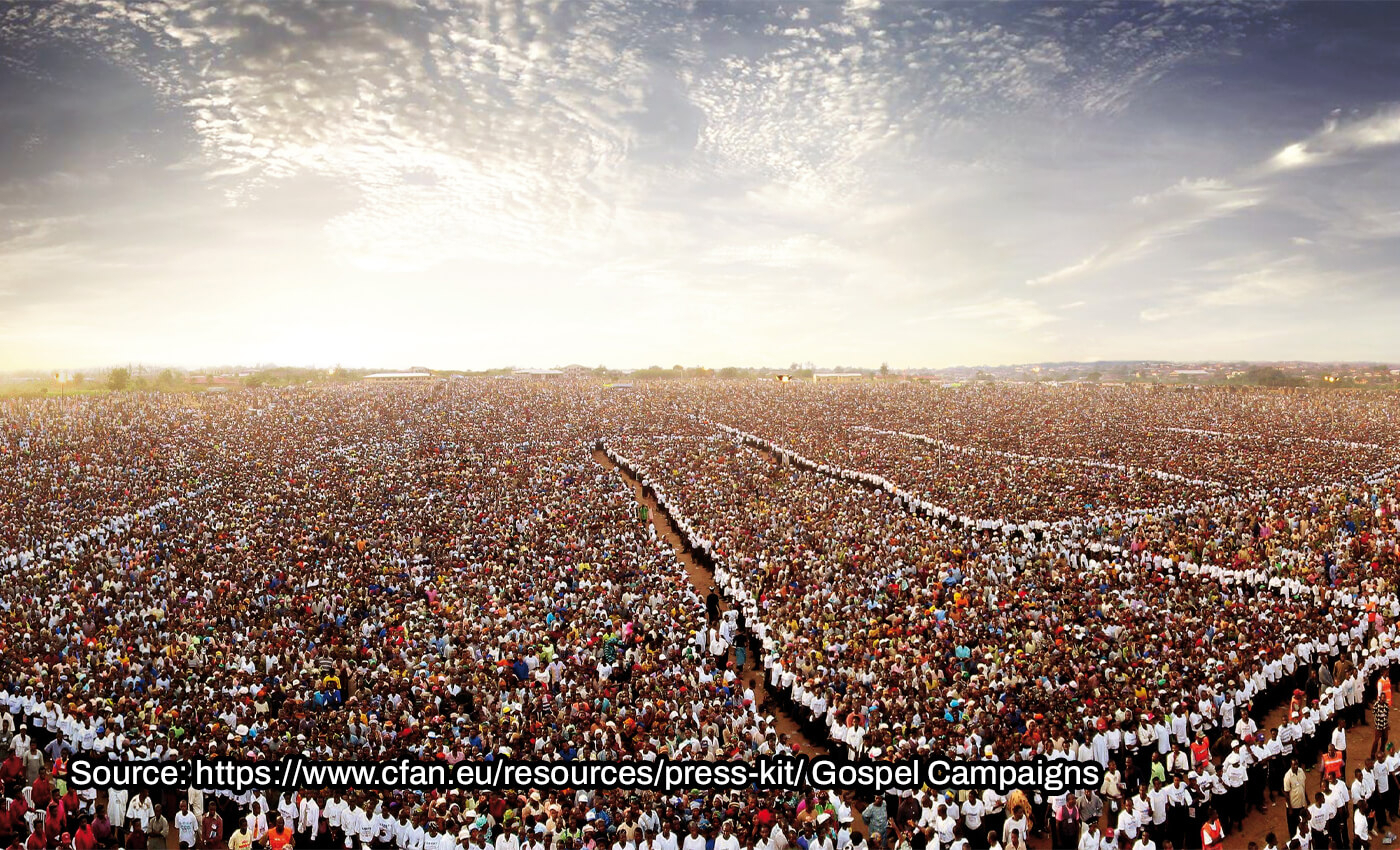 An old 2002 image of the Gospel Campaign from Nigeria has been falsely shared as Bharat Jodo Yatra in Ballari, Karnataka.
Context:
The Bharat Jodo Yatra is a 3,570-kilometer-long padayatra (march) traversing the entire length of India started by the Congress party on September 7, 2022, from Kanyakumari in Tamil Nadu State to Kashmir. On October 15, the marchers reached Karnataka's Ballari district. Virendra Chaudhary, Provincial President of the Uttar Pradesh Congress Committee, tweeted an image of a huge gathering and captioned it as "MP Shri Rahul Gandhi's public meeting in Bellary."
However, this is false. It's an old image from 2002 and unrelated to Rahul Gandhi's Bharat Jodo Yatra.
In fact:
Through reverse image search, we found a similar image on Evangelist Reinhard Bonnke's official Facebook page, posted on July 20, 2020. The image was shared with context, "May the Lord bless you in this new week with the following by Reinhard Bonnke: Bible prophecies are not alterable. They are history written in advance! When the devil is out to trouble the world, God will trouble the devil. God will do what He said He would, even to the dot on the last "i." Jesus said "heaven and earth shall pass away, but my word shall never pass away. Isn't that comforting? Ogbomosho, Nigeria 2002."
We also found that Christ For All Nations (CFAN) website had the same image of the gathering.
CFAN Nigeria's official page also posted a photo of the same event from a different angle on June 16, 2022, stating that the image was taken in 2002 at a CFAN Gospel Crusade in Ogbomosho, Nigeria.
India Today reports that on Day 38, the march would complete 1000 km in Ballari from the start of the Yatra. It also mentions that Rajasthan Chief Minister Ashok Gehlot and Chhattisgarh Chief Minister Bhupesh Baghel will join the Congress leader Rahul Gandhi at his mega rally at the Ballari Municipal Grounds. Inayat Ali Mulki, General Secretary of Karnataka Pradesh Congress Committee (KPCC), also posted about the Congress rally.
The image of a crowd gathered in Bonnke's gospel campaign in Ogbomosho, Nigeria, has been shared with different narratives since 2002.
The verdict:
An old image of a vast crowd gathered at a Nigerian religious rally in 2002 has been miscaptioned as a photo of the Bharat Jodo Yatra in Ballari, Karnataka. Hence, we have marked this claim as false.