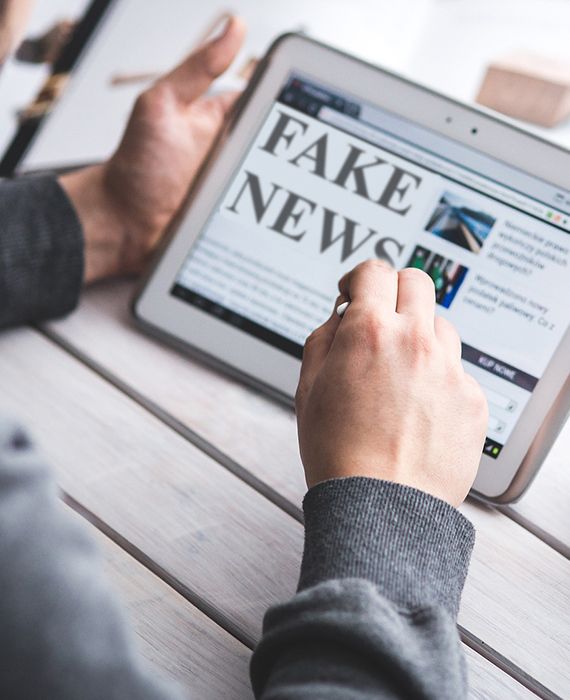 It is universally agreed that misinformation about COVID-19 has been shared substantially on social media, but its percentage is unverifiable.
According to The Times of India article, the Mass Communication Department of Nagpur's Rashtrasant Tukoji Maharaj University conducted a survey from 28 March to 4 April 2020 among nearly 1,200 people including students, government and private employees, businessmen, professionals and home-makers. It adds that 39.1% respondents said 50 to 80% of information on social media about COVID-19 was incorrect and about 10.8% said that over 80% of information on social media was fake.
The International Federation of Library Associations and Institutions (IFLA) has provided an infographic on how to spot fake news in light of the widespread misinformation about the pandemic.
The Canadian Jewish News, in its article about fake news regarding the pandemic, states that the World Health Organization (WHO) has launched a new platform to fight what it has termed as "COVID-19 infodemic", the official name given to the mass spread of inaccurate or unconfirmed information.
The University of Nevada article includes tips on how students can utilize fact-checking websites to detect fake news stories related to COVID-19 being shared on social media platforms for research purposes and otherwise. It also says that they can contact its librarians who can help to locate and evaluate quality research sources which have been vetted by experts.
Based on these sources, as of now, organisations and people around the world have acknowledged the existence of COVID-19 fake news on social media, but there are no figures except the Nagpur University survey to verify its percentage.
The COVID-19 pandemic has given rise to a lot of potentially dangerous misinformation. For reliable advice on COVID-19 including symptoms, prevention and available treatment, please refer to the World Health Organisation or your national healthcare authority.