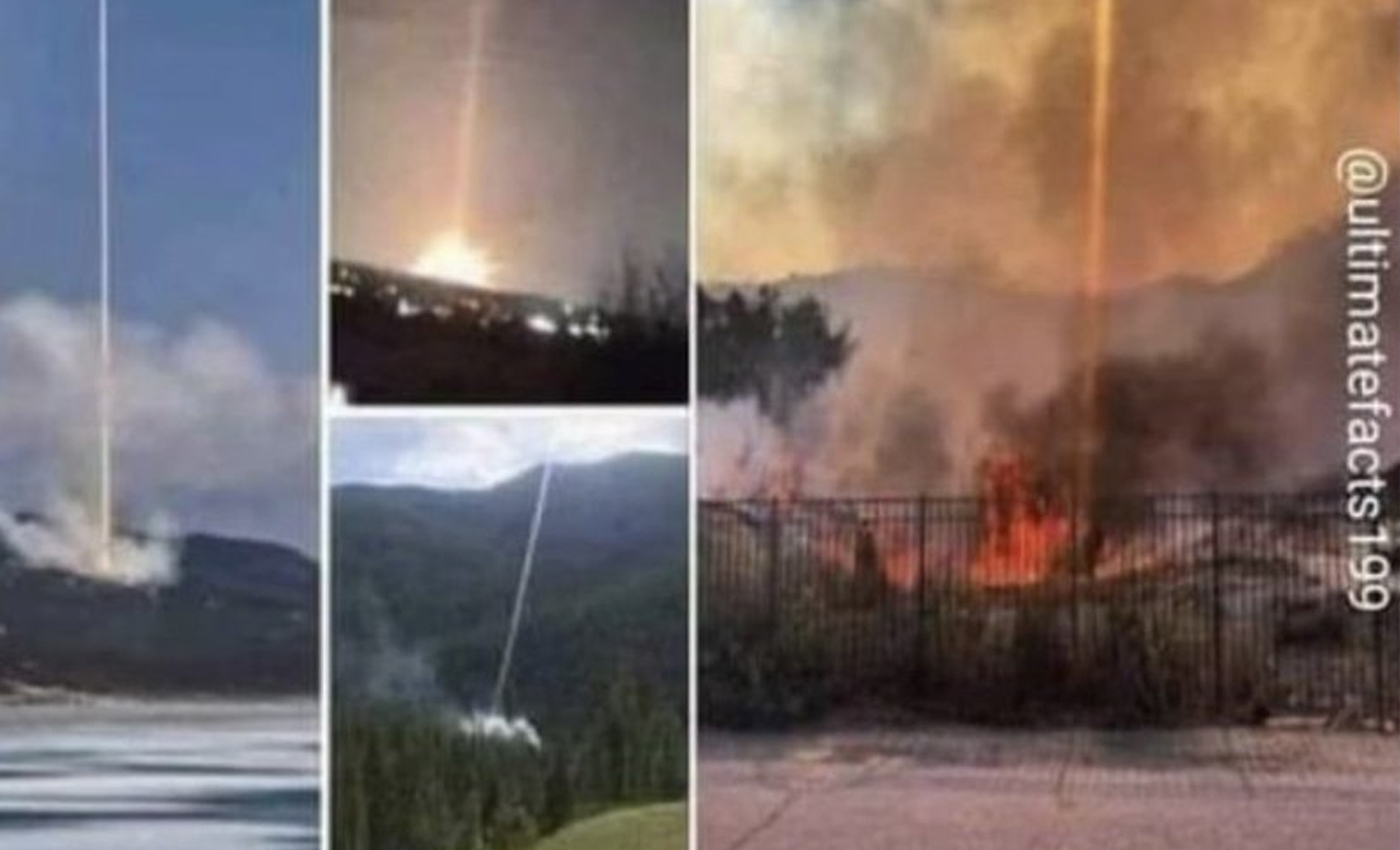 Images from different incidents that occurred in 2018 were falsely shared as those of laser beams causing California wildfires.
Context:
According to the New York Times, wildfires occur every July in California. Due to drought and extreme heat, California also witnessed fires break out in January 2022. A massive fire that began in August 2020 and lasted through September burned more acres than ever in California. After this incident, many false and misleading images of wildfires in California went viral on social media. One such post was from Thomas Racillon's (@racillon) Twitter account. The post contained four pictures with the caption, "After the #chemtrails, the forest fires started by the big bad lasers coming from space. But how far will they go?"
However, the images, taken in different places, were falsely linked to the California wildfire. Moreover, it is a conspiracy theory that has circulated on social media since 2018.
In fact:
Using Google reverse search, we came across the images on different websites. On May 23, 2018, Space X, a space exploration company that develops rockets and spacecraft, posted images of the Falcon 9 (a reuseable and two-staged rocket) launch. One of the images was similar to the viral post (the first image from the left), confirming it is from a rocket launch, and unrelated to the wildfire.
The second image from the left, posted on the Twitter account @TransitBusGal, is of a meteor that landed in Michigan on the evening of January 18, 2018. The picture below this was found on the official Twitter account of Klamath National Park on May 24, 2018. It reports that the photo was of Noland Fire, found near Carter Summit in the Salmon/Scott Ranger District.
And finally, the last image was discovered on Imgur (an online photo sharing and hosting site), with the caption "Direct energy weapon" on November 14, 2018. The post does not mention the location of the incident and cause. All four images are from different incidents and have no connection to the wildfire.
The Los Angeles Times reported on August 23, 2020, that analysis by scientist Jon Keeley and research ecologist Alexandra Syphard revealed that lightning had caused the majority of wildfires in Northern California forests, with lesser effects in Southern California's four national forests.
According to New York Times, out of California's 20 most destructive wildfires, 17 occurred between the months of July and October, and the other 3 occurred in November or December. Daniel Swain, a climate scientist at the University of California, Los Angeles, states, "summer and fall fires in recent years have destroyed thousands of homes, sterilized the soil, killed ancient trees, and created what looks like a "nuclear apocalypse landscape." This confirms that weather conditions or climate changes caused wildfires in California, not laser attacks.
The verdict:
Images from different sites were falsely claimed to be of a California wildfire. Major wildfires in California are caused by lightning strikes, drought conditions, and extreme heat, not laser beams. Therefore, we have marked this claim as false.