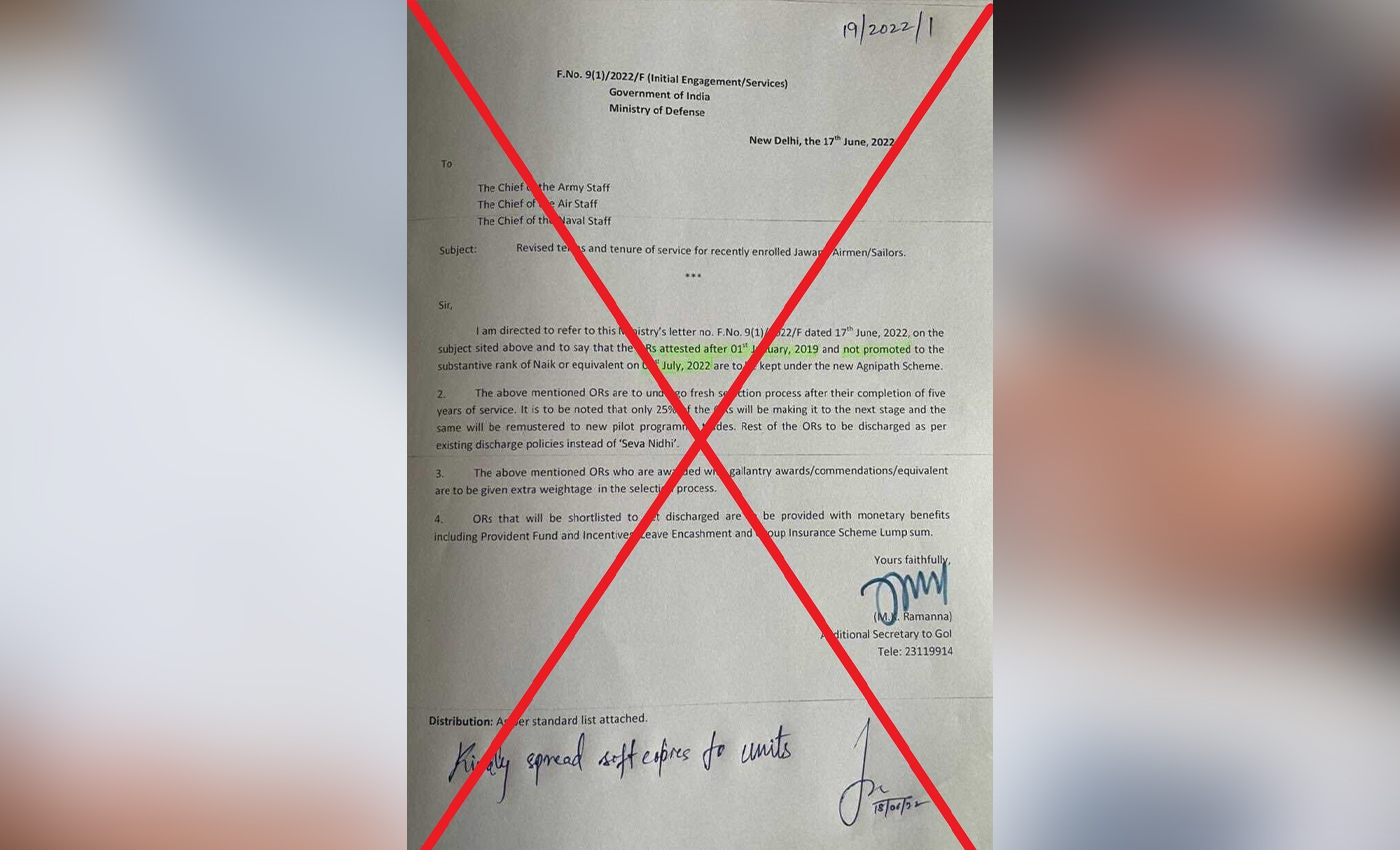 The memo being circulated is fake. No such clause has been added to the Agnipath scheme introduced by the Indian Ministry of Defence.
Context:
A purported letter sent to the Chief of Staff of the Indian Army, Air Force, and Navy by the Additional Secretary to the Government of India, MV Ramanna, has been shared on social media. This letter claims that "ORs attested after January 1, 2019, and not promoted to the substantive rank of Naik or equivalent on July 1, 2022, are to be kept under the new Agnipath scheme." It further stated that those officers must "undergo a fresh selection process after their completion of five years of service." Also, only 25 percent of the officers will make it to the next stage, and the rest will be discharged, the purported letter noted.
The memo is being shared in the context of the Agnipath scheme introduced by the Indian government on June 14, 2022. According to the Indian Ministry of Defence (MOD), the plan notes that soldiers will be recruited below the commissioned rank for a service duration of four years, including the training period, and only 25 percent of them will be enrolled based on their performance. It will provide a corpus of approximately 11 lakhs after four years. The scheme bypasses pension, long tenure, and several other benefits. The plan has resulted in violent protests across the country.
However, the memo shared on social media is fake.
In fact:
On inspection of the memo, we found spelling mistakes in the writing; for example, it says "sited" instead of cited. It is undersigned by the name "M K Ramanna Additional Secretary of GOI, Tele: 23119914". We found that there is no person named MK Ramanna in the MOD; in fact, the Additional Secretary of MOD, according to the ministry's website, is Ms.Nivedita Shukla Verma, IAS (UP:91).
Additionally, the telephone number mentioned in the circular is also invalid. We searched for the phone number on Mahanagar Telephone Nigam Ltd.Delhi (MTNL), but it did not yield any results. We also tried calling the telephone number mentioned in the purported letter and discovered that the number does not exist.
The Additional Directorate General of Public Information (ADGPI) has retweeted a PIB (Press Information Beuearue) fact check noting that the circular being shared is fake.
Furthermore, The Wire had quoted some serving officers and veterans as stating "In the near future, all the Jawans, Sailors and Airmen in the Indian Military would be eventually termed as "Agniveers," the term used to represent Jawans recruited under the Agnipath scheme. However, there has been no official statement from the Indian Government or the military about converting the existing servicemen in the Indian armed forces within the newly introduced Agnipath scheme.
The verdict:
We have marked the claim false as the purported letter is fake, and the Agnipath scheme only mentions new recruits under the scheme; not existing servicemen.