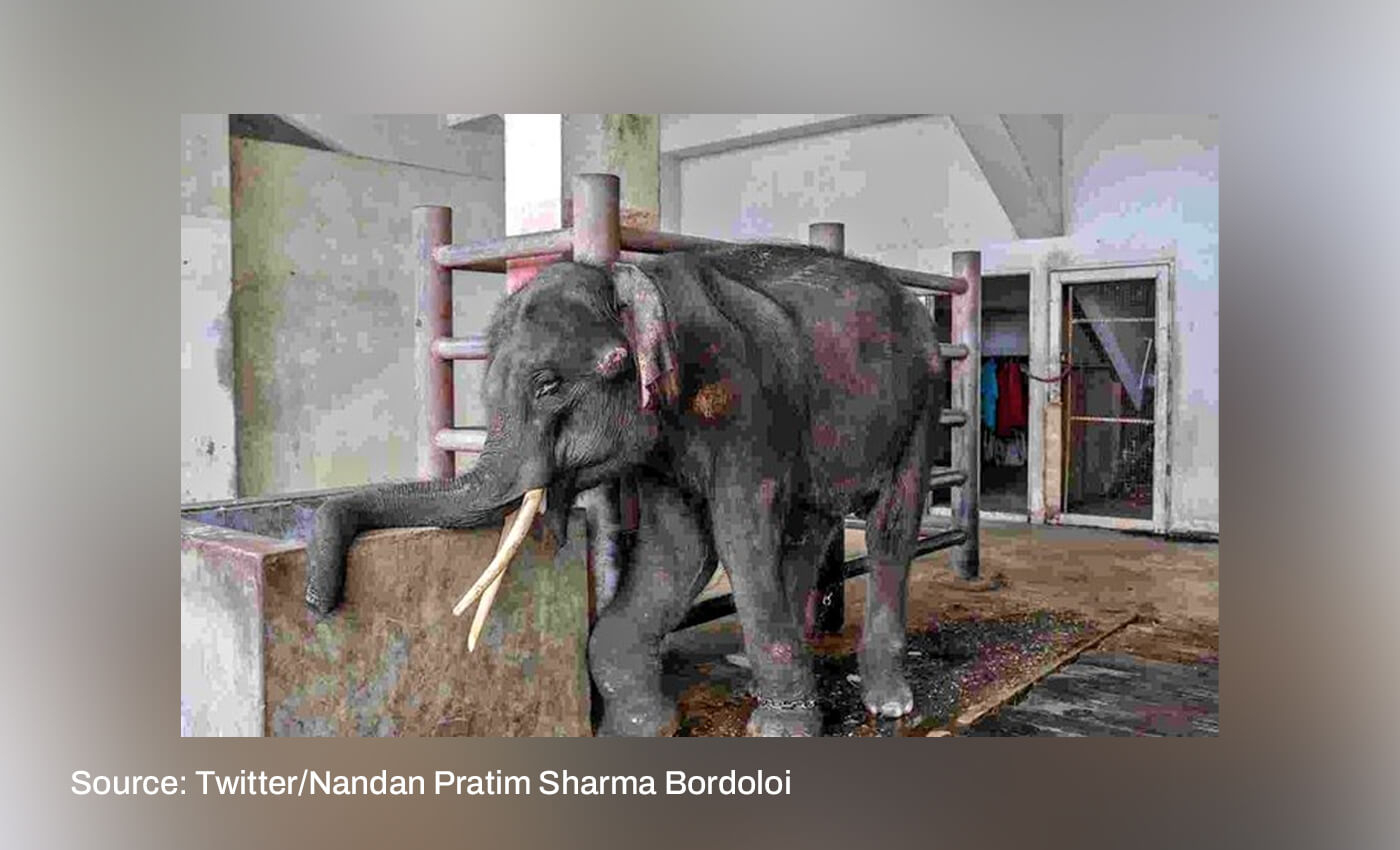 A 2019 photo of Gluay Holm, an injured elephant from Thailand, has been shared as that of Joymala.
Context:
A photo of a severely frail tusker standing inside a shed and resting its trunk on a slab is being shared as that of Joymala, an elephant from Assam who has been in the news for allegedly being ill-treated in Tamil Nadu (TN). Several people with verified and non-verified handles have shared a photo of the elephant, also obviously injured, to criticize the alleged mistreatment by the Tamil Nadu government authorities.
In fact:
After running a reverse search on the image we found the same photo published in a report by National Geographic. Published on June 20, 2019, the photo was captioned: "Gluay Hom, a four-year-old elephant trained to perform tricks for tourists, is chained to a pole in a stadium at Samut Prakan Crocodile Farm and Zoo near Bangkok, Thailand. His swollen right foreleg hangs limp. At his temple is a bloody wound from lying on the floor." Various other photos in their articles also showed the same shed and the structures seen behind the elephant in the viral photo. The article spoke about the condition of captive elephants in Thailand and added that when the reporters came across Gluay Holm, he was four years old. He was in such a bad condition that his bloodstream was infested with parasites, and was overall too unwell to perform at the facility's daily elephant shows.
Later on August 7, 2019, National Geographic reported that Gluay Holm was moved to an Elephant Nature Park founded by Save Elephant Foundation, a nonprofit rehabilitation and rescue organization located in Chiang Mai, after their report and the resulting outcry.
We noticed that the viral photo on social media was of an elephant much different in size from Joymala, especially since the former has long tusks. Videos of Joymala shared by animal rights group People for the Ethical Treatment of Animals (PETA) shared on August 26, 2022, and by Tamil Nadu Hindu Religious and Charitable Endowments Department (TN HRCE) on September 5, 2022, did not depict an elephant with such large tusks. Therefore, it is clear that the viral photo is not of Joymala but an elephant in Thailand.
The Assam government had sent Joymala to the Srivilliputhur Andal Temple in Tamil Nadu in 2008. The controversy surrounding this elephant arose at the end of August when PETA shared a video of Joymala being beaten by a mahout and allegedly mistreated in various other ways. However, the TN HRCE responded by sharing a video of Joymala being pampered and given a shower to claim she was happy. Reacting to the video shared by PETA, Assam Chief Minister Himanta Biswa Sarma said that he had formed a 4-member team who would visit Tamil Nadu on September 2 to inspect Joymala's situation and bring her back if required. However, a report by The Hindu said that Tamil Nadu forest officials prevented the team from visiting Joymala. Several Bollywood actors have also taken to their social media handles to amplify the situation and call for a remedy to Joymala's condition.
The verdict:
An old photo of an elephant in Thailand is being falsely shared to claim that it shows Joymala, the elephant from Assam on loan to Tamil Nadu. Therefore, we have marked this claim false.