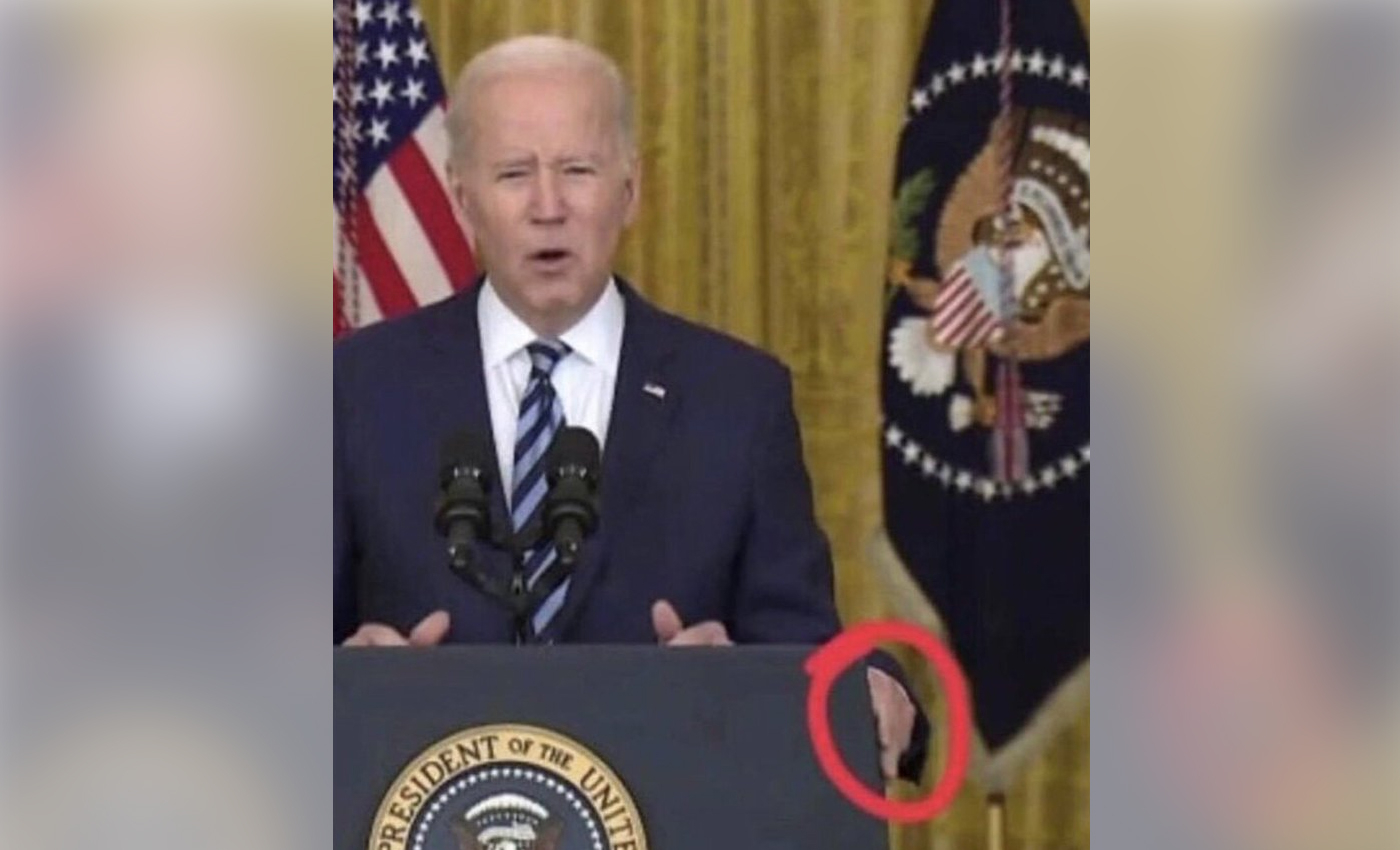 A doctored image of President Biden making a press statement about Russia in February 2022 has been used to push a body double narrative.
An image of U.S. President Joe Biden has been circulating online since February 2022, claiming he has three hands visible during a press conference. The picture shows two hands placed on the podium next to the mic and another one on the side of the podium. There are several narratives surrounding this image. Some suggest that there are "glitches in the matrix" or that Biden has body doubles. Body doubles are usually used in the filming industry - substitutes with similar faces used in different scenes, such as stunt scenes. However, this is an altered image.
The original video can be found on YouTube, dated February 25, 2022. The video caption reads, "President Biden Delivers Remarks on Russia's Unprovoked and Unjustified Attack on Ukraine." Biden does not seem to have an extra limb at any point in the entire video. Biden places his hands next to the mic at about 3 minutes and 44 seconds into the video. Four to five seconds later, he moves his left hand to the side of the podium. Another video by the White House shows Biden's position from different camera angles at the conference, and there is no shot similar to the image in question.
It is clear that the image has been altered using screenshots at different timestamps from the video. Such claims are common when low-quality images are used. Other claims made by social media users include the possibility of Biden not being present at the press conference and the usage of hologram technology. These claims are easily debunked by the aforementioned videos taken from different angles.
It is not the first time Biden has been alleged to have body doubles or claims of him not actually being present at a lot of press conferences, because of his gaffes while speaking in public. Logically has previously debunked similar claims, noting that there is no evidence that Joe Biden has body doubles. Also, deepfake videos of celebrities and politicians from around the world are used to spread misinformation.
Reference links
YouTube
YouTube
CBS News
Logically
Logically