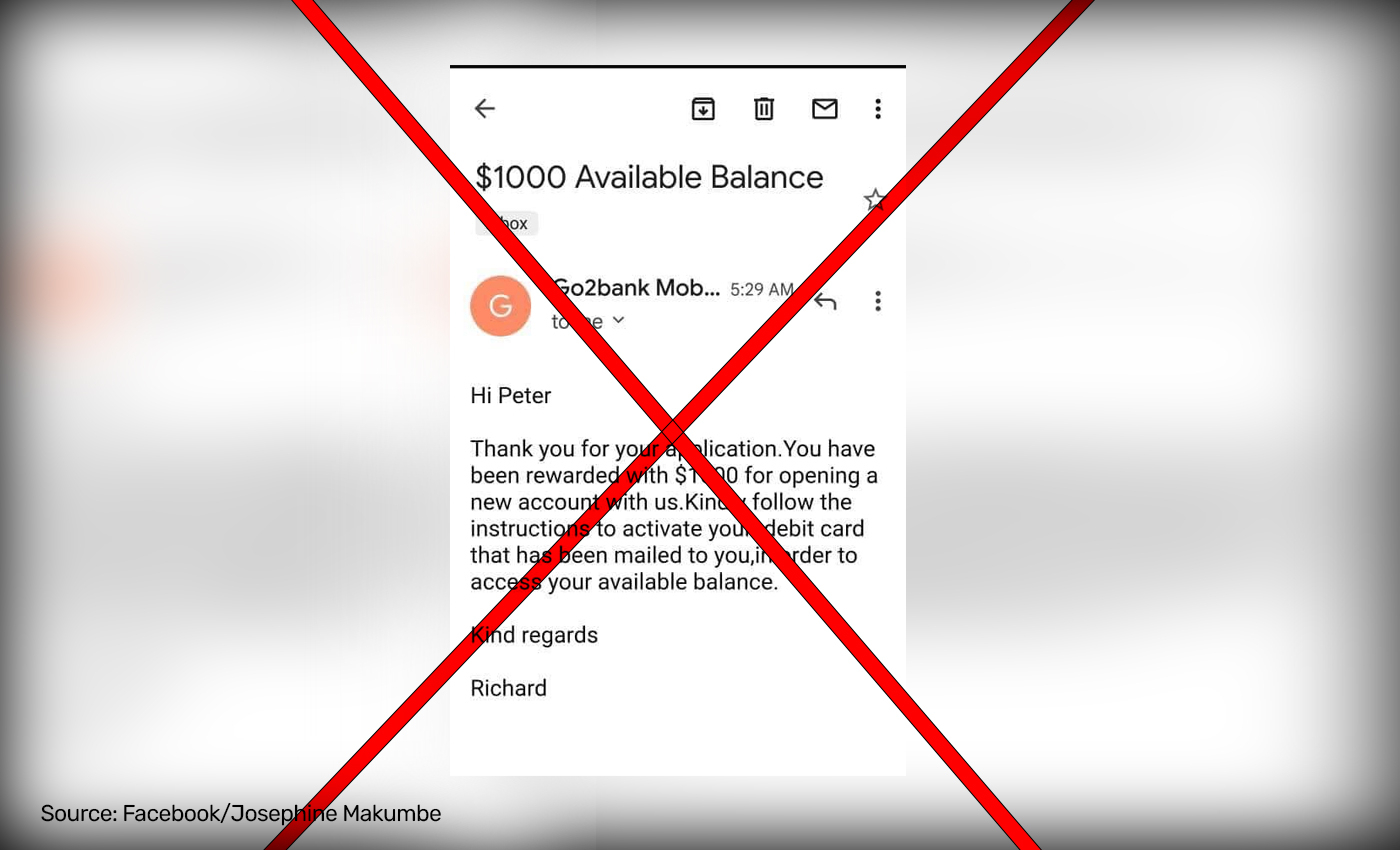 Go2Bank is not running any such offer, and the links in the social media posts do not direct to the official website. The posts are phishing scams.
Context
Several Facebook posts state that Go2Bank has revived a campaign in which it will deposit $1,000 into new accounts. These posts include a URL that encourages users to register their email to receive the offer. One of these posts also consists of a screenshot of what appears to be an email from Go2Bank, which claims that Peter, a customer, has received $1,000 for opening a new account and suggests following the instructions to access the available sum. The same email has appeared in different Facebook posts, but the identities of the individuals have varied, including names like Jack and Timothy Murphy. These posts, primarily made in buy-and-sell Facegroup groups in the United Kingdom, featured nearly identical phrasing and claimed that Go2Bank was offering a deal to celebrate its 50th birthday. However, none of the links in the post linked to go2bank.com, the bank's official website; it was a phishing scam.
In fact
Green Dot's flagship digital bank, GO2bank, was launched in January 2021, contradicting the posts that claim it has been around for 50 years. The URL in the viral social media posts contains many warning signs that it is fraudulent. We opened the link on a desktop computer, observing that the Go2Bank logo included was not genuine, and none of the options on the page were clickable. In addition, we noticed some grammatical errors and incorrect punctuation in the purported email screenshot, exposing the correspondence as a hoax.
Furthermore, we searched for the terms "Go2Bank," "$1,000," and "new account" to determine whether GO2bank had offered any such promotion, but could find no trace of this initiative on the bank's official website, social media sites, or any other news media sources. We found that Go2Bank rewards consumers through its "Refer a Friend" program, but new accounts are not instantly credited with $1,000.
The official GO2bank's Twitter account posted an alert in February 2022, stating that the email was a hoax, writing ''Yes! This is not a GO2bank promotion and is likely a phishing scam. All of our current promotions will be posted on our verified page and will lead to our official website! DO NOT GIVE YOUR INFORMATION OUT AND KEEP YOUR EYE OUT FOR SCAMMERS! '' In September 2022, a Twitter user noted that they had signed up and their $1000 had not yet been deposited. In response, GO2bank stated that it was not a GO2bank promotion and was most likely a phishing scam.
These social media posts containing dubious links are scams, usually created to coerce consumers into exposing their banking information or other sensitive personal data. Phishing scams use deceit to trick victims into disclosing sensitive information. The Cybersecurity and Infrastructure Security Agency (CISA), a U.S. Department of Homeland Security branch, warns that fake hyperlinks and websites indicate possible scam attempts. The CISA recommends several measures to avoid falling victim to such fraudulent schemes. For example, users should hover the cursor over links to see their actual destinations before clicking on them and avoid sending sensitive information over the internet before validating the security of a website. It also notes that misspellings, uneven formatting, and poor grammar and sentence structure are other signs of a suspected phishing attempt. Established businesses use professional staff to draft, confirm, and review client correspondence.
The verdict
Facebook posts that claim that Go2Bank is depositing $1,000 into brand-new accounts are likely scams aimed at duping victims into disclosing their personal information. GO2bank does not presently offer new accounts a $1,000 sign-up bonus or any birthday promotions. Therefore, the claims made in the viral posts are false.