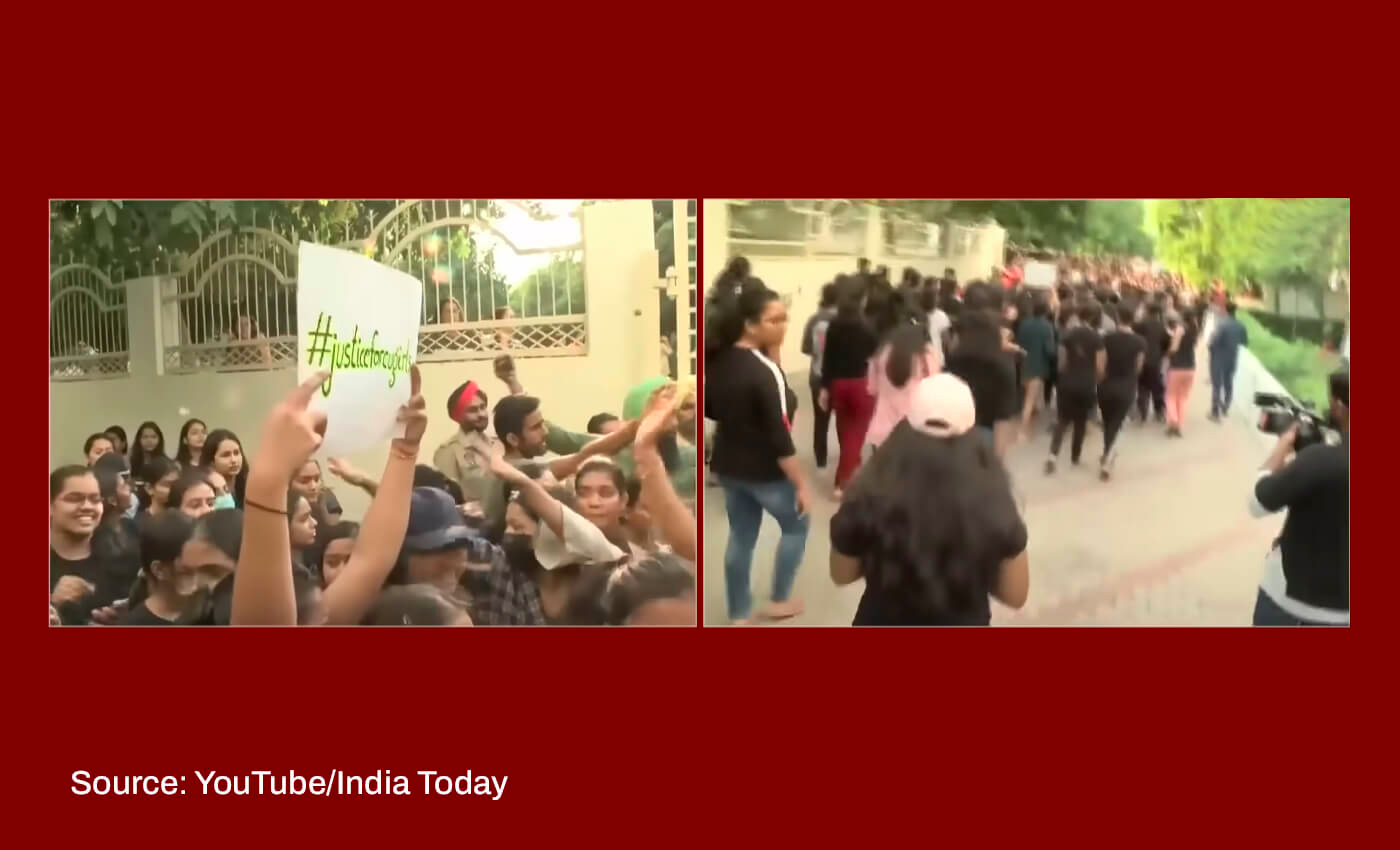 There have been no reports of students being suspended for staging protests. Chandigarh University has suspended two wardens for negligence.
Context:
On September 17, 2022, it was alleged that a woman student recorded objectionable videos of 60 female students bathing in the woman's hostel and sharing them with a man in Shimla, who further uploaded them online. Following the claims, students protested in campus demanding an investigation. Soon after, social media flooded with false and misleading information, with the rumors circulating that some students were being suspended after protesting against the alleged incident. A Twitter user @Kare940371201 said, "suspended girls for protesting and seeking justice. The case was being suppressed just for the university's reputation," garnering around 1,734 likes and 604 tweets. However, such claims are unsubstantiated as per latest reports on the incident.
In fact:
The university saw protests over the alleged video row for two days, and was subject to immense scrutiny.
According to The Times of India, the protest was called off after the district administration and police gave assurances of a fair and transparent probe. The university declared non-teaching days till September 24 to carry on the investigation. The woman student who shared the objectionable video was arrested, while a man from Shimla was arrested in Himachal Pradesh and handed over to the Punjab Police. The woman's mobile phone was seized for forensic analysis. Given the investigations, the university has suspended two hostel wardens for negligence and tweeted in assurance, saying, "We are always with our students, be it their academic aspirations or their safety and well-being. We will leave no stone unturned to live up to this commitment towards our students."
Further, Director General of Police (DGP) Gaurav Yadav assured students, parents, and the community to maintain calm and peace to protect the privacy and dignity of all concerned individuals. He also urged the people to rely only on authentic channels for information and not get swayed by the rumors being spread on social media platforms. He also mentioned that the case had been assigned to Special Investigation Team (SIT).
Times Now reported that students voluntarily left the hostels to return home, citing safety and security concerns, as the university is closed until the probe is on.
However, neither the university officials nor the administration released reports on students being suspended for their involvement in the alleged video leak or for protesting against the alleged incident on the university campus.
The verdict:
Based on the current reports, we conclude that no students have been suspended from the university. Hence, we have marked this claim as false.