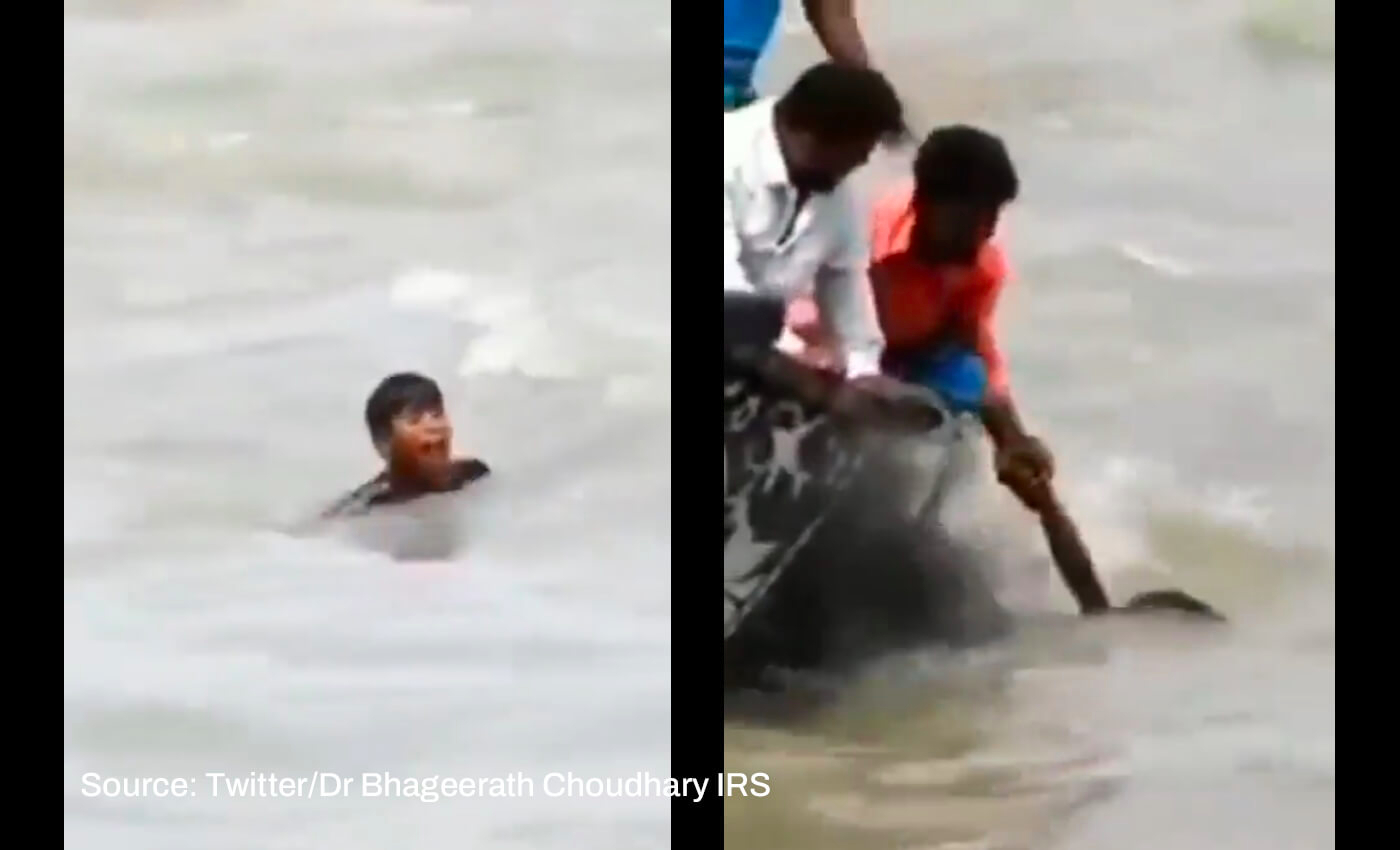 The original video was posted in 2021, months before the Chambal floods.
Context:
A video of a boy appearing to be nearly drowning is going viral on social media. The video shows the boy is calling for help before a boat reaches and pulls him aboard. The message shared with the viral video states that the incident occurred in the river Chambal and added that the State Disaster Response Force (SDRF) saved him from drowning. The video is being shared on both Facebook and Twitter as a recent incident.
Indian Revenue Services officer Bhageerath Choudhary shared the video with the same claim. His tweet had over 2,300 retweets and 16.1k likes at the time of writing this article.
In fact:
On watching the video, we noted that SDRF personnel have a specific official uniform different to the attire of the rescuers seen in the clip. On going through the comments on Choudhary's post, we found many people saying that the video was not of Chambal. One user also stated that it was from Bangladesh. We ran a search using Bengali keywords and found a video uploaded on YouTube on August 27, 2021. On comparing the two videos we found that it was the same clip. The video's title, written in Bengali, identified the location of the incident as Bangladesh's Chandpur and claimed that the boy was rescued from the estuary of the three rivers Padma, Meghna, and Dakatia. The full video also showed the people who rescued the boy bandaging his injured leg.
It may be noted that the video went viral in Bangladesh in June 2022, when severe floods in the Sylhet region caused death and destruction. The video was being shared in June with the claim that it showed a boy nearly drowning in Sylhet.
It is clear that the viral video is being shared with a false claim about a boy nearly drowning in Chambal. This comes as river Chambal's water level is rapidly rising, crossing the highest flood level on August 25 this year, according to a report by Hindustan Times. The flooding is affected several areas along the river in Madhya Pradesh. A report by The Times of India said that the swelling river had caused flooding in several areas, with 500 houses and crops in 25 villages affected.
The verdict:
An old video of a drowning boy being rescued from a confluence of three rivers in Bangladesh is being shared with the false spin that it captures an incident in Chambal river. The video is not recent but has existed on the internet since at least August 2021. Therefore, we have marked this claim false.
Reference links
YouTube
Hindustan Times
The Times of India