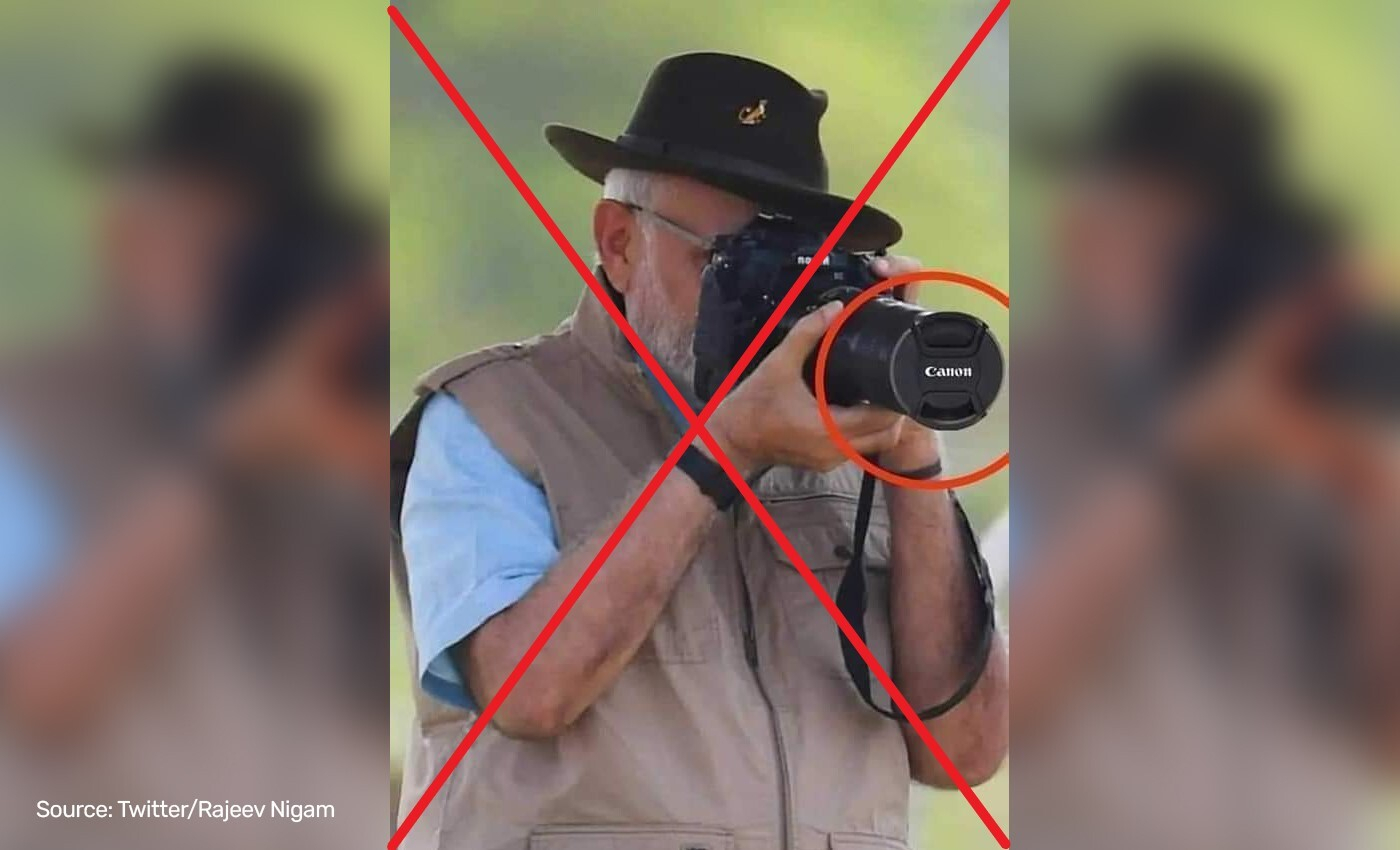 Prime Minister Modi did not try to click a photo with the camera lens on. The image shared on social media is digitally altered,
Context:
Recently, India received eight cheetah cubs of the African species from Namibia making the big cats the talk of the town. The cheetahs were released into Madhya Pradesh's Kuno National Park (KNP) as part of Project Cheetah, by Prime Minister Narendra Modi on September 17, 2022, which also happens to be the leader's birthday. In this backdrop, a photos of PM Modi is viral on social media with the claim that he tried to click a photograph using a professional camera with the lens cover on. In the photo, we can see PM Modi holding a camera with its lens cover on. The post's caption read, "No one has been able to take a photo with such a closed camera in 70 years... only our lion can do this."
In fact:
Our research using reverse image search led us to an image gallery published by The Indian Express titled "The cheetahs are back: PM Narendra Modi releases the big cats at Kuno National Park". The original version of the viral photo was seen in the ninth image of the gallery. PM Modi can be seen clicking a picture with the camera's lens cover off in this photo. Evidently, this photo of the PM has been digitally altered and shared with a false narrative on social media.
Indian government portal the Press Information Bureau (PIB) has also published the same picture on its website.
The morphed photo went viral after Trinamool Congress (TMC) MP Jawhar Sircar shared the image on Twitter. He wrote in the caption, "Keeping the lid on all statistics is one thing, but keeping the cover on the camera lens is sheer far-sightedness." Soon after, Bengal BJP president Dr. Sukanta Majumdar pointed out that the viral image was not original. He said the image shows a Nikon camera with a Canon lens cap. Taking a jibe at Sircar, Majumdar wrote on Twitter, "TMC Rajya Sabha MP is sharing an edited image of Nikon camera with canon cover. Such a bad attempt to spread fake propaganda. Mamata Banerjee...hire someone better who can at least have common sense."
The verdict:
A digitally altered image of PM Modi holding a camera with its lens cover on has been shared with a false narrative. Hence, we have marked this claim as false.