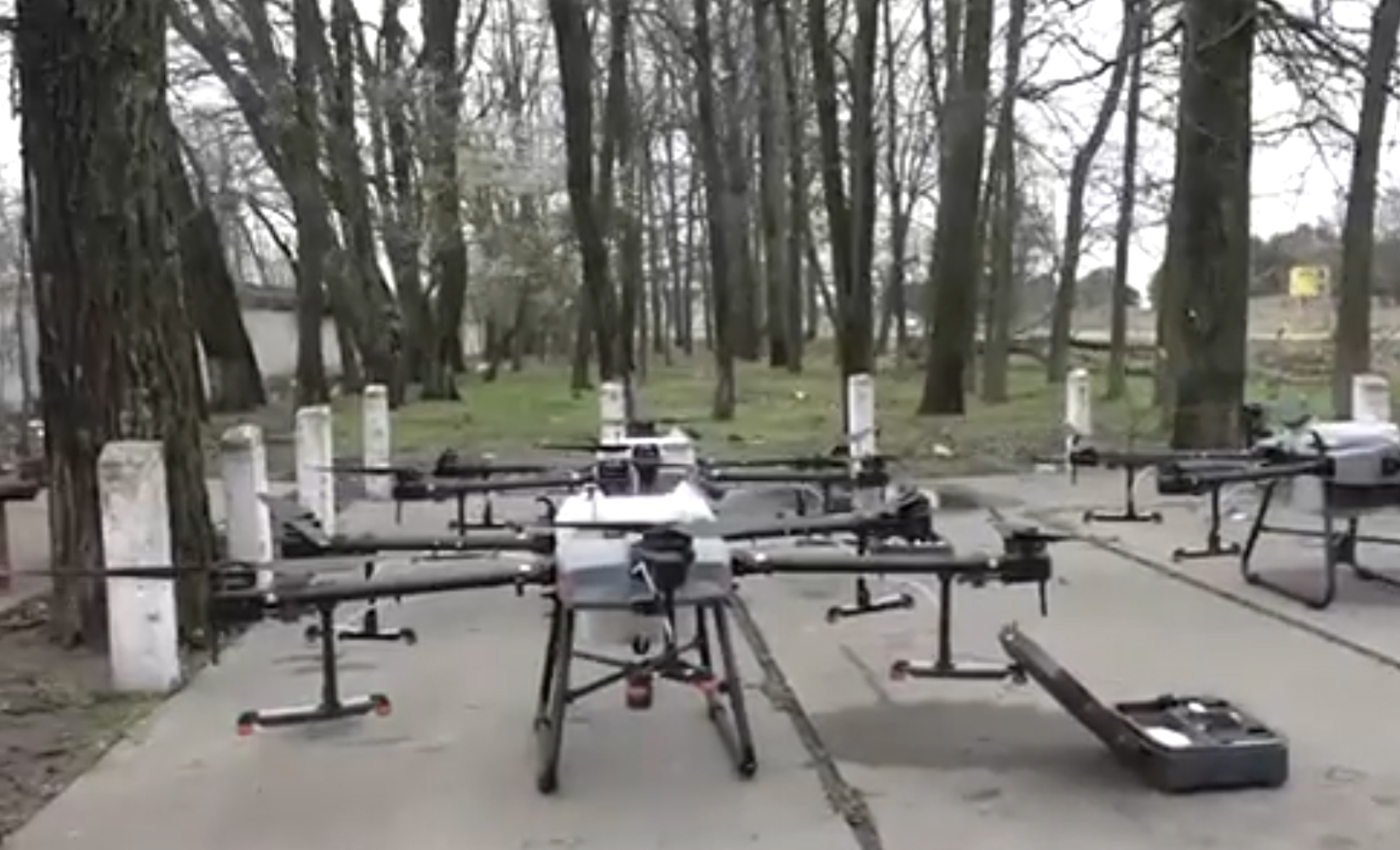 The video shared by Russian media is not of combat drones, but agricultural DJI AGRAS T30 multi-copters used for crop dusting.
A video has been widely shared on Twitter and Facebook claiming that the Russian army has found drones with liquid containers and sprayers abandoned by the armed forces of Ukraine. The claim is made in the context of the COVID-19 pandemic, alleging that "kovid drones" from Ukraine intended to "cause" COVID-19 and other diseases. These allegations were first published on April 13 by Russian state media RT, which is known for spreading propaganda. The report stated that the drones were equipped with 30-liter liquid containers and dispensers found in the Kherson region. However, the claim is false.
A reverse image search of a screenshot from the video revealed that the drone seen in the viral post is a multi-copter DJI AGRAS T30, used in agriculture for spraying crops. According to the manufacturer's official website, it is equipped with a large 30-liter liquid tank with a spray width of 9 meters and a field spraying efficiency of 40 acres per hour.
Taras Troyak, head of the All-Ukrainian Federation of Drone Owners, also denied the information spread by the Russian media on his Facebook page on April 13. He said 14 pieces of DJI Agras T30 agro-drones belong to their client's warehouse, where they had failed to collect them.
The International Committee of the Red Cross President Peter Maurer said that drones are not mentioned explicitly in weapon treaties or other legal instruments of international humanitarian law. But, the use of any weapon system, including military drones, in armed conflict situations is subject to the rules of international humanitarian law. Similarly, "drones can in no way be used to carry prohibited weapons such as chemical or biological agents."
Apart from the fact that these are not military drones, the claim says they are intended to cause COVID-19 disease by spraying, which is equally inaccurate. According to Mayo Clinic, the causative agent of COVID-19 is the respiratory virus SARS-CoV-2, which is transmitted through direct contact with the respiratory droplets of an infected person who coughs or sneezes. Research also shows that the virus can live in the air for a few hours. There is no evidence that dusting from planes or drones can cause COVID-19 or any reports of any mass contraction of the disease in the respective locations.
According to an article published by Forbes on March 31, DJI is a Chinese company, and its drones are not intended for military use despite all the evidence to the contrary. Also, a DJI spokesperson said, "We do not support any use of our products that harm people's lives, rights, or interests, as we have always reiterated in our products' Terms of Use and other public statements." The spokesperson also said, "We do not provide technical support when our products are used for military purposes."
Since the beginning of Russia's invasion of Ukraine, Russia has repeatedly accused the Ukrainians of plotting a provocation involving chemical weapons. There is no conclusive evidence of these allegations. Logically has previously debunked the conspiracy theory of biolabs in Kyiv and Odesa as Russian propaganda.