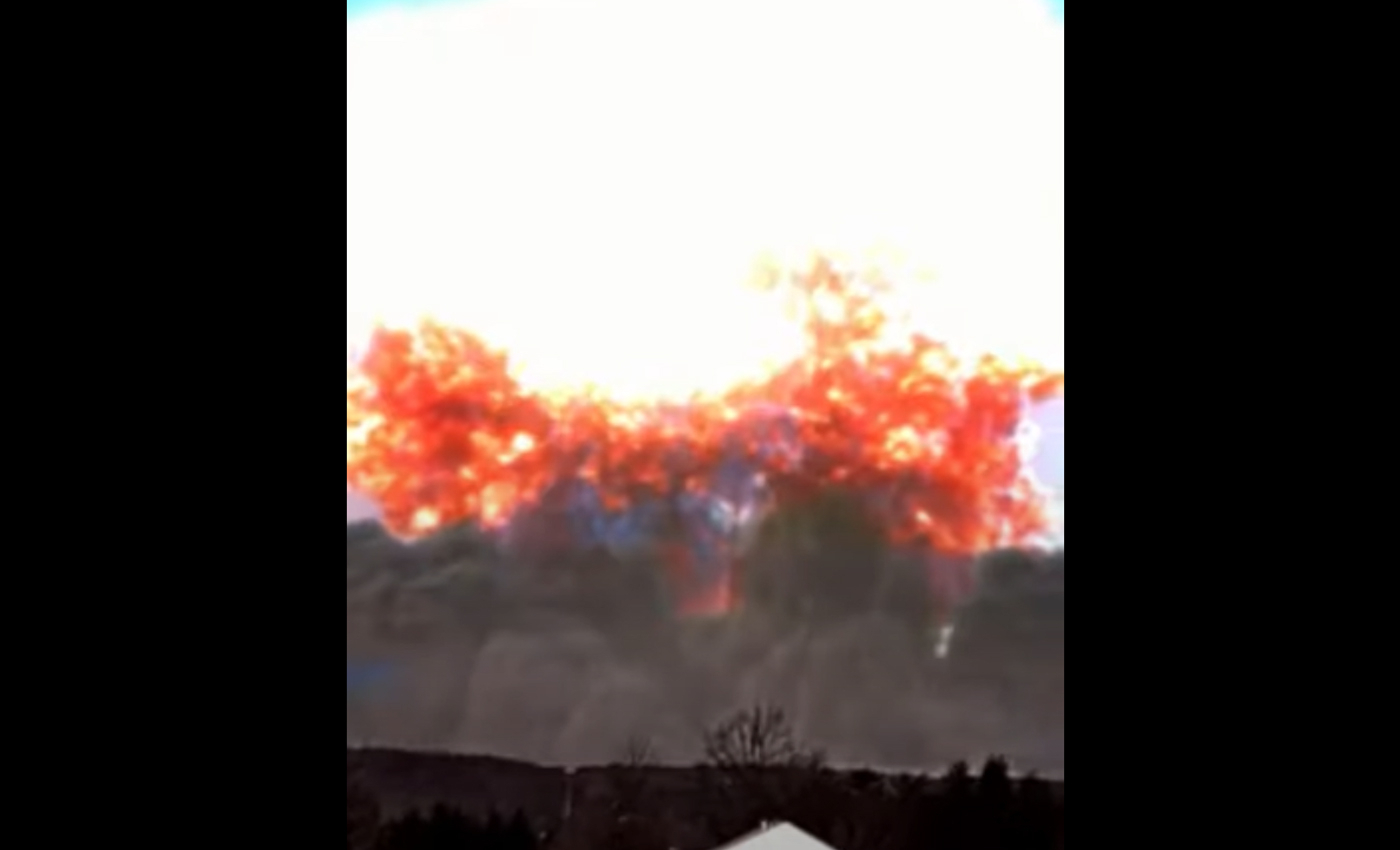 A visual effects video has been incorrectly captioned to claim it shows the Russian hypersonic missile Kinzhal attacking Ukraine.
Context:
There are several reports of Russia using missiles to attack Ukraine. A video making the rounds on social media shows a massive explosion from what appears to be a missile attack. Its caption reads, "Russian Kinzhal missile, with a speed of 12,000 km per hour, which is ten times faster than sound, was used today to destroy a Ukrainian arms depot 136 meters underground." Further, the video is credited to an unnamed American reporter who documented it. There are no credible reports regarding this video.
In Fact:
A reverse image search traces the video to a YouTube channel named InsanePatient2. On February 28, 2022, the user published the viral explosion video, and its description reads, "What if Russia/Putin Started [a] Nuclear War with Ukraine and the rest of the world?"
The description also contains links to the same user's Patreon (a platform that helps content creators run a subscription service) and the visual effects (VFX) tool they've used. The link to the Patreon reads, "Making VFX videos is extremely fun, but that doesn't mean it's easy. Help support me through Patreon to keep the channel running."
The channel's about page also states that it is only dedicated to VFX content. The channel has posted similar videos. In a video dated January 28, 2022, which supposedly depicts two planets colliding in the sky, the sound of a man exclaiming can be heard. The same audio is used in the video in question. Similarly, another VFX video titled "Moon crashed into Earth!" posted on March 4, 2022, by the same channel, uses the same background and scenery as in the viral video.
Also, InsanePatient2 posted the viral video days after the Russian invasion of Ukraine began on February 24. Some of the VFX videos were posted to the channel before the media reported any missile attacks from Russia.
BBC News reported on March 19 that there was no confirmation that Russia had used Kinzhal, or Dagger – both ballistic missiles launched from the air – in Ukraine. BBC added that Kinzhal is a hypersonic missile that can "hit a target up to 2,000km (1,240 miles) away and can fly faster than 6,000 km/hr." Russia posted a video showing the destruction in Ukraine by a high-precision missile weapons strike. The strike allegedly occurred on the arms depot in Deliatyn, a village in southwestern Ukraine, 100km from the border with Romania.
The Verdict:
Different videos claim to depict Russia's missile attack on Ukraine. However, all videos are not verified. The viral video by InsanePatient2 is used by different social media posts to make other untrue claims. As it is a VFX video and not a video of a real explosion, we have marked this claim as false.