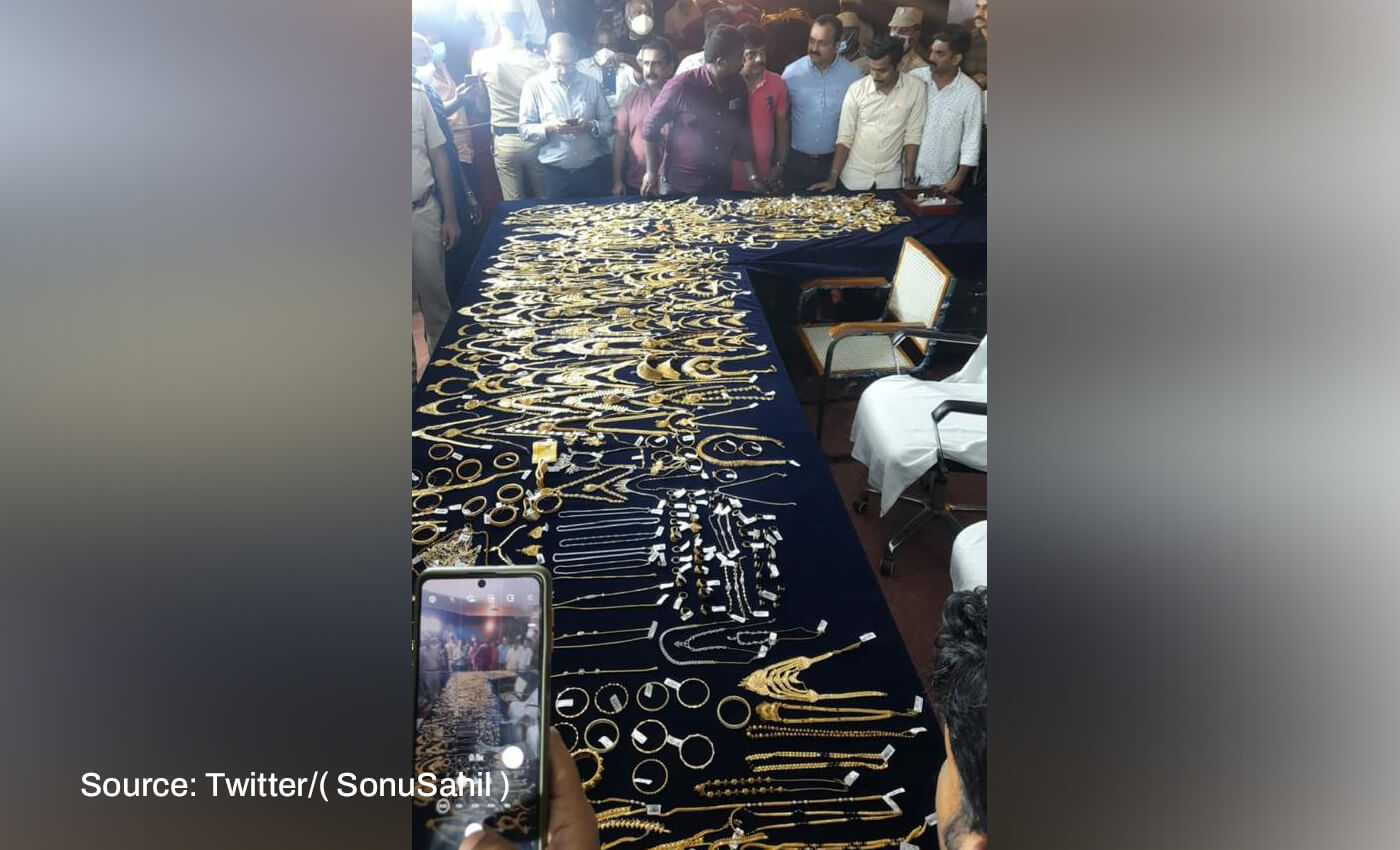 A photo of gold recovered after a heist at a jewelry store in Vellore has been falsely shared as one of ornaments recovered from the priest's house.
Context:
On August 21, 2022, an image was posted by a Twitter user @786sonusahil showing a series of tables covered in gold ornaments along with some police officials standing around it. The user claimed that the jewelry was recovered from the house of one of the sixteen priests appointed at the famous Tirupathi Balaji Temple in Andhra Pradesh. "Out of 16 priests at Tirupati Balaji temple, there was an income tax raid at one of the priest's houses in which 128 kg gold, 150 crores cash, and diamond worth 77 crores were found". The post and similar claims have been widely shared on social media.
In fact:
The same picture was posted on an Instagram page on December 21, 2021. The page @VelloreKottai described itself as 'Vellore's biggest meme page.'
On further searching for the image using relevant keywords such as Vellore, and jewelry, we found a news report by The Hindu published on December 21, 2021. The report was about a gold heist that took place at a popular jewelry store in the heart of Vellore city in Tamil Nadu. According to the report, the police arrested one person in the case and recovered the entire 16 kg of gold that was reported stolen. The recovered items included diamond jewelry worth ₹8 crore. The recovered items seemed to have been put on display by the local police during a press conference. The image shared with The Hindu report shows the same series of tables covered with a blue cloth displaying jewelry as in the viral image. One can also identify the jewelry from the viral photo in the newspaper's report.
According to The Hindu, Vellore District police cracked the case by arresting a 23-year-old man named T. K. Raman, a resident of Kuchipalayam village near Pallikonda. They recovered the jewelry from a graveyard in Odugathur. "On December 15, the perpetrator drilled a hole into the showroom and sprayed paint on all 12 CCTV cameras inside the shop and took away valuables and jewelry worth crores," the report said.
India Today had also reported on the incident. BBC News Tamil also posted the video of the press conference, with the same jewelry seen in the viral photo displayed on a series of tables covered with a blue cloth, on their YouTube channel.
Moreover, there are no recent reports of any Income Tax raids in a Tirupathi Balaji temple's priest's house in the mainstream media organizations.
The verdict:
The image is from a recovery made by the Tamil Nadu Police after solving a heist involving the theft of gold and diamond jewelry from a commercial store in Vellore. It has nothing to do with Tirupathi Temple or its priests. Hence, we mark the claim false.
Reference links
The Hindu
BBC News Tamil, YouTube
India Today