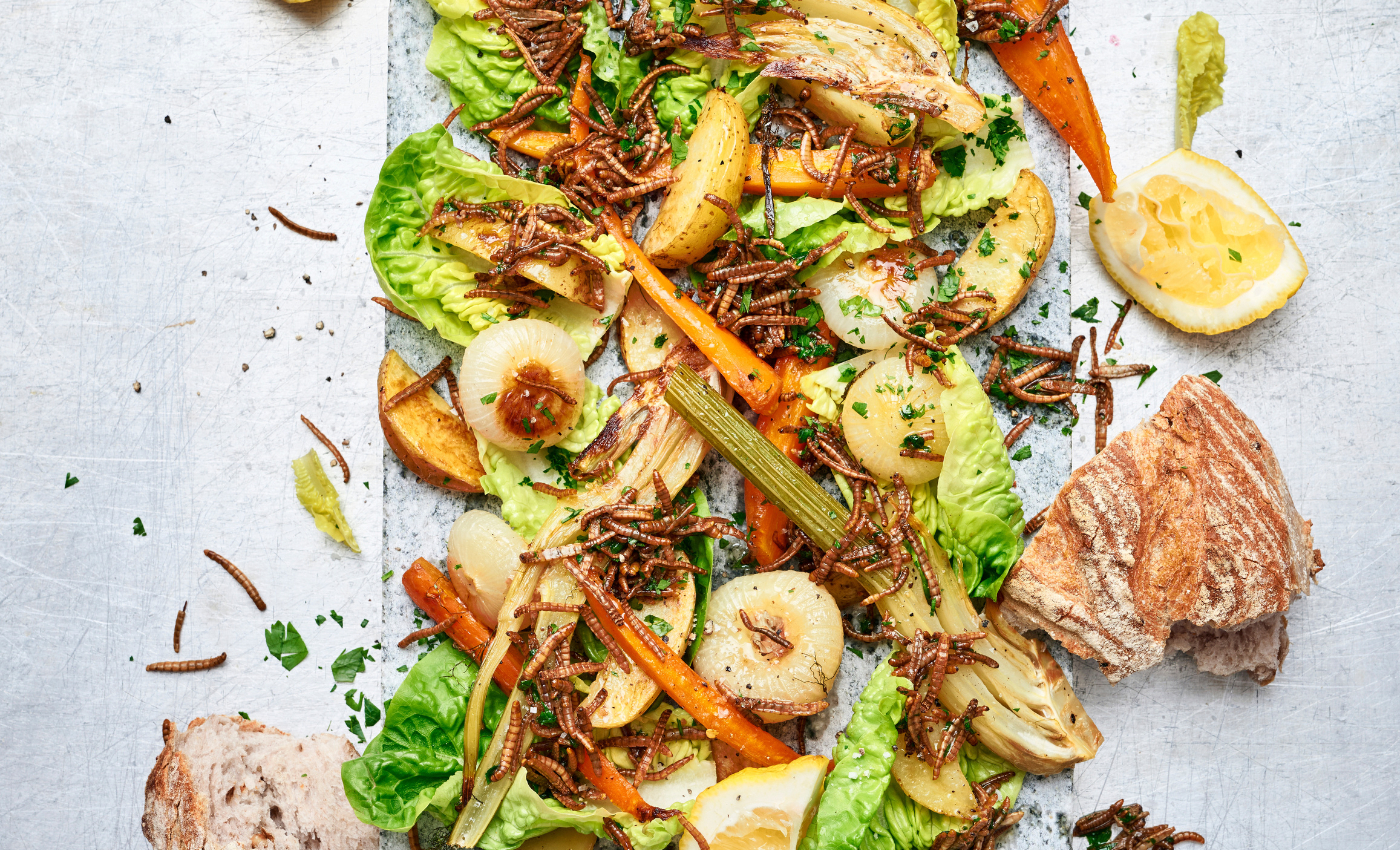 There is no basis for the claims that bugs are being secretly added to people's diets. Bugs have been suggested as a complement to meat.
Context
The claim that a globalist elite secretly plans to force the world's population to eat bugs recently gained traction in Sweden. Since January 24, conspiracy theorists have focused their attention on a salad recipe containing mealworms published on the website of the Swedish grocery store ICA. A Facebook group, which has gained 3,200 members so far, was formed, primarily worrying about insects not being listed on food labeling. Claims include concerns that it is part of a plot by Klaus Schwab and the World Economic Forum and that the ICA has been bought by the globalists.
According to Crowdtangle data, the ICA recipe gained 2100 reactions on Twitter, most of which came from a post by Katerina Janouch, a Swedish right-wing conspiracy theorist known for spreading anti-vax propaganda.
In Fact
However, the claim is false. ICA responded to one of the 179 comments on its website on January 24 – which were mostly false claims – explaining that the recipe was posted in 2017, that it does not sell insects, and that it always writes all ingredients on its products in compliance with the law. Swedish food regulations regarding information, labeling, and claims regarding products are the responsibility of The Swedish Food Agency (Livsmedelsverket). It explains on its website that all ingredients must be clearly labeled to ensure that the consumer receives the correct information. In addition to Swedish regulations on food information (LIVSFS 2014:4), this is regulated in EU law by Regulation (EU) No. 1169/2011.
Due to the attention to the topic, the Swedish Food Agency released a statement on January 25, also posted on Facebook, clarifying that all ingredients must be clearly labeled and written in Swedish. However, the Facebook post attracted similar sentiments and claims as the comment section on the ICA recipe. So far, the post has received 633 comments and has been shared close to 800 times. The claim is not unique to Sweden and has been part of conspiracy theorist narratives, particularly the far right, for a long time. The idea has been spread by both QAnon and Fox News, among others.
The World Economic Forum is a central part of the conspiracy as it is seen as the driving force in the creation of a New World Order, with Agenda 2030 and The Great Reset initiatives seen as evidence of a new technocratic future where Klaus Schwab is the leader of a new worldwide communist state. Regarding insects in diets, the WEF has posted several articles on its website. A search for "insect" and "food" on their website yields 537 results, including topics such as pollination, agriculture, and climate. However, the articles are included with a disclaimer that the views expressed in the article are the author's and do not reflect those of the World Economic Forum. The authors range from journalists to academics to entrepreneurs, and many articles are republished by other media organizations such as Reuters. As such, there is no evidence of a globalist plot to covertly force an insect-based diet upon the world's population. Logically has previously fact-checked similar claims, including one in June that the production of crickets was part of a planned food agenda by global elites, and Lead Stories rated a tweet from the WEF claiming that not transitioning to an insect-based diet would be bigoted.
The Verdict
There is no proof that a globalist plot is attempting to covertly force an insect-based diet on people in Sweden or elsewhere. Secretly adding an ingredient without listing it is also illegal in Sweden. We have therefore marked this claim as false.