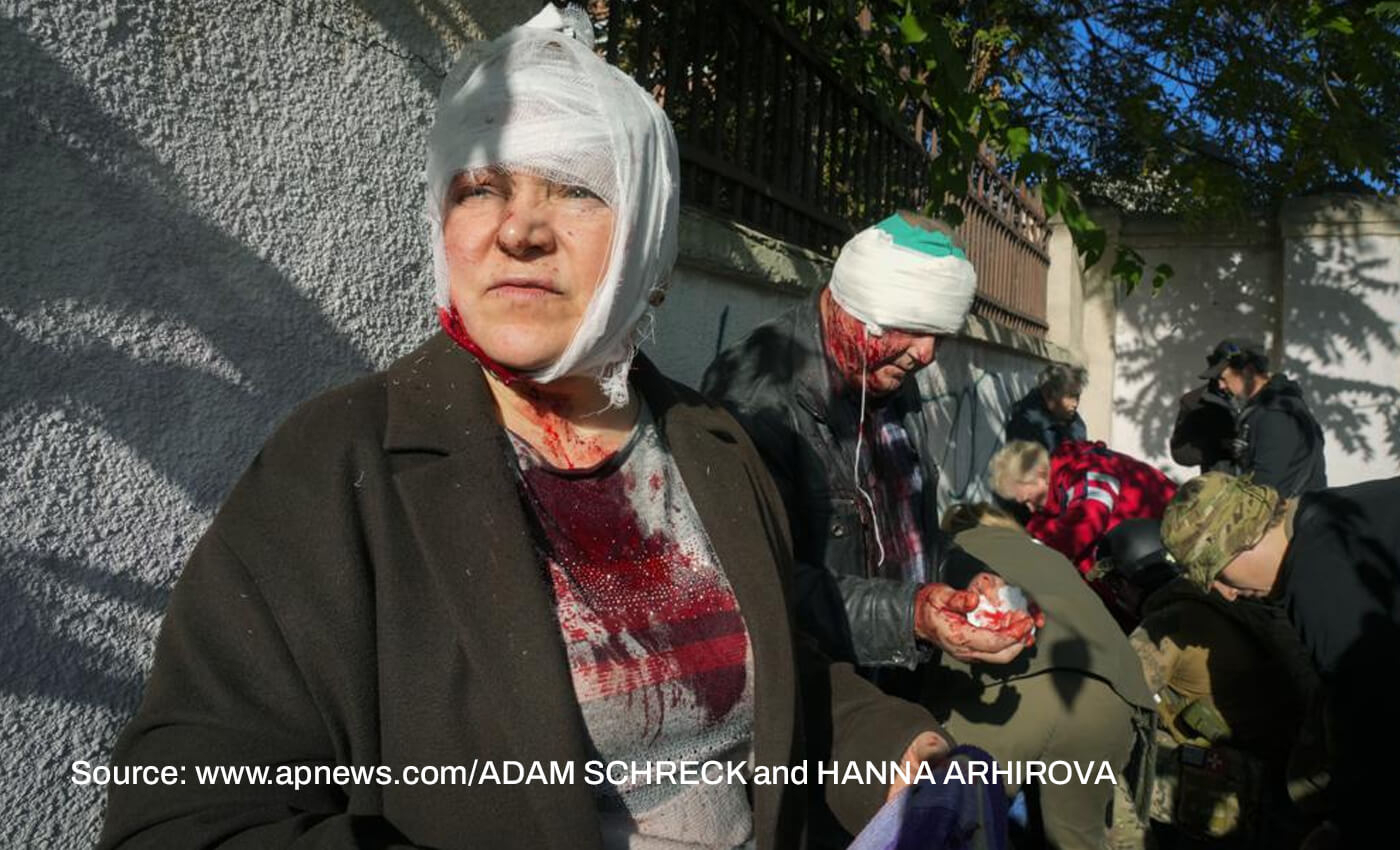 Many credible media outlets have documented the missile attacks on October 10, proving that the image is not fake.
Context
According to media reports, Russia launched a missile attack on Ukraine, including the capital, Kyiv, on October 10, 2022, over six months into the Russia-Ukraine war. Many of these reports included published photos of the damage caused, and of people who survived the attack. Some social media posts have claimed that these images are fake, with one particular image shared to apparently prove their assertion.
In fact
The image in the social media posts was taken by Efrem Lukatsky, Associated Press (AP). The caption reads, "People receive medical treatment at the scene of Russian shelling, in Kyiv, Ukraine, Monday, Oct. 10, 2022. The Russian missiles that rained down Monday on cities across Ukraine, bringing fear and destruction to areas that had seen months of relative calm, are an escalation in Moscow's war against its neighbor. But military analysts say it's far from clear whether the strikes mark a turning point in a war that has killed thousands of Ukrainians and sent millions fleeing from their homes." The Washington Post published and cited the same image in their report of the missile strike on October 10.
Ukraine's Emergency Service told AP News that nearly 100 people were wounded in the attacks, which Russia had launched from the air, sea, and land against at least 14 regions, spanning from Lviv in the west to Kharkiv in the east. BBC News and the New York Times reported live from the site of the attacks in Kyiv and mapped the other attacks across Ukraine. The New York Times published CCTV footage at the time of the attack in Kyiv, stating that the strike damaged high-rise office buildings. According to BBC News, these attacks happened after Russian President Vladimir Putin accused Ukraine's security services of attacking the Kerch bridge. However, Ukrainian officials have not indicated whether their forces were behind the attack.
The verdict
The image from the posts is an official AP News photo. Many other media outlets have documented and reported the missile strikes on October 10 and therefore, we have marked this claim as false.