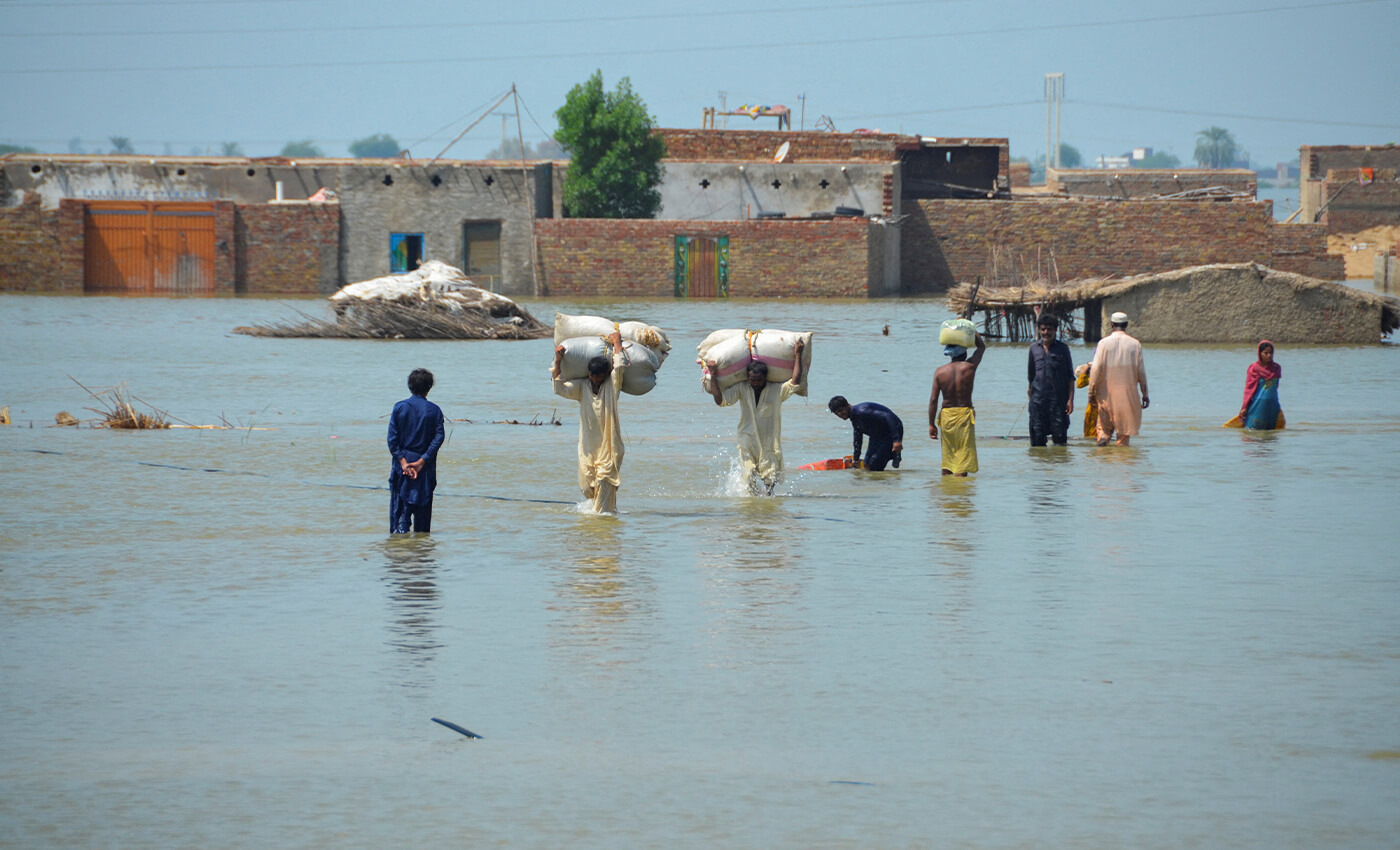 India has not recently released any water into the Ravi river. Heavy monsoon rain, which began in mid-July, is a key source of floods in Pakistan.
Context:
As Pakistan continues to witness record flooding amid heavier than usual monsoon rains, several posts on social media have floated holding India responsible for the situation. Many such posts claim that India has released an enormous amount of water into the river Ravi - which flows both in India and Pakistan— causing floods in the neighboring country. One of the people making this claim is Sehar Shinwari, a Pakistani actor and social activist.
In fact:
In our research, we came across no reports suggesting India released any water into the river Ravi in the past two weeks. The most recent report we found of India releasing water into the river dates back to August 15, when the Indus Water Commission of India informed Pakistan that 170,000 cusecs water had been released into the Ravi at the Ujh Barrage.
According to a report by Dawn, the Pakistani National Disaster Management Authority (NDMA) had issued a flood alert in light of this release, and the government swung into action to prevent any loss of lives and damage to private and public property. The water reaches Pakistan in Narowal district of Punjab.
The Express Tribune reported that Pakistan's Flood Forecasting Division (FFD) at the time had warned that there was a moderate to high flood risk in the Ravi. However, a report by The Nation on August 18 said that according to the chairman of the Pakistan Federal Flood Commission (FFC), the water flow in river Ravi was recorded at 63,000 cusecs on August 16 evening, which did not suggest high flood conditions. Chairman Ahmed Kamal also rejected reports of high flood in the river and added that only illegal establishments on the embankments of the river were at risk.
Further, we found a tweet from Pakistani politician and Daily Times columnist Hina Parvez Butt on August 28, in which she urged people to disregard rumors of floods in river Ravi and attached a document from the FFD which showed that the water flow was normal. We found the same document on the Pakistan Meteorological Department's website, issued on August 28, and found that there was no mention of high flood conditions in Ravi. Further, it also predicted a 'Below Low' flood level for the river. Taking a cue from this document, we searched for reports from the FFD dated September 2 and again found that the Ravi was observed at a 'Below Low' flood level with no alarming signs detected.
Moreover, we found a report titled Monsoon Outlook 2022, published by the Pakistan Meteorological Department on June 6. This report, published well before the severe rains hit the country, forecasted "a tendency for above normal precipitation" in the country from June to September. It also predicted extreme hydro-meteorological events over catchment areas which could lead to riverine floods in the major rivers, as well as flash floods in hilly areas and urban flooding in plain areas. This proves that weather conditions and climate change are to blame for the disastrous floods in Pakistan at the moment and not India.
Experts have blamed climate change, which resulted in a warmer atmosphere and melting of glaciers, for leading to unprecedented floods in Pakistan. Logically has published stories refuting this reason.
According to a report by the World Health Organization, over 33 million people have been affected by the floods, over 1,000 people have died, and almost 15,000 people have been left injured as of August 25. 116 out of 154 districts of the country have been affected by the flooding, and Sindh and Balochistan have been hit the hardest. Evacuation and rescue operations are currently being carried out in the devasted country by the military.
While India has nothing to do with Pakistan floods, in May prominent Indian journalist Palki Sharma tweeted that 80% of agricultural land depended on water that India controlled. She suggested that if India wanted it could generate floods in Pakistan and wondered why the Indian government had not exercised the power. The tweet was condemned by Indians and Pakistanis unequivocally in the strongest language.
In late August, Indian Prime Minister Narendra Modi on Twitter expressed his condolences over the devastation caused by floods in Pakistan. Pakistan Prime Minister Shehzab Sharif had expressed appreciation for PM Modi's concerns.
The verdict:
India has not released any water into the river Ravi in the last two weeks and is not to blame for the floods currently devastating Pakistan. The floods have been caused by heavy monsoon rains, fuelled by climate change, which began in mid-July. Therefore, we have marked this claim false.