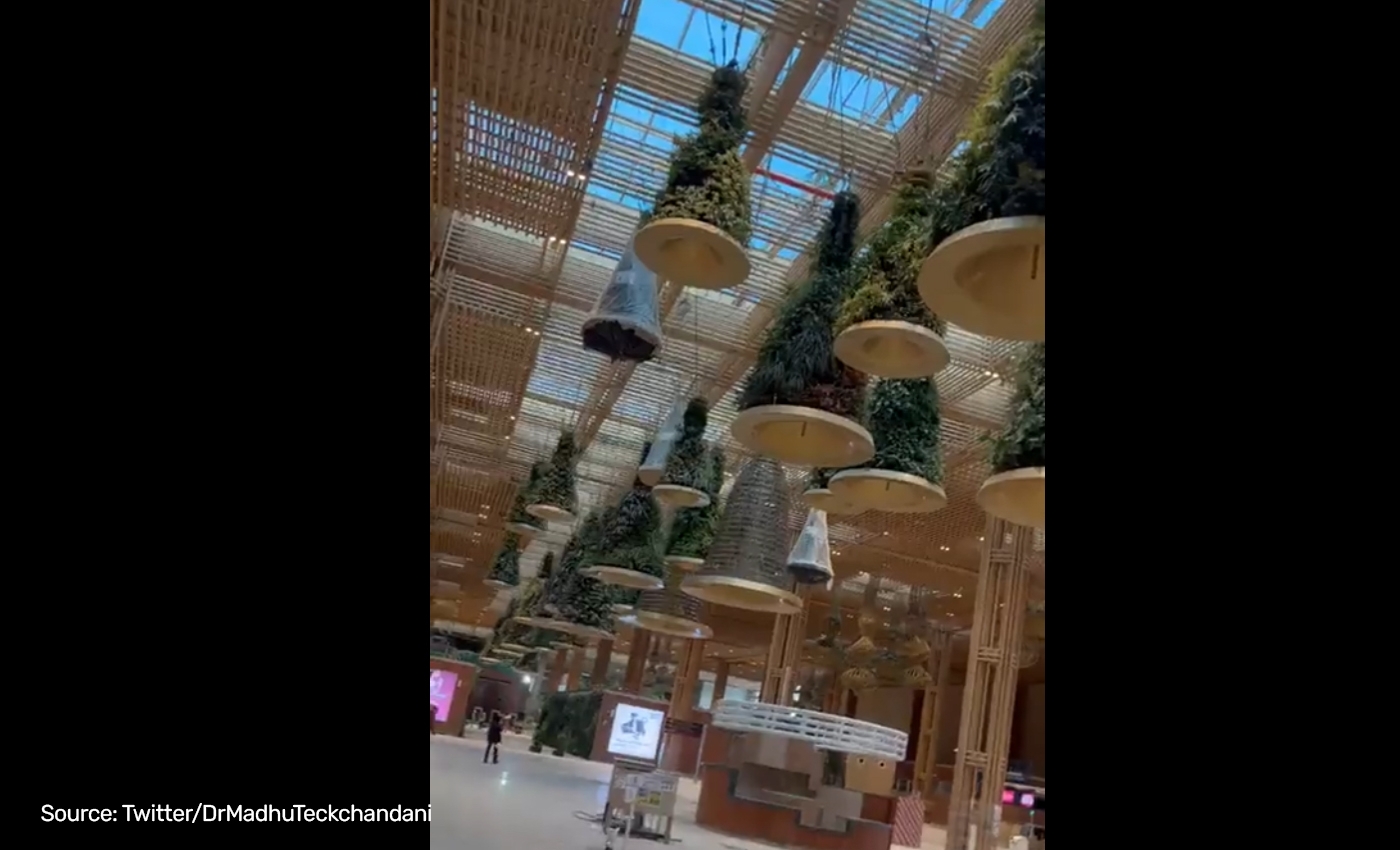 Interior video of the new terminal of Bengaluru's Kempegowda Airport has been misattributed to Arunachal Pradesh's Donyi Polo Airport.
Context
A video of an internal view of an airport is circulating on social media, alongside the claim it is from Donyi Polo Airport. The video posted to Twitter is captioned, "Arunachal pradesh state Donyi Polo Airport is mostly made from *BAMBOO*, will be dedicated to the Nation by our PM shortly. Wow... *Amazing Bharat*." The tweet garnered more than 300 likes and was tagged to Harsh Goenka, chairman of the Indian RPG Group conglomerate. However, the claim is incorrect. The video is from Bengaluru airport, not from Donyi Polo Airport in Itanagar.
In Fact
We conducted a reverse image search on one of the keyframes of the video using the InVID tool and found the video is from Bengaluru airport. We found that the Times of India (TOI) has posted images of Bengaluru Terminal 2, which matches the visuals of the video in question. We can see the design of the bell-shaped hangings at 0:27 seconds in the video in question. The same image was posted on the TOI report by captioning it as "A big draw of Terminal-2 will be its hanging garden." The report mentions that Narendra Modi will inaugurate Kempegowda International Airport's Phase 1 of the second Terminal on November 11, 2022. It also says that Terminal 1 will continue to accommodate international operations, and Phase 1 of Terminal 2 will initially be a dedicated terminal for domestic flights. Terminal 2 will be fully operational at the end of December.
CNBC-TV 18 YouTube video uploaded on November 9 also shows the visuals of Bengaluru Kempegowda Airport Terminal 2. It was captioned "Quick Look Of Terminal 2 At Kempegowda International Airport, Bengaluru." The video describes Terminal 2 as "designed as a tribute to Garden city." We can observe that most of the internal designs are made with bamboo.
On November 11, Narendra Modi posted a few images of Bengaluru airport on his Twitter account. He tweeted that "Terminal 2 of the Kempegowda International Airport, Bengaluru will add capacity and further convenience. It is a part of our efforts aimed at providing top class infrastructure to our urban centres. The Terminal is beautiful and passenger friendly! Glad to have inaugurated it."
An NDTV report published on November 18, 2022, states that on November 19, Prime Minister Narendra Modi will open Arunachal Pradesh's first greenfield airport, Donyi Polo Airport. Additionally, it notes that this will be Arunachal Pradesh's third operating airport and the first in Itanagar. The pictures of Donyi Polo that were included in the NDTV report do not match the visuals in the video in question, and we can observe bamboo was not used much in the interior design of the airport. According to Hindustan Times, the Great Hornbill gate at Donyi Polo Airport is made of bamboo.
The Verdict
The video of Bengaluru Kempegowda airport was misattributed as Donyi Polo Airport. Therefore we have marked this claim as false.