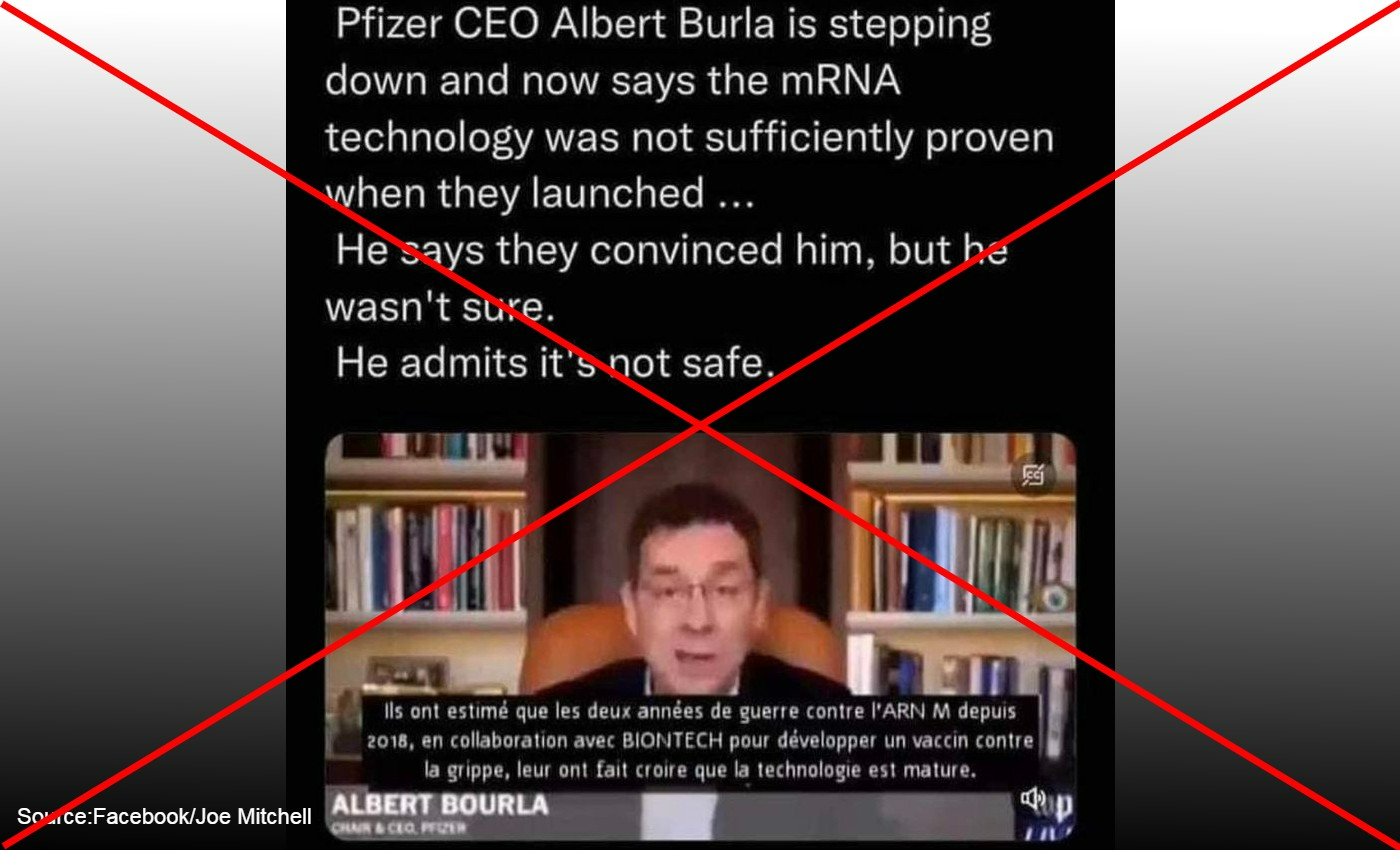 Albert Bourla has not said that the mRNA vaccines are unsafe, nor has he resigned as CEO. Ample evidence shows vaccines are safe and effective.
Context
Recently, a 45-second-long video was widely shared by a Twitter user, claiming, "Pfizer CEO Albert Bourla is stepping down and now says the mRNA technology was not sufficiently proven when they launched ... He says they convinced him, but he wasn't sure. He admits it's not safe." The post has been retweeted more than 10,000 times with 15,000 likes. The video's screenshots were also shared on Facebook with the same claims.
In Fact
We found the logo of "WP Live" at the bottom of the viral clip. With this, we ran a keyword search. We came across a video posted on March 11, 2022, to the Washington Post Live YouTube channel with the caption "Albert Bourla on why mRNA technology was "counterintuitive" to producing an effective vaccine." We watched the full video and found no statement made by him that matched the claims being circulated.
Subsequently, we found a transcript of the entire conversation on the Washington Post website published on March 11. According to the transcript, he says Pfizer had "less experience" with mRNA when it set out to develop a COVID-19 vaccine, but not that it was unproven. At no point during the interview does Bourla say that mRNA technology is harmful or unproven or admits that it is unsafe. Rather, he praises the technology and says that it will continue to be used in the future for vaccines and treatments.
Further, we also found that Bourla is still listed as the CEO and Chairman of Pfizer on its official website, making it clear that he has not stepped down. Given the focus on the company, multiple news organizations would have covered Bourla's exit from Pfizer, but we did not find any such articles reporting that he resigned, nor did Pfizer issue any press release announcing it. Bourla's Twitter bio still reads "CEO and Chairman of Pfizer." On December 13, he tweeted about the Wall Street Journal's "Best-Managed Companies of 2022" list, praising Pfizer.
The Verdict
An old video of an interview conducted by the Washington Post with Albert Bourla is being shared with the false claim that he admitted that mRNA vaccines are unsafe and stepped down from Pfizer. However, he has not made such statements or resigned as CEO. Therefore, we have marked this claim as false.