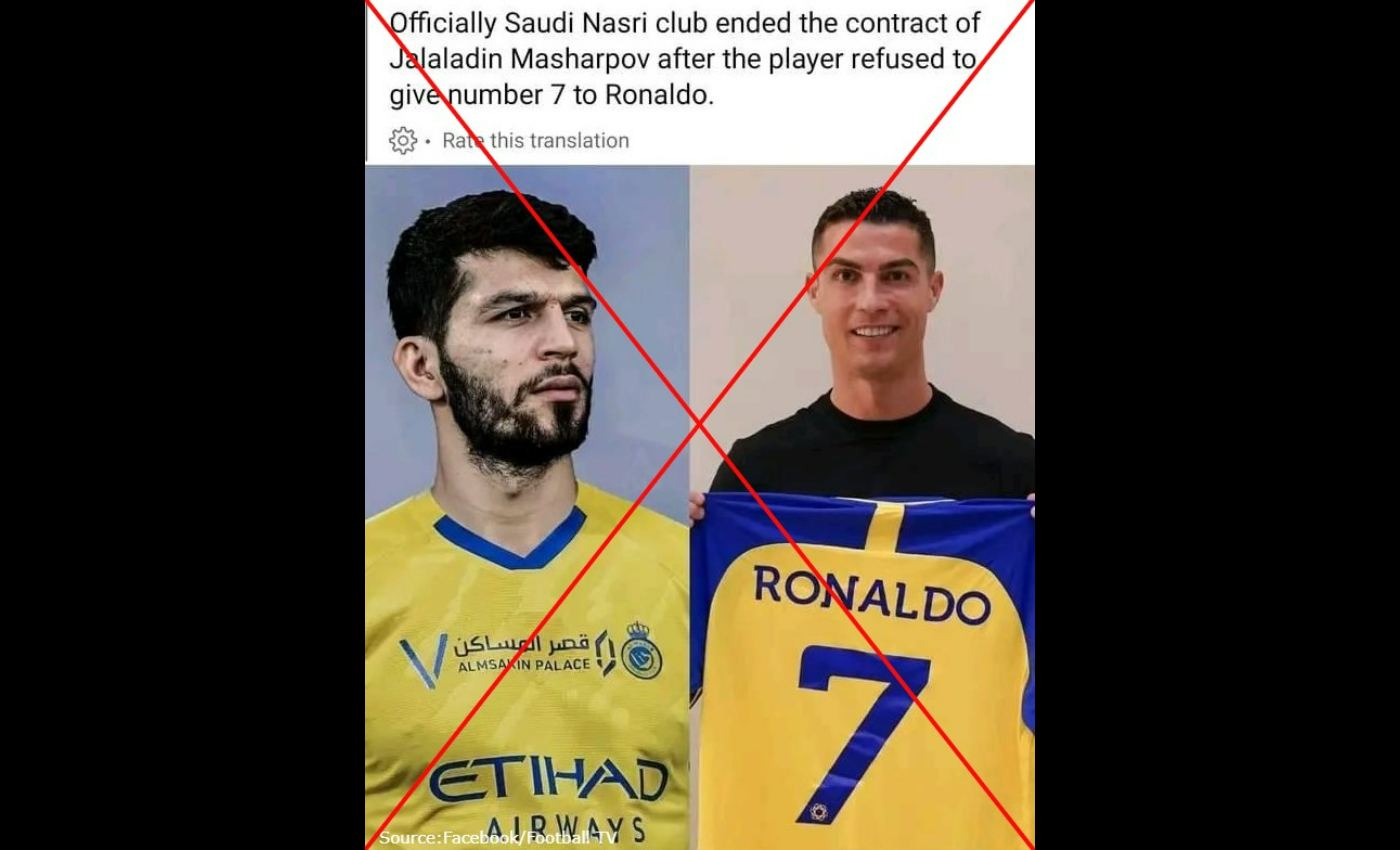 Masharipov was allotted number 77 before Ronaldo was brought into the team. His contract has not been terminated.
Context
Following his premature exit from Manchester United, Real Madrid, and Juventus, footballer Cristiano Ronaldo joined Saudi Arabia's Al-Nassr on a two-and-half-year deal. Ronaldo signed the contract on December 30, 2022, which will continue until June 2025. On December 31, Al-Nassr announced that Ronaldo would wear jersey seven - Uzbek footballer Jaloliddin Masharipov's previous number.
Social media users started circulating an image of Masharipov wearing a yellow Al-Nassr jersey and Ronaldo displaying his new jersey with number seven on the back, claiming that Al-Nassr terminated Masharipov's contract as he refused to give up the number for Ronaldo.
In Fact
Al-Nassr had assigned Masharipov a new jersey number before Ronaldo signed the deal to join the club. Masharipov got jersey number 77 in mid-December 2022. On December 14, Masharipov posted several photos of him wearing number 77 on Instagram - before the official announcement that Ronaldo has been signed by the team. On January 3, 2023, Masharipov posted a picture with Ronaldo, with the caption "7/77," referring to both players' jersey numbers.
An Al-Nassr club representative denied the speculations to AFP and said that Masharipov agreed to change his number from 7 to 77 before Ronaldo was signed.
In an interview with Saudi Sports Company (SSC) news, club president Musalli Al-Muammar dismissed speculation about the jersey. "People like to talk even when it comes to a player's number on a training ground," he was quoted as saying by Goal.com. Muammar said that the possibility of Masharipov joining Egyptian club Al-Ahly was the reason he gave up the number seven jersey, which was then reserved for another player. However, since the deal did not work out, Masharipov stayed back and got jersey number 77.
According to the Saudi Arabian Football Federation (SAFF), clubs are allowed to register a maximum of eight foreign players, and seven are allowed in a matchday squad. But since Al-Nassr already had eight members when Ronaldo joined, it decided to allow Masharipov to transfer to another team to comply with regulations, AFP reported. However, he is still a part of the club and has not been terminated. Moreover, his possible transfer has nothing to do with his jersey number.
The Verdict
Masharipov was allotted jersey number 77 before Ronaldo was signed onto the team. His possible transfer from the club is being allowed to comply with Saudi league regulations. Hence, we mark this claim as false.