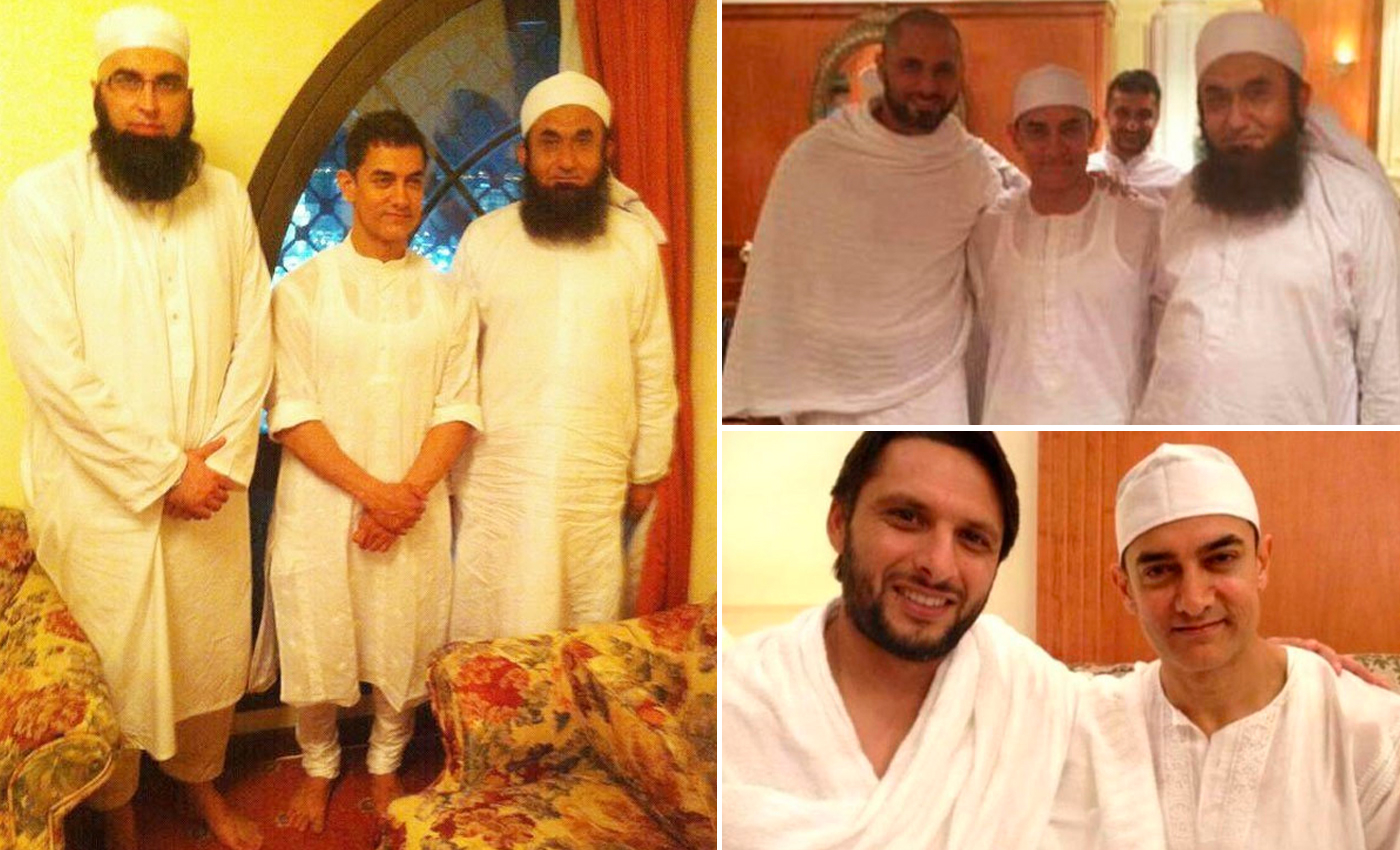 Images of Aamir Khan meeting Shahid Afridi, Junaid Shamshed, and Tariq Jamil at Hajj in 2012 are shared with false narratives that he met terrorists.
Images of Indian film actor Aamir Khan in white clothes posing for the camera with different men in similar attire have been circulating since 2013. Numerous captions for the image can be found on social media claiming to show Aamir Khan meeting the members of different terrorist organizations over the years. However, these images have been miscaptioned.
Using reverse image search, we traced the picture back to 2012. Pakistani singer-songwriter Junaid Jamshed tweeted in 2013, sharing the exact images. One of the photos includes two men with beards and Aamir Khan in the middle. Jamshed captioned the image, noting that he was on the left side of Aamir, and Molana Tariq Jamil was on the right side. In another image, Aamir Khan is accompanied by Pakistani cricketer Shahid Afridi. Another photo includes only one man with a long beard, and Jamshed captioned it that Aamir was with Molana Tariq Jamil and Shahid Afridi.
Jamshed also tweeted a link to the video of Molana Tariq Jamil's speech, where he speaks about his meeting with Aamir and Afridi at the Hajj in 2012. The image in question can be seen in the speech video at 1:30 minutes.
According to the Molana Tariq Jamil website, Jamil is a religious scholar, preacher, and public speaker from Pakistan, who runs the Jamia Al Hussnain and Meem Academy, which teaches children about Islamism. On December 7, 2016, Jamshed lost his life in an plane crash. BBC reported that in the 2000s, Jamshed had transformed into a religious icon who faded from music and rejected western culture and began to preach Islam worldwide.
According to Hindustan Times, Aamir Khan took the Hajj pilgrimage to Mecca in Saudi Arabia with his mother, Zeenat Hussain, in October 2012. NDTV Sports reported in October 2012 that Afridi visited Hajj after playing the cricket match between Pakistan All-Star XI and International World XI.
Contrary to online comments, there is no evidence that Jamshed, Jamil, or Afridi have connections to any terrorist organizations.