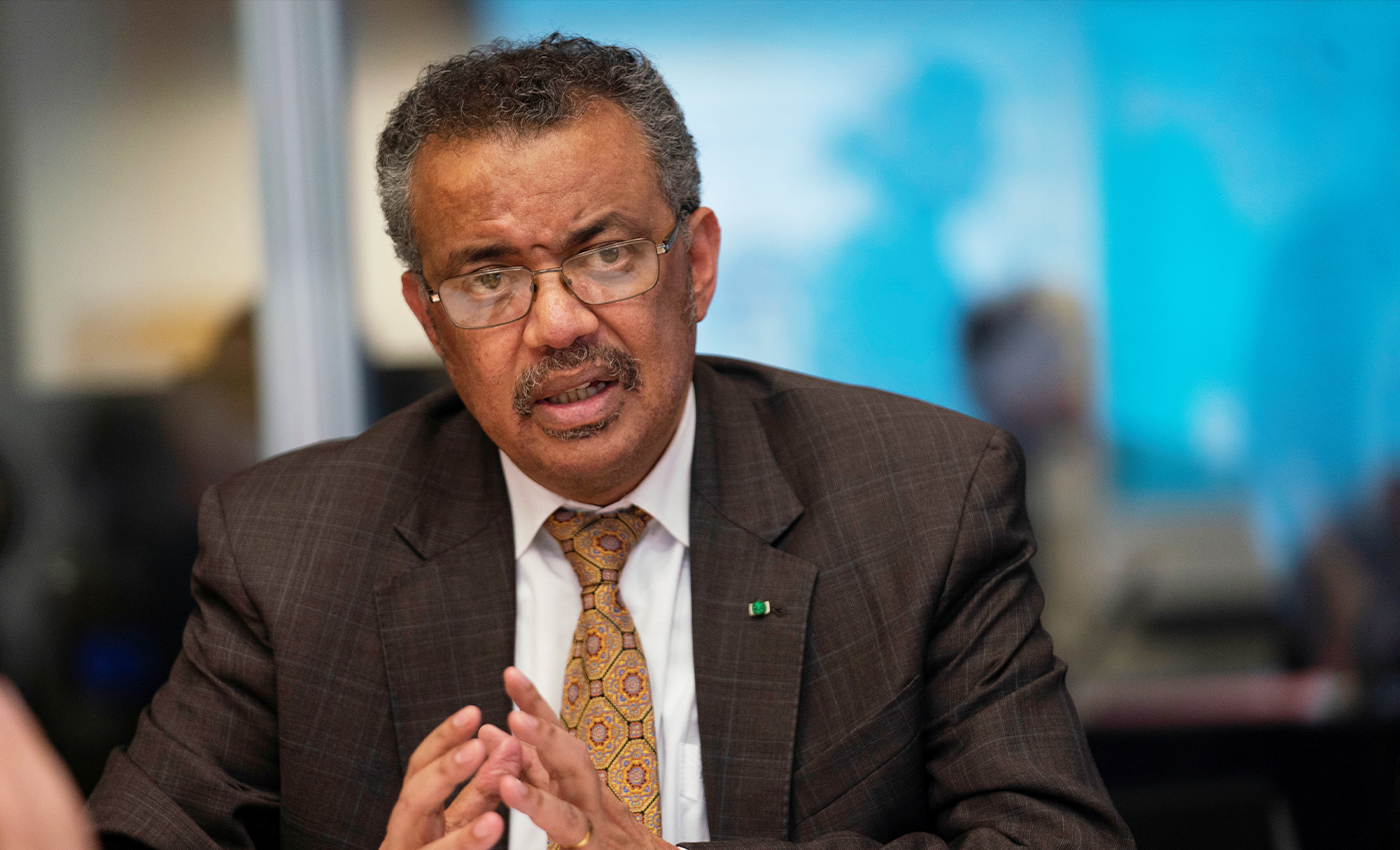 WHO chief received his COVID-19 vaccine in May 2021. An interview snippet taken out of context was shared to claim that he is not vaccinated.
Context:
In August 2022, a video featuring Tedros Adhanom Ghebreyesus, director-general of the World Health Organization (WHO), is disseminated to imply that he has not received the COVID-19 vaccine. In the 35-second video, the interviewer asked Mr. Ghebreyesus, ''I want to ask you about your own vaccination. You got your first shot when?'' Mr. Ghebreyesus replied, ''You know, still I feel like I know where I belong, in a poor country called Ethiopia, in a poor continent called Africa, and wanted to wait until Africa and other countries, in other regions, low-income countries, start vaccination. So I was protesting, in other words, because we are failing.''
This interview snippet is being shared on Facebook and Twitter to suggest that Mr. Ghebreyesus has not received the COVID-19 vaccine. The caption on one such post with the video said that the WHO chief "admitted" to have not taken the COVID-19 jab that he has been pushing on the rest of the world.
In fact:
Mr. Ghebreyesus has received the COVID-19 vaccine. On May 13, 2021, Mr. Tedros Ghebreyesus, via Twitter, said he had received the COVID-19 vaccination in a University Hospital in Geneva, Switzerland, and included a photo to mark the event. Even WHO intervened to clarify that Mr. Ghebreyesus was fully vaccinated and had a booster dosage after false information about his vaccination status gained traction online. It mentions that such inaccurate information undermines all efforts toward eradicating the virus.
The video shared on social media was an excerpt from HBO's "How to Survive a Pandemic," in which Mr. Ghebreyesus interacted with Jon Cohen, a correspondent for the journal Science in June 2021. The posts depicting the situation are genuine, but a portion of Mr. Ghebreyesus' response was edited from the HBO documentary. WHO director reportedly told the interviewer that he received his first shot in May 2021 while explaining why he had opted not to get it earlier, according to a print edition of the interview. His statement that he received his first shot in May seems to have been omitted from the documentary. Additionally, it even skips Cohen's next question, to which Mr. Ghebreyesus is shown responding in the widely-shared video.
Cohen told The Associated Press that the response section featured in the documentary did not include the vaccination date. According to the interview transcript, the conversation was edited for ''brevity and clarity.'' However, neither the documentary nor Mr. Ghebreyesus' statement implied that he had not received a vaccination.
The documentary's director David France speaking to The Associated Press said the vital component of Mr. Ghebreyesus' response was his justification for delaying his vaccination in favor of vaccine equality. He explains that given the video's context, the hold, and the reason, were the fundamental portions of his response, which were included in the documentary. He also notes that Mr. Ghebreyesus' reasoning for deferring was made using the past tense.
WHO has been the subject of malicious propaganda since the COVID-19 outbreak, which attempts to undermine its public image. Mr. Ghebreyesus and other leaders of drives aiming to improve access to COVID-19 vaccines and halt the spread of the infection are regularly the targets of false information. Previously, Logically has debunked a claim that Mr. Ghebreyesus said countries are giving COVID-19 booster shots to kill children. Our fact-check found that Mr. Ghebreyesus stumbled in his statements and then self-corrected. The clip was edited to misrepresent his words.
Likewise, Logically debunked another unfounded claim that Dr. Ugur Sahin, the CEO of BioNTech, refused to get the COVID-19 vaccination due to safety concerns. Our check found that Dr. Ugur Sahin's wife and himself were vaccinated, and a video was circulated with a deceptive storyline. These assertions are intended to show that those encouraging us to get shots are hesitant because they are harmful or ineffective.
The verdict:
The Facebook user shared the misrepresented video. Neither the documentary nor Mr. Ghebreyesus' statements suggested that he had not been vaccinated. He had his first vaccination in May 2021, and in the video, he explained his decision to defer his shot for that long. Hence, we mark the claim as false.