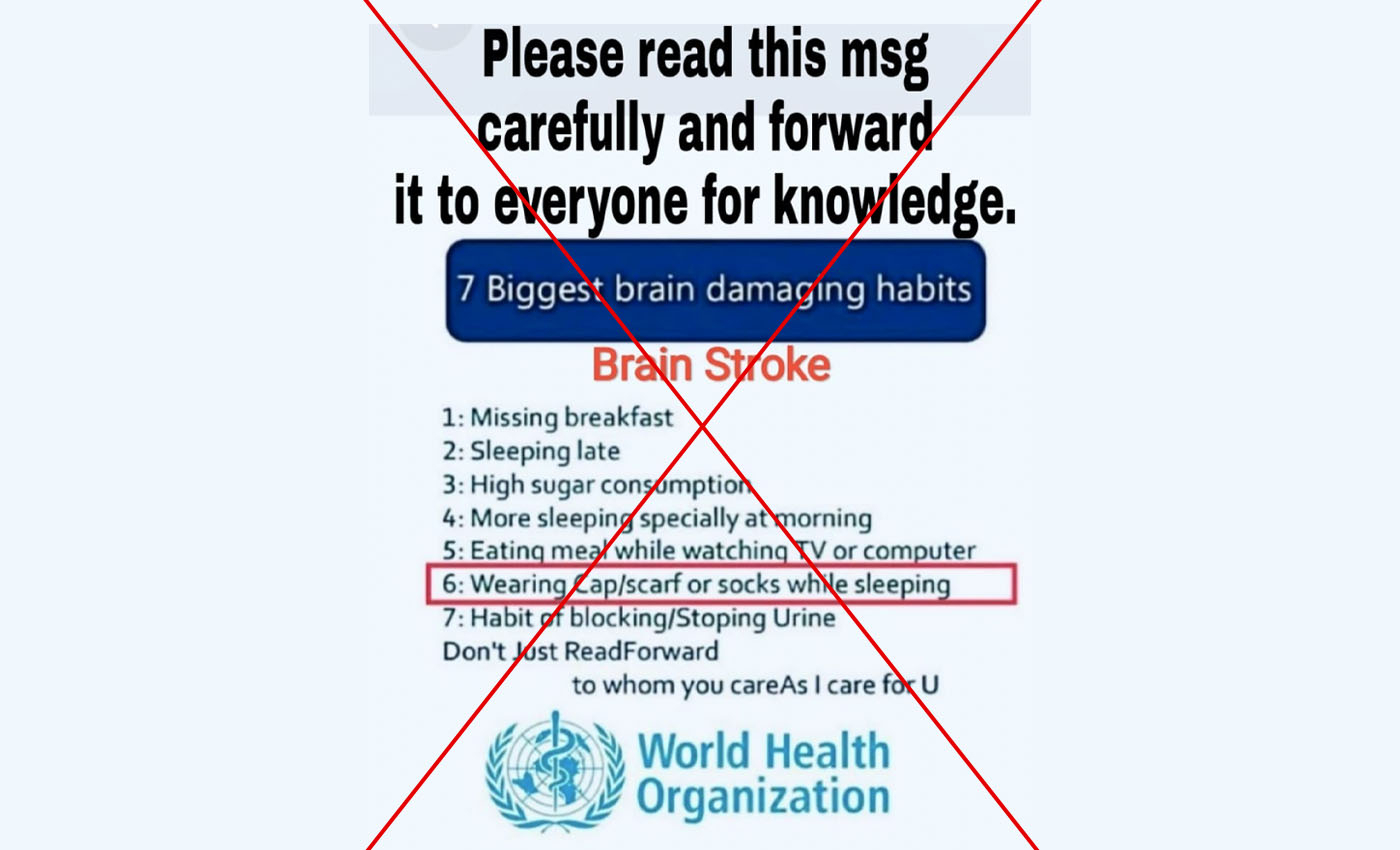 WHO did not say wearing a cap or socks while sleeping could cause brain damage. Several studies say wearing socks to bed helps one relax.
Context:
An image is circulating on social media platforms like WhatsApp, Facebook, and Twitter with an alleged list by the World Health Organization (WHO) about causes of brain damage. The image reads, "7 Biggest brain damaging habits: missing breakfast, sleeping late, high sugar consumption, more sleeping specially in the morning, eating while watching TV or computer, wearing cap or sock/scarf while sleeping, and habit of blocking/stopping urine. Don't just ReadForward to whom you careAs I care for U." The image includes the WHO logo. However, such a list was not created by WHO.
In fact:
Through a reverse image search, Logically could not find the source of the image. Analyzing the image, we could find grammatical errors, i.e., "Don't just ReadForward to whom you careAs I care for U." These grammatical errors are usually not found in memos, reports, or press releases by legitimate organizations like the WHO.
Logically also reached out to WHO regarding this image. We asked them whether they had published such an image, to which they responded, "As you know, there's a lot of disinformation/misinformation out there. This is not a WHO graphic. Looks like someone took our logo and made up a list. WHO has not made this claim. This is not an original WHO graphic." Logically also reached out to doctors from WHO and the U.S. National Institute of Health (NIH), who are yet to respond.
According to WHO's information available on its website on the topic tab Brain Health, conditions affecting the brain and nervous system emerge throughout the life course and are characterized by disruptions in brain growth, damage to the brain structure, or impaired brain functioning. No official reports say sleeping with a cap or socks causes brain damage.
In 2007, Physiology & Behavior, a medical journal, reported that sleeping with socks on leads to faster relaxation and, hence, quicker sleep.
According to BBC Science Focus, "A 2007 study at the Netherlands Institute for Neuroscience found that people who wore socks in bed fell asleep faster than those without."
In October 2016, Dr. Poonam Khetrapal Singh, WHO Regional Director for South-East Asia, stated, "People with high blood pressure, high cholesterol, heart disease, diabetes or a high blood-sugar level are vulnerable to brain stroke." She also said that daily exercise, a good diet, and a regular check on cholesterol and sugar should help monitor and prevent brain strokes.
The verdict:
WHO did not issue the poster in question. No official scientific or medical reports suggest wearing a cap or socks while sleeping will lead to brain damage. Hence we have marked this claim as false.