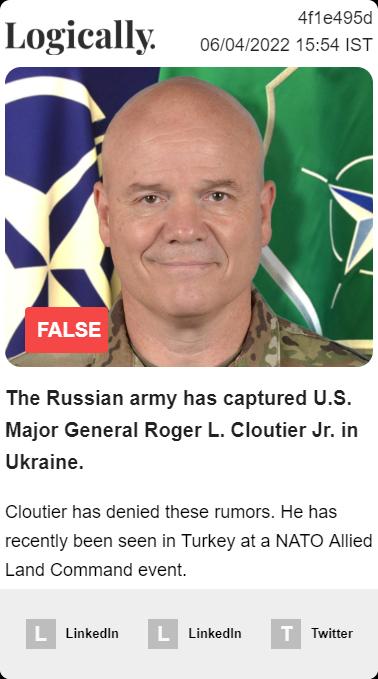 Cloutier has denied these rumors. He has recently been seen in Turkey at a NATO Allied Land Command event.
What's going on: Several websites and social media users have circulated reports that U.S. Major General Roger L. Cloutier Jr was captured by the Russian army in Mariupol, Ukraine. However, Cloutier has responded to the rumors, calling them completely false.
In fact: Cloutier's professional title is Lieutenant General, not Major General, as his LinkedIn profile shows. He is currently in Izmir, Turkey, where he has been working since August 2019.
Cloutier posted images from an event in Turkey on LinkedIn on April 5, 2022. One user, Surinder Puri, responded to the post by questioning claims that the Russian military had captured Cloutier. Cloutier responded by saying that the rumors are completely false.
Cloutier has also been seen in pictures posted by Allied Land Command's official Twitter and Facebook accounts from the April 5 event held in Turkey. Therefore we confirm that the claim is false.
Reference links
LinkedIn
LinkedIn
Twitter