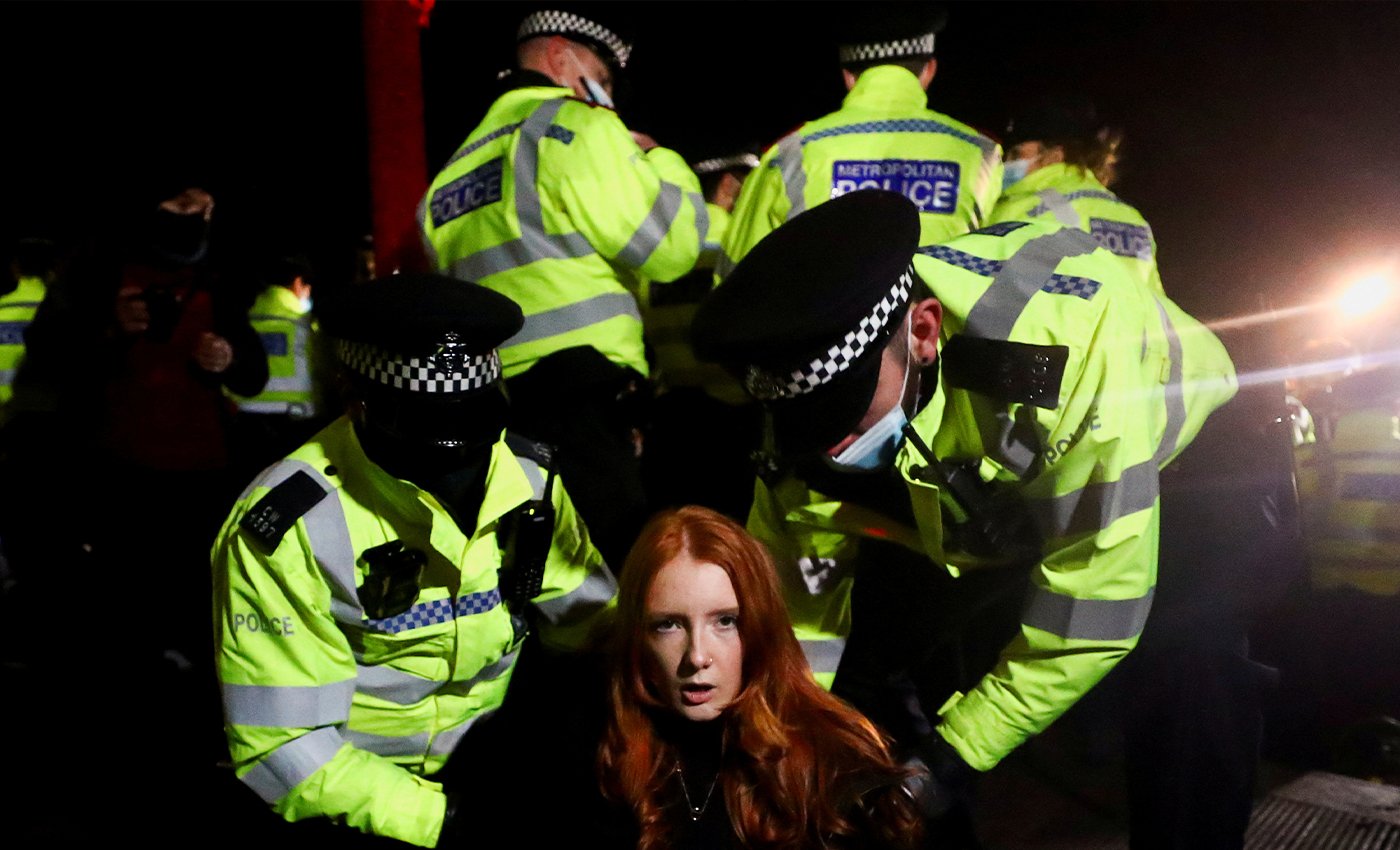 There are reports and video footage of violence and arrests at the vigil in South London on March 13.
Several posts on social media and fake news sites have claimed that Patsy Stevenson, a 28-year-old woman arrested at a vigil in South London for Sarah Everard, is a left-wing activist and actress who staged her arrest. Some of these claims attached links to Stevenson's social media profiles, where she expresses her interest in acting and extra work. However, there is nothing to suggest that Stevenson or anyone else at the vigil staged arrests or violence. There is also no evidence that Stevenson's interest in acting work is related to the events at Clapham Common.
An image of police officers restraining and arresting Stevenson on March 13 went viral over the weekend. Stevenson was one of the hundreds to attend the vigil to mourn Sarah Everard's death and other victims of violence.
The official organizers, Reclaim These Streets, had canceled the event after the Metropolitan police said that the vigil was a public health and safety risk because of the COVID-19 pandemic and could not legally go ahead. Many attended the event regardless, with conflict arising between officers and attendees at approximately 6:30 pm that evening.
The police faced criticism for their handling of the gathering, with attendees stating that the police used excessive force. Prime minister Boris Johnson said he was "deeply concerned" and "committed to reviewing how this was handled" after footage emerged of women being handcuffed, shoved, and removed from the scene by police officers.
Metropolitan Police Commissioner Cressida Dick denied allegations that the police had acted inappropriately. "We absolutely did not want to be in a position where enforcement action was necessary. But we were placed in this position because of the overriding need to protect people's safety," she told reporters.
Stevenson told Good Morning Britain: "We were there to remember Sarah. We all felt deeply saddened and still do that it happened so I brought a candle with me but unfortunately wasn't even able to light it to put it down because the police turned up and barged their way through [...] I still don't know why I was pushed to the ground, I have never been so scared." After escorting Stevenson away from the vigil in a police van, she said that she had was issues with a £200 fine and was released.
She told Sky News that she did not see herself as an activist: "I've been thrown into the public eye and the only way I can make this not in vain is to not make it political, not against the police, it's just about the safety of women and we need to talk about it."
In response, several people have claimed that Stevenson staged the arrest to highlight a left-wing, anti-police agenda. Twitter users added a link to a profile of Patsy Stevenson on the website "Casting Now." Stevenson lists herself as an actor, presenter, and extra on the website. However, Stevenson is also a Physics Student at Royal Holloway University, as confirmed on several news sites and Stevenson's LinkedIn profile. It is not unusual to create a profile to seek part-time work in the acting and entertainment industries, and no professional qualifications are required to create a profile on Casting Now. Stevenson's acting credits are irrelevant, as it would not automatically mean that she staged the event.
Hundreds attended a vigil on Clapham Common for Sarah Everard and other victims of abuse and violence. The death of Everard, a 33-year-old marketing executive, sparked grief and outrage across the country after she went disappeared while walking home earlier this month. A serving police officer, Wayne Couzens, has been arrested and charged with Everard's kidnap and murder. He has been reprimanded in custody and will stand trial this Autumn.
This is not the first time that false claims of staged protests have spread on social media. Unreliable, right-wing news sites and commentators also said that professional actors staged the Black Lives Matter protests and Capitol Riots in the U.S. As Logically and other fact-checking platforms have noted, these claims are also entirely false.
Reference links
Edinburgh News
Independent TV
the Guardian