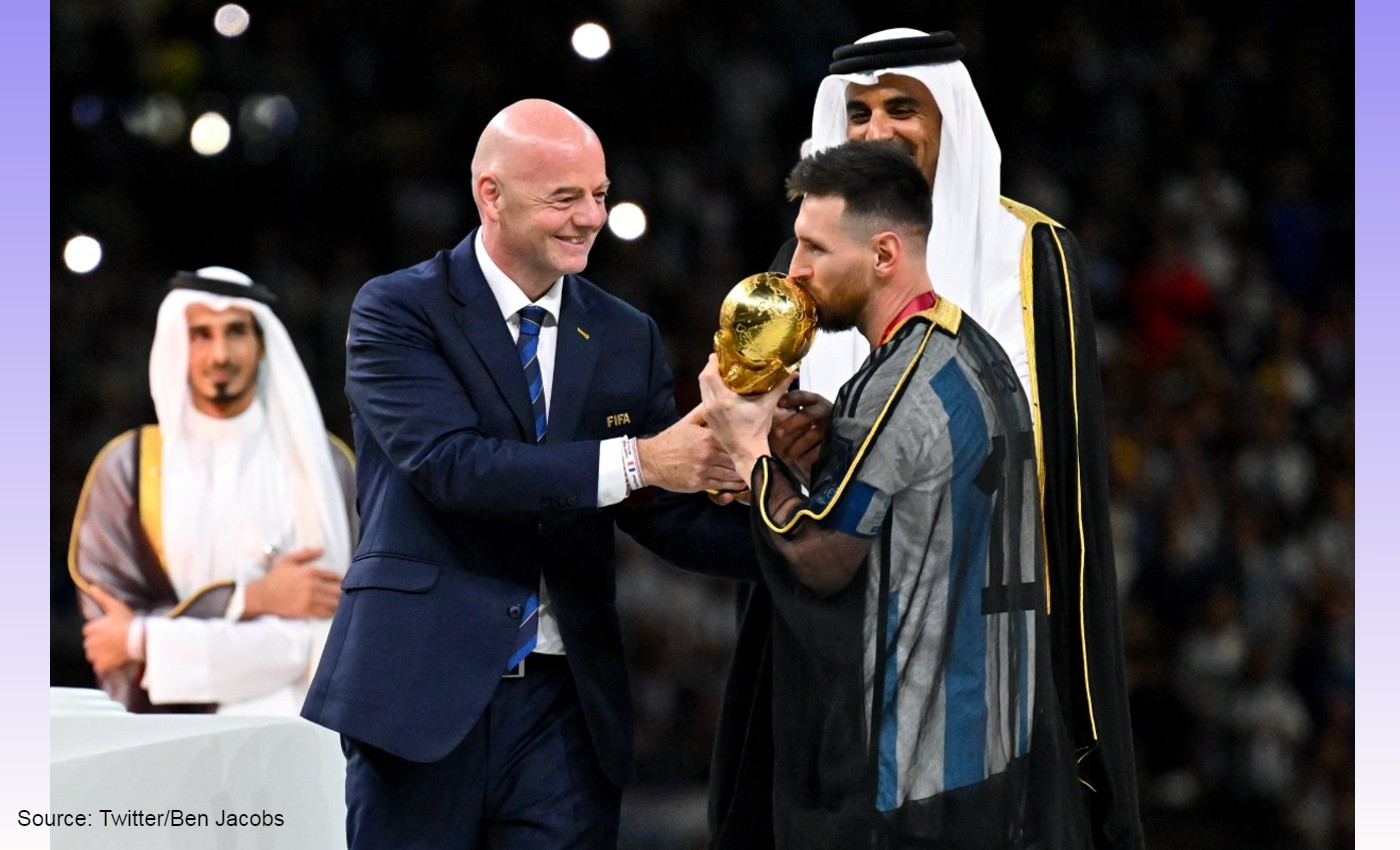 Videos and images of Messi wearing a black and gold robe while lifting the trophy at the FIFA World Cup final were falsely shared with communal spin.
Context
The 2022 FIFA World Cup in Qatar came to an end on Sunday with Argentina winning over France in a hard-fought final. After Argentina's victory, many misleading posts about Argentina's captain, Lionel Messi, began circulating on social media. One such post used a photo of Messi wearing a black and gold robe on the podium along with other dignitaries, claiming that the Argentina footballer converted to Islam after winning the World Cup. Many videos of the presentation ceremony were also circulated with the same narrative.
However, this is false. The robe was presented to Messi by Emir of Qatar Sheikh Tamim bin Hamad Al Thani as a mark of honor before he lifted the trophy at FIFA World Cup. It does not indicate that Messi converted to Islam. We also found that a debate is ongoing regarding Qatar's decision to place a robe on Messi at the World Cup final.
In Fact
We found that the image of Messi is from the ceremony after the final when teams were presented with medals and Argentina with the cup. According to BBC Sports, FIFA President Gianni Infantino and Qatar's Emir were on stage as Messi was called to accept the trophy. The Emir presented Messi with a black Bisht, a traditional cloak worn by men in the Arab world, before lifting the trophy. Hassan Al Thawadi, secretary general of Qatar's tournament organizing committee said, "It is a dress for an official occasion and worn for celebrations," adding that this was a celebration of Messi. "The World Cup had the opportunity to showcase to the world our Arab and Muslim culture. This was not about Qatar, it was a regional celebration," Al Thawadi said.
According to a report by Al Jazeera, the bisht is a long cloak made out of light or sheer material with trimming made out of real gold, usually worn over a white thobe. The bisht is worn during special occasions, primarily in the Gulf, and has been around for centuries. Seen as a sign of appreciation and respect, a bisht is worn mainly by figures such as politicians, sheikhs, and other dignitaries.
A report by Sky Sports also mentions that Messi received a bisht from the Emir of Qatar during the victory celebration and lifted the trophy alongside his team. Dr. Mustafa Baig - a lecturer in Islamic Studies at the University of Exeter, said that "the bisht is a formal robe worn by royalty, dignitaries, grooms on their wedding day, and graduates at graduation ceremonies." He explained that only a select few people would wear a bisht and that the Emir honored Messi by giving him one. He added, "This is a top occasion, and I mean, there's probably no bigger occasion, so they put it on him as a mark of honor."
The FIFA World Cup Qatar 2022 website posted a video of Messi receiving the bisht and lifting the trophy along with his teammates. It was captioned as "Messi and Argentina lift the FIFA World Cup in Qatar."
The robe or bisht was presented to Messi to honor him for his skills at the World Cup. However, the robe has invited controversy and criticism, with former footballers and football pundits pointing out that it covered up most of Messi's Argentina shirt at the moment of lifting the cup, a defining image that will serve as a reminder that the 2022 World Cup was held in the Arab world.
Additionally, there could be news reports about Messi converting to Islam if that had happened, given his stature as a renowned footballer and public personality. We found no evidence in the form of reports or statements to back such a claim. Narratives about Messi converting to Islam have been circulating since the beginning of the 2022 FIFA World Cup. One such claim is that Saudi Arabian footballer Ali Al-Bulayhi asked Messi to "embrace Islam" in the middle of a FIFA World Cup group stage match. Several fact-checking organizations have debunked it.
The Verdict
Visuals of Messi being presented with a traditional Arab robe as a mark of honor during Argentina's victory celebration at the FIFA World Cup are being shared erroneously as proof of Messi converting to Islam. Therefore, we are marking this as false.