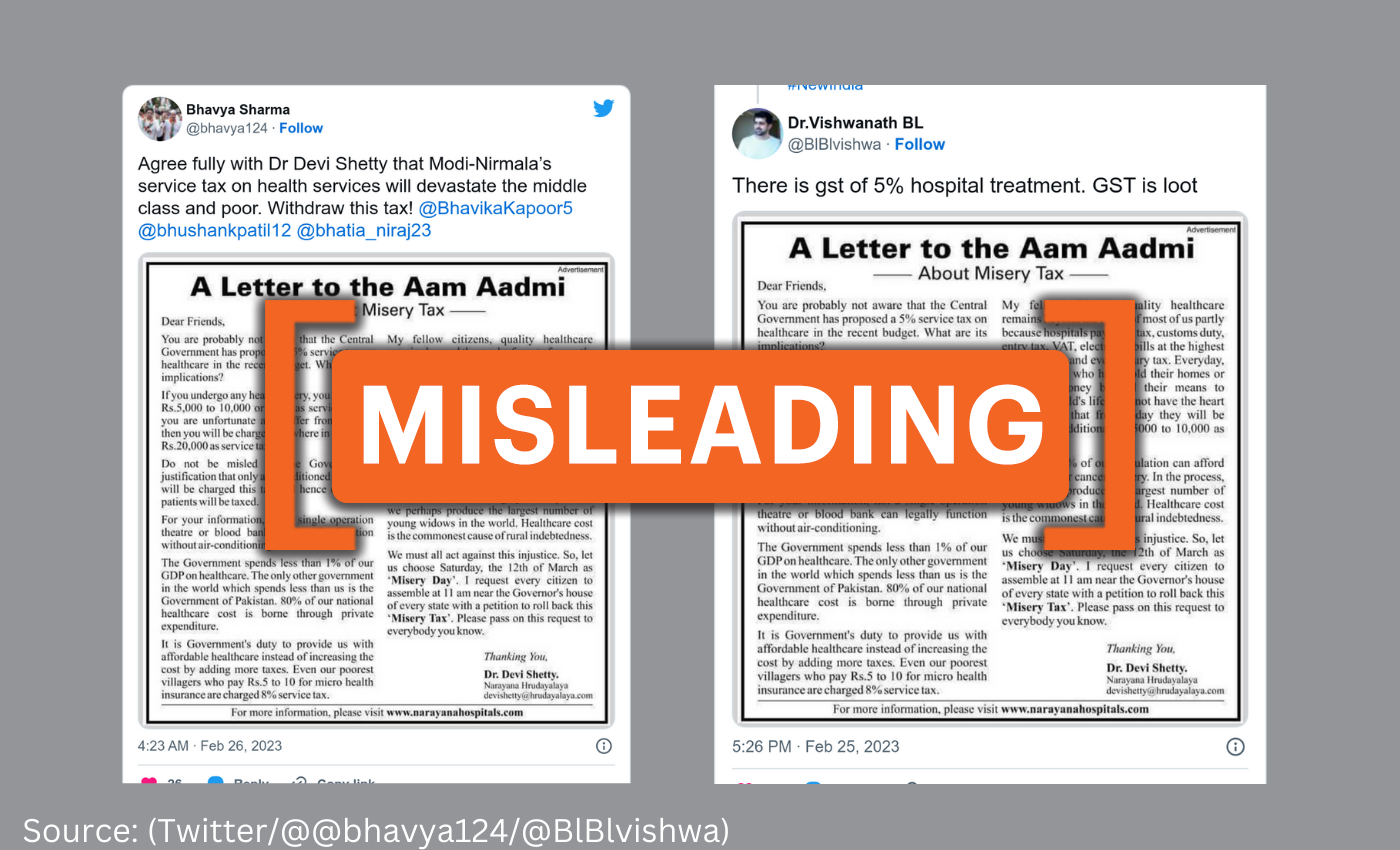 A 2011 letter protesting the government's decision to impose a five percent health service tax has been misrepresented to be recent.
Context
An image containing a letter by renowned cardiologist Dr. Devi Shetty, chairman of Narayana Health, a chain of medical centers in India, has gone viral on social media platforms. The letter titled "A letter to the aam aadmi" criticizes the five percent health service tax proposed by the central government. This letter has been shared by several Indian social media users, including known political figures criticizing the Prime Minister Narendra Modi's government and the country's tax system. However, this letter has been shared in the wrong context.
In Fact
A reverse image search of the viral image showed that social media users have been sharing the letter since 2017. We found several such social media posts commending Shetty. A detailed search of the keywords led us to articles and blog posts dating back to March 2011.
An article from March 2011 titled "Service tax on healthcare is 'misery tax' says medical community; demands proposal be scrapped," noted that medical activists would observe March 12 as "misery day" to protest against the health service tax, demanding its rollback. The article also referred to an open letter written by Shetty.
Incidentally, the then Union Government, with Pranab Mukherjee as the finance minister (FM), had proposed a five percent health service tax in the Union Budget for 2011-12. There were several news reports about criticism from the medical community over this proposal.
Later, the government withdrew the proposal and a Livemint report dated March 22, 2011, quoted Shetty saying, "I am happy that the finance minister has decided to roll back the service tax. I met the FM two weeks ago and at that time he was of the view that the tax would hurt the common man and he would like to do something about it." We have reached out to Narayana Health for an official comment and shall update this check upon receiving a response.
Thus, it is clear that a letter written in 2011 has been misrepresented to show that Shetty recently wrote a letter criticizing the taxation policies of the Modi government with Nirmala Sitaraman as Finance Minister. On its official Twitter account, PIB Factcheck, the Union government's Press Information Bureau, has also rated the claim as fake.
The Verdict
A letter by renowned cardiologist Dr. Devi Prasad Shetty, written in 2011, opposing the five percent health service tax proposed by the then UPA government, which was later rolled back, was shared in February 2023. Some people mistook it for a recent letter and claimed that they agreed with Shetty over his criticism of the current government's tax proposals. Therefore, we have marked this claim as misleading.