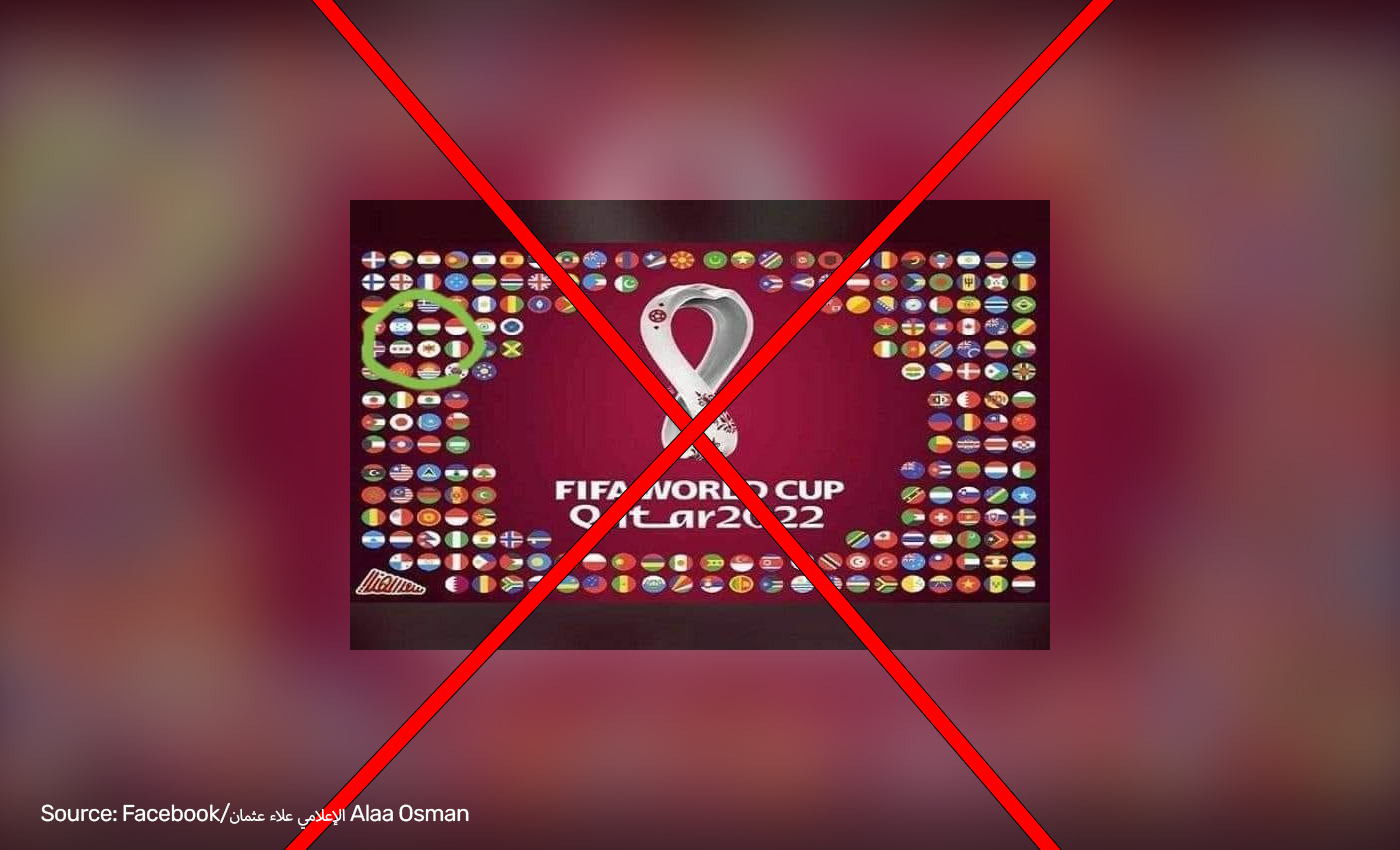 The image in question was created by a cartoonist and is not the official 2022 FIFA World Cup logo released by FIFA or Qatar Authorities.
Context
After the announcement of the opening ceremony date and the first matches of the FIFA World Cup on November 20, 2022, activists on social media circulated a picture of the World Cup logo surrounded by flags of different countries. The post was shared claiming that the "Syrian Revolution Flag" was in the official logo of the 2022 World Cup. The same image was shared on Twitter with the caption, "The flag of the Syrian revolution in the official announcement of the World Cup." However, the poster was not officially released by FIFA or Qatar authorities.
In Fact
On conducting a reverse image search, we found the exact image posted on the official Facebook page of Al Watan, a Qatari newspaper, on September 4, 2019. At the bottom of the image is the signature of Saad Al-Muhannadi, a cartoonist for Al Watan who has shared many caricatures bearing the same signature on his Twitter.
The Supreme Committee responsible for organizing the FIFA World Cup revealed the official logo for the 2022 World Cup Qatar on September 03, 2019. According to its official website, the FIFA logo features the burgundy and white colors of the Qatari flag. The design of the logo reflects the elements inspired by the Qatari and Arab cultures that are in harmony with the components of football. However, there are no flags around the FIFA logo, as seen in the viral image.
Former Prime Minister of Qatar, Abdullah bin Nasser bin Khalifa Al Thani also posted the image of the 2022 FIFA World Cup logo on his Twitter on September 3, 2019. The official logo is not the same as the viral image circulating online. Syria is not mentioned in the guide among the qualified teams. In 2017 FIFA banned carrying the green, white and black flag, which was adopted by supporters of Syria's revolution in 2011, within the World Cup stadium, Middle East Eye reported.
The Verdict
The cartoon image was misinterpreted as an official logo for the Qatar 2022 World Cup but was, in actuality, created by a cartoonist for the Qatari newspaper Al Watan. Therefore, we have marked this claim as false.