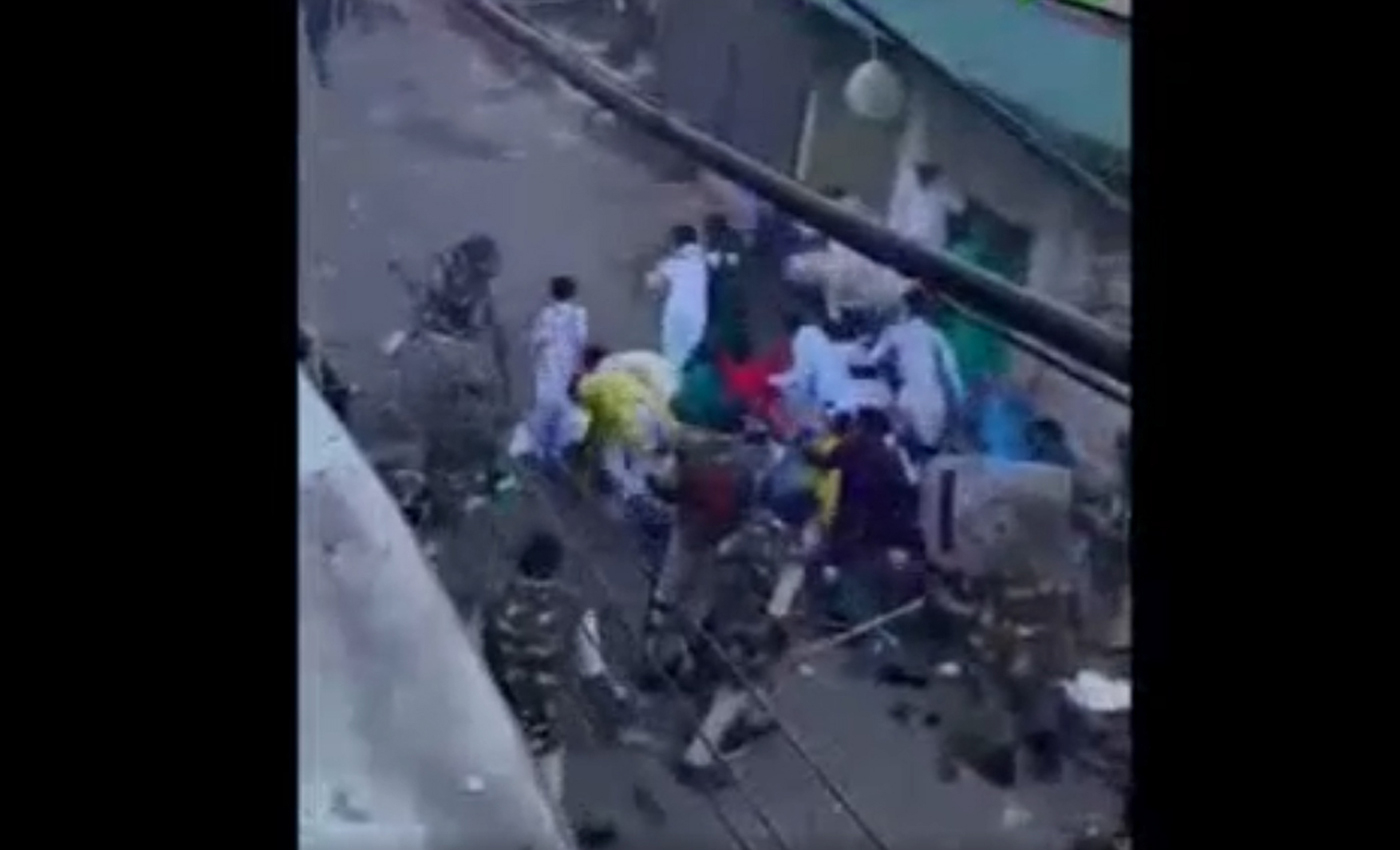 An old video from Madhya Pradesh in 2021 purports to show police thrashing people offering prayers on the street in Uttar Pradesh.
Some parts of India witnessed communal tensions during Ram Navmi celebrations and Ramzan. After reports of such incidences, false and misleading posts and videos went viral on social media. One such video is from a Facebook post by Balaji Infotec on April 13, 2022, with the caption "New rule in Uttar Pradesh no namaz on the road." The video depicts that police are lathi charging people offering prayers on the street.
However, this is false. The video is from Madhya Pradesh's Jabalpur, not from Uttar Pradesh. Police lathi-charged people when the Eid Milad procession turned violent by pelting stones at police in 2021.
A reverse image search of the video's keyframes took us to the Facebook account मेरा शहर जबलपुर (@ravindra.photojournalist), which had posted the images saying that there was stone pelting at police during Eid-Milad Unnabi procession in Jabalpur. Police, in turn, had used lathi-charge and teargas to disperse the mob. Comparing the images with video keyframes confirmed that the incident occurred in Jabalpur.
Further, we searched for reports for Eid-Milad 2021 incidences in Jabalpur.
India Today reports that on the occasion of Milad-un-Nabi, the birthday of Prophet Muhammad, on October 19, 2021, tensions prevailed in some parts of Madhya Pradesh like Dhar, Barwani, and Jabalpur. It also mentions that when people gathered for prayers to commemorate Milad-un-Nabi in Machhali Bazaar, Jabalpur, some people threw firecrackers and stones at the police. Superintendent of Police Siddharth Bahuguna said, "Police personnel were deployed in Machhali Bazaar as it is a sensitive area. They used lathi-charge and lobbed tear gas shells in self-defense after some persons threw firecrackers and stones at police."
MP Tak's YouTube video posted on October 19, 2021, also reports the Jabalpur incident.
According to Hindustan Times, Uttar Pradesh banned prayer offerings on roads irrespective of the religious community in August 2019 because it interrupted traffic flow and caused inconvenience to people. Initially, some parts of the state were banned from offering prayers on roads, but later, the Uttar Pradesh police decided to impose a total ban on namaz on streets all over the state. On August 13, 2019, O P Singh, Director-General of Police, ordered police chiefs in all the districts and other authorities to ensure no namaz was offered on the roads. Further, he added that the district administration could decide to allow this practice on special occasions like festivals, but it would not be allowed on regular days.
We conclude the claim to be false as the video in question is of the 2021 Jabalpur incident.
Reference links
Facebook
YouTube
India Today
Hindustan Times