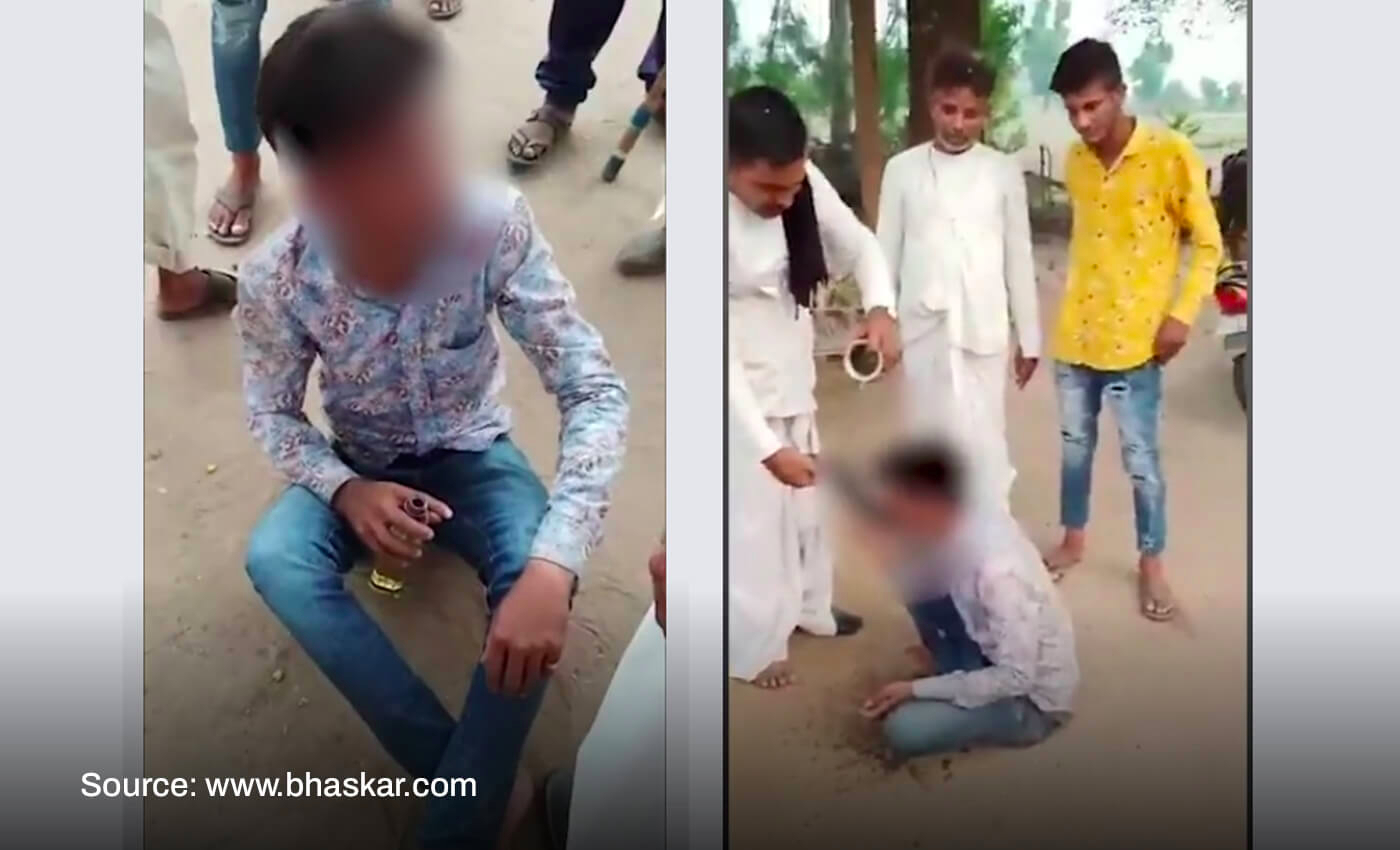 The man in the video was punished for having an affair with a married woman. Both parties belonged to the same community.
Context:
A video being shared on social media shows a man sitting on the ground and being forced to drink liquid from a shoe. The disturbing video also has other men surrounding the victim, from which one of them is hitting the victim's head with a shoe. Video's caption claims that the event was an example of atrocities against Dalits, with the caption saying, "they consider themselves from the upper case, because of which the whole nation is burning in hatred, and humans are not considered humans." The post has been liked by over 3,600 people and has been viewed by over 43,000.
However, this video has been shared with an inaccurate claim.
In fact:
On searching for the video using relevant keywords, we found a tweet by the Rajasthan Police, where they had shared the same video. The caption read, "This video viral on social media is fake. Video claims atrocities against Dalits, which is wrong as both parties belong to the same community. The video is from 2020, and the accused have also been arrested in the case."
A report by The Free Press Journal also shared the same video with a headline, "Panchayat forces boy to drink urine for falling in love in Rajasthan, video goes viral." The report states that the video is from Sardarpura village of the Paladi Thana area in the Sirohi district of Rajasthan. It adds that the matter relates to "a love affair between a boy and a girl of the same village and same community." However, the report doesn't talk about any caste-based issues.
The Indian Express also carried the story, adding that the 24-year-old victim, Kaluram, was "kidnapped by villagers, and forced to drink water from a shoe, and urine as a punishment for his relationship with a married woman."
According to the Sumerpur Police station in-charge Ravindra Singh Dhichi, "Nine people came riding bikes and cars and kidnapped the victim. They then took him to a well near Sardarpura village in the Sirohi district, broke his mobile phone, and beat him fiercely. Later, they filled water in the shoes and made the youth drink forcibly. The police made arrests after the victim filed a complaint, News 18 reported.
The verdict:
Though the video shows a man was forcibly made to drink water from a shoe, the victim was not targeted for his caste as both the parties belonged to the same community. Therefore, it is clear that the incident was incorrectly given a caste-based angle. Hence, we have marked this claim as false.