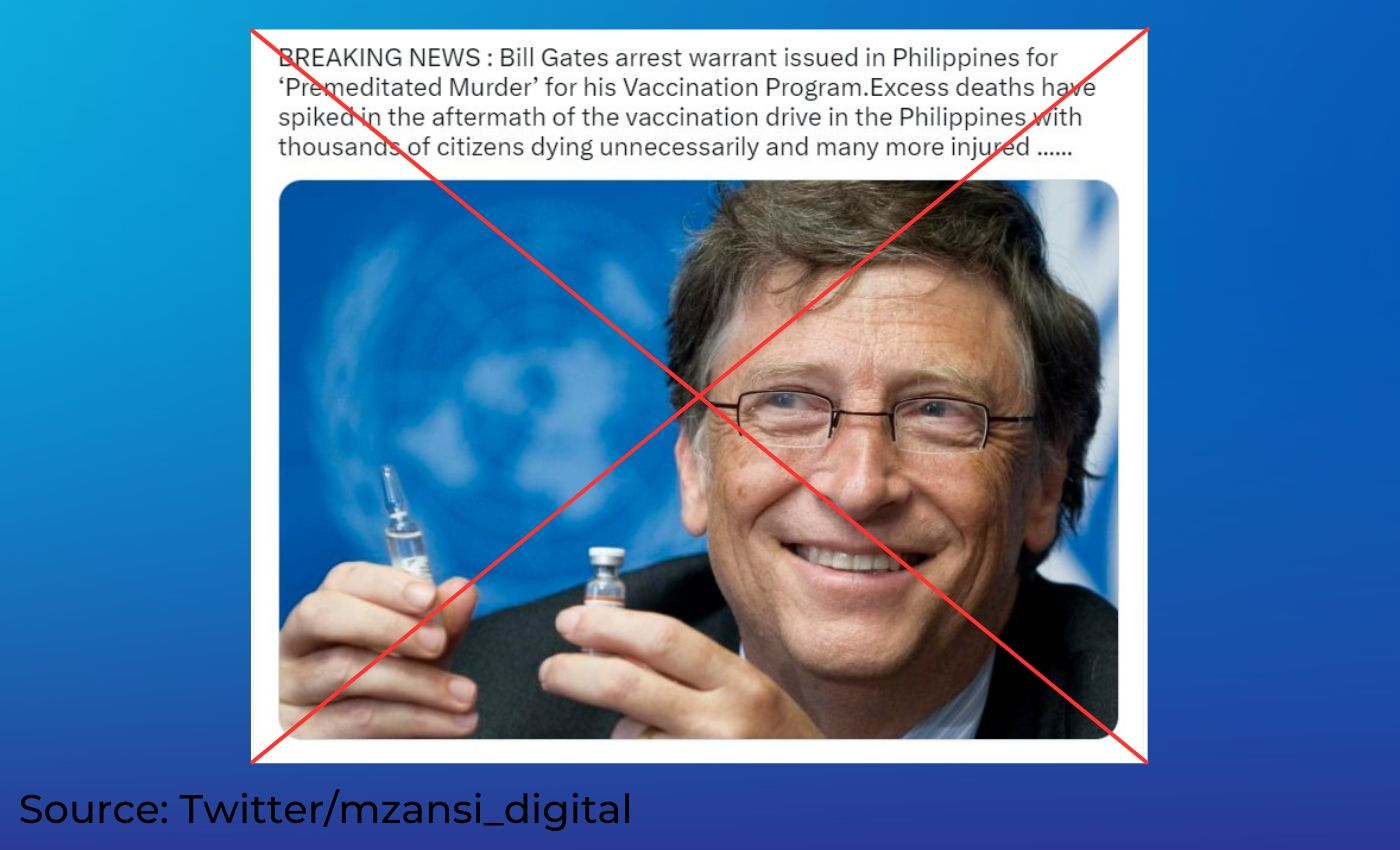 No court has issued an arrest warrant against Bill Gates. This claim originated on a website known for publishing fabricated stories.
Context
A Newspunch article is circulating online claiming that a "Heinous Crimes Court" in Manila, The Philippines, has issued an international arrest warrant against Bill Gates for his alleged involvement in the country's COVID-19 vaccine program. This claim went viral in the first few days of March 2023 on Twitter, Facebook, and TikTok, amplified by anti-vaxxers. A tweet sharing this claim has been viewed over a million times with 30,400 likes and over 7,500 retweets. The Newspunch article claims that an unnamed judge said that Gates is "wanted in connection with hundreds of thousands of deaths, a number which cannot be estimated at present and is certain to increase exponentially in time."
However, this claim is not true. Gates was not involved in any vaccination programs in the Philippines, and no court in the country has issued any arrest warrant against him.
In Fact
According to a research guide published in the Western Carolina University's Hunter Library, Newspunch is a website that often publishes fabricated and fake news masquerading as real news. True to form, we found that every detail in the Newspunch article published on March 2, titled "Bill Gates Arrest Warrant Issued in Philippines For 'Premeditated Murder' Linked To Vaccine Roll Out," is fabricated.
First, there is no active arrest warrant for Gates in any part of the world, proven by the fact that no credible news media has reported on such a development. We also found no record of court cases against Gates or the Bill and Melinda Gates Foundation in the country. Gates has only ever been arrested once, in 1975 for speeding and driving without a license, and then in 1977, when he ran a stop sign and drove without a license in Albuquerque, New Mexico – both reported in a 1998 Associated Press story.
Next, we searched for the "Heinous Crimes Court" in Manila using the Philippine Judiciary's Court Locator and found no such institution as mentioned in the Newspunch article. Further, the claim that an international arrest warrant is issued against Gates is unfounded as no such thing exists. Any arrest warrants issued by courts of law are limited to their own country. The police may file an Interpol Red Notice for a person overseas; however, this is not the equivalent of an arrest warrant.
We also found no announcements or press releases to show Gates was ever involved in The Philippines' COVID-19 vaccination programs. The program was carried out by the nation's government and supported by the World Bank.
Lastly, contrary to the story's claim that excess deaths spiked in the aftermath of the country's vaccination drive with hundreds of thousands of citizens dying, the total number of COVID-19 deaths stands at 66,160 as of March 6, 2023, according to the official data provided by the Philippine Department of Health.
We also reached out to a spokesperson for Bill Gates, who told Logically that the claim was false.
COVID-19 vaccines are deemed safe and effective to use by many health organizations and authorities worldwide. The vaccine helps prevent severe disease, hospitalization, and death. Logically has previously debunked several pieces of misinformation propagated by Newspunch, including WEF conspiracy theories, anti-vaccine narratives, and some false claims about the Gates family.
The Verdict
Bill Gates was not involved in any COVID-19 vaccination programs in the Philippines. Further, no court in the country has issued any arrest warrants against him. The number of COVID-19 deaths in the country has also been exaggerated. Therefore, we have marked this claim as false.
The COVID-19 pandemic has given rise to a lot of potentially dangerous misinformation. For reliable advice on COVID-19, including symptoms, prevention, and available treatment, please refer to the World Health Organization or your national healthcare authority.