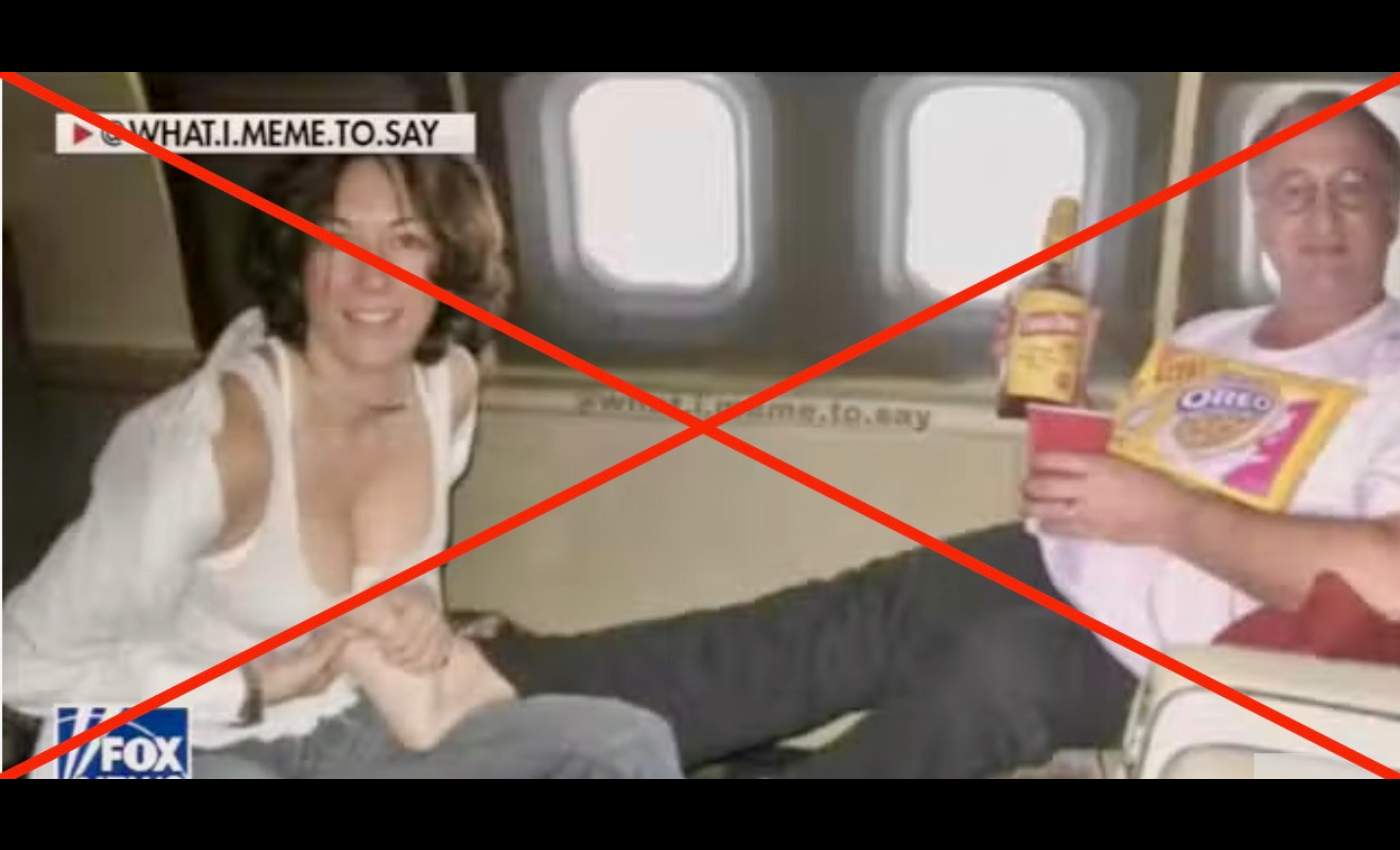 The image of Judge Bruce Reinhart with Ghislaine Maxwell has been edited. There's no evidence that the two have met.
Context:
An image claiming to show Judge Bruce Reinhart with Ghislaine Maxwell on a private plane has been doing the rounds on various social media platforms. The photo appears to show Maxwell giving Reinhart a foot massage. Maxwell, the former partner of Jeffery Epstein, was convicted of sex trafficking by a US court in December 2021. The image received attention beyond social media when it was shown on an episode of Tucker Carlson's Fox News show, which at the time was being guest hosted by Brian Kilmeade.
Judge Reinhart was responsible for approving a search of Trump's Mar-a-Lago residence in August 2022, following concerns related to the former president's handling of official records. Commentators on social media have suggested that the judge's purported association with Maxwell brings into question his impartiality and the basis upon which he approved this action.
Several high-profile people have been linked to Epstein and Maxwell since the allegations came to light, but many people have been falsely accused of affiliating with the couple.
In Fact:
The image being circulated is a doctored version of a photograph taken of Ghislaine Maxwell and Jeffrey Epstein. The original image was introduced as evidence in Maxwell's 2021 trial, during which an FBI agent testified that it had been found during a search of Epstein's New York residence. Neither the FBI nor prosecutors offered a definitive date at which the photograph was taken.
Since the broadcast, Brian Kilmeade has publicly stated that the image shown on Fox News was doctored, tweeting:
"Last night while subbing for Tucker Carlson, we showed you an image of Judge Bruce Reinhart w/ Ghislaine Maxwell that was sourced on the screen to a meme pulled from Twitter & wasn't real. This depiction never took place & we wanted to make clear that we were showing a meme in jest."
There is no evidence that Judge Reinhart has ever met or been associated with either Ghislaine Maxwell or Jeffrey Epstein.
The Verdict:
The image showing Judge Bruce Reinhart on a plane with Ghislaine Maxwell is a doctored photograph of Maxwell and Jeffrey Epstein. There is no evidence that any such encounter took place.
Reference links
The Guardian
Insider
The Independent