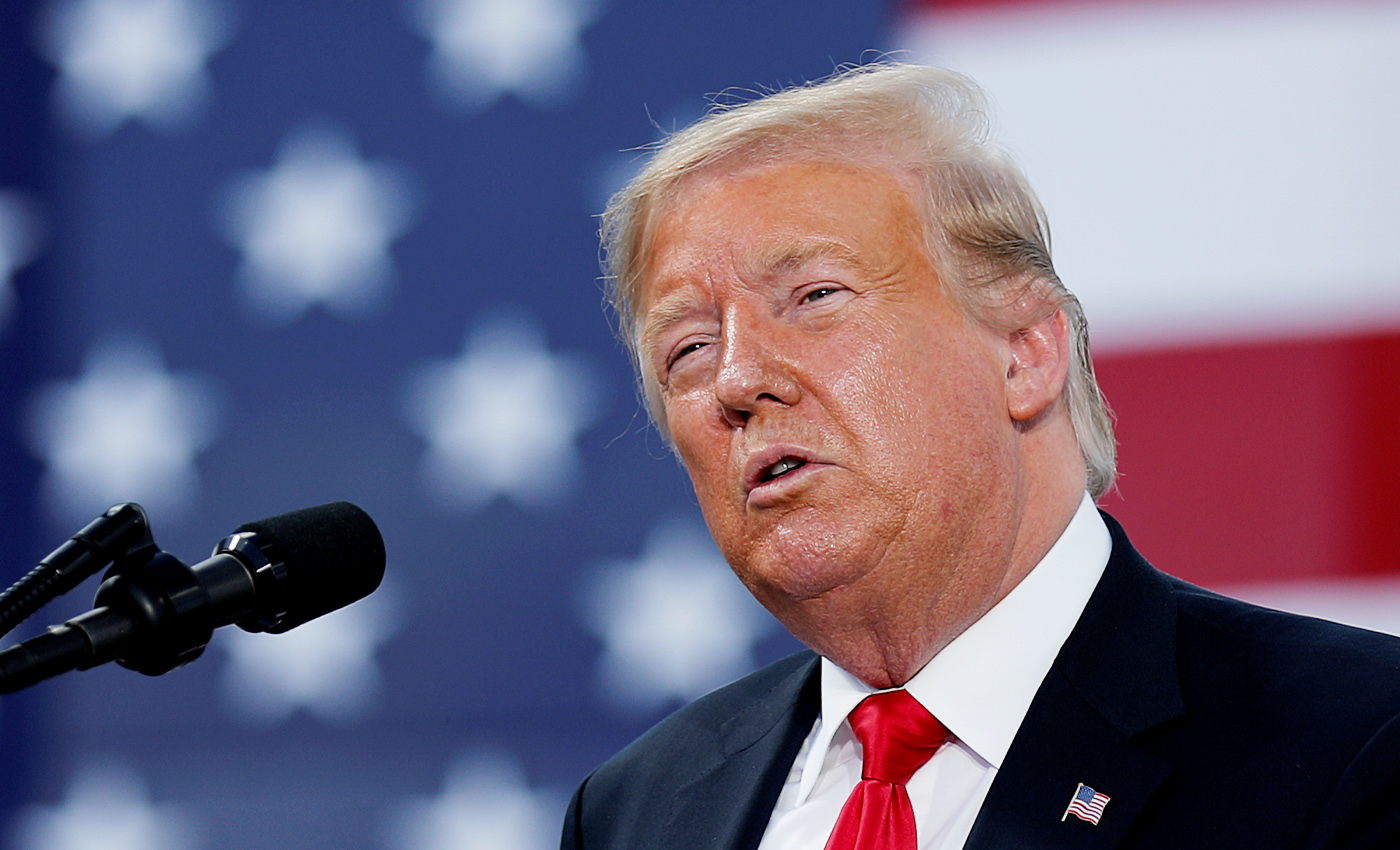 Donald Trump has made several interventions in the Middle East, but with a mixed record of success.
On the second night of the Republican National Convention on August 25th, 2020, Eric Trump stated in his speech that "there is peace in the Middle East because of Trump." While the Trump administration has proposed several significant plans to increase stability in the region, it is clearly untrue to suggest that peace has been achieved.
On August 13, 2020, US President Donald Trump announced Israel and the United Arab Emirates have agreed to a 'full normalization' of relations, including re-establishing diplomatic ties. Although the deal has been touted by some experts as a historic move to normalize relations, there is no consensus on whether it will bring peace to the Middle East, and given that the development is recent, there is negligible documentation about the possible effects of the deal on the region.
In January 2020, President Trump announced the Peace to Prosperity plan intended to resolve generations of conflict between Israelis and Palestinians. The plan includes proposals to address the most contentious issues in the conflict such as the border of Israel, the status of Palestinian refugees, Jewish settlements on the West Bank, land swap between Israel and Palestine, Israel's security concerns, and the status of the city of Jerusalem.
The plan received criticism for strongly favoring Israeli priorities. Palestinian leaders have not endorsed the plan, and the deal was also criticized for having been drawn up and announced without significant Palestinian involvement.
As recently as August 26, 2020, Al Jazeera reported that Israeli warplanes bombed Hamas targets in the Gaza Strip early in response to Palestinians in the enclave launching incendiary balloons towards Israel; the Israeli-Palestine conflict is far from settled, and it is inaccurate to suggest that Trump's plan has yielded any significant progress in achieving peace.
In December 2018, US President Donald Trump announced that 1,000 US troops involved in the fight against the Islamic State (ISIS) in northeast Syria would be withdrawn imminently. The decision was criticized by foreign policy experts as a betrayal of loyal Kurdish allies who had fought for years alongside U.S. troops against the Islamic State. The BBC stated, 'US troops have begun withdrawing from positions in northern Syria, paving the way for a Turkish operation against Kurdish fighters in the border area. Kurdish-led forces have until now been a key US ally in Syria, where they helped defeat the Islamic State group, but Turkey regards them as terrorists.' The same month, Trump made another announcement saying some American troops will stay on in Syria to protect oil fields.
After Trump announced the withdrawal of US forces, multiple instances of intense fighting have been reported between the Turkish military and Kurdish-backed forces in Syria. In October 2019, the Turkish President launched a massive military operation called Operation Peace Spring against Kurdish-led forces saying it was aimed to prevent the creation of a terror corridor across Turkey's southern border and to bring peace to the area. Another military offensive was launched by Turkey against Syria as recently as February 2020 in which two Syrian warplanes were shot down and thousands were killed before a ceasefire was struck on March 5, 2020.
In 2017, the Department of Defense stopped providing military deployment figures for Afghanistan, Iraq, and Syria. A report published by military.com on July 27, 2020, states that hundreds of U.S. troops remain deployed in Syria. On August 17, 2020, media outlets reported US troops in Syria and their allies had exchanged fire with pro-Syrian regime forces in the eastern part of the country. Syria continues to remain in a state of unrest and the threat of the resurgence of ISIS continues to persist. On August 25, 2020, the U.N. counterterrorism chief, Vladimir Voronkov, told the U.N. Security Council that more than 10,000 Islamic State fighters are estimated to remain active in Iraq and Syria, two years after the militant group's defeat and their attacks have significantly increased in 2020.
During his tenure, Trump also pushed for a smaller U.S. troop presence in Afghanistan. In August 2019 he had announced, that he intends to pull thousands of U.S. troops out of Afghanistan but would maintain a presence of 8,600. In September 2019, Trump said he canceled a secret Camp David meeting with Taliban leaders and was suspending Afghanistan peace negotiations after the group claimed responsibility for a car bomb that killed an American and 11 others. On August 4, 2020, Trump mentioned in an interview with Axios that there would be fewer than 5,000 American troops in Afghanistan by Election Day in November.
Although Trump reduced the strength of U.S. troops in Afghanistan, it was under his watch that in April 2017, the United States dropped the "mother of all bombs" — the most powerful conventional bomb in the American arsenal — on an Islamic State cave complex in Afghanistan. The GBU-43/B Massive Ordnance Air Blast Bomb (MOAB), known as "the mother of all bombs", is the largest non-nuclear bomb ever used by the US in a conflict. The BBC reported that the Pentagon said it was dropped from a US aircraft in Nangarhar province and that the news came hours after the Pentagon admitted an airstrike in Syria mistakenly killed 18 rebels.
A report published by USA Today citing data from U.S. Air Force Central Command stated that 'From Jan. 1 through October, U.S.-led forces have used 6,208 missiles and bombs in Afghanistan. That compares with 5,982 for the same period in 2018, which saw the most airstrikes of any year since the Taliban was toppled in 2001.'
On January 27, 2020, military.com reported, 'The U.S. military conducted record-setting airstrikes in Afghanistan last year, surpassing the previous year's total and making 2019 the most kinetic year for airstrikes against extremist targets in the country in at least a decade. According to statistics recently published by Air Forces Central Command, fighter, attack and unmanned aircraft dropped 7,423 bombs in 2019.'
Relations between the US and Iran also continue to be strained especially after a US attack that killed top Iranian general Qasem Soleimani in January 2020 which prompted Iran's Supreme Leader Ali Hosseini Khamenei to pledged 'severe revenge'. Iran retaliated by firing missiles at airbases housing US forces in Iraq, causing no casualties, the BBC said. The US has been pushing for a reimposition of international sanctions on Iran. In August 2020, US Secretary of State Mike Pompeo said Washington had formally notified the UN that it wants all sanctions on Iran restored, claiming significant Iranian violations of the 2015 nuclear deal between Tehran and six major powers that were endorsed by the UNSC.
Reference links
The White House
The White House
AFCENT