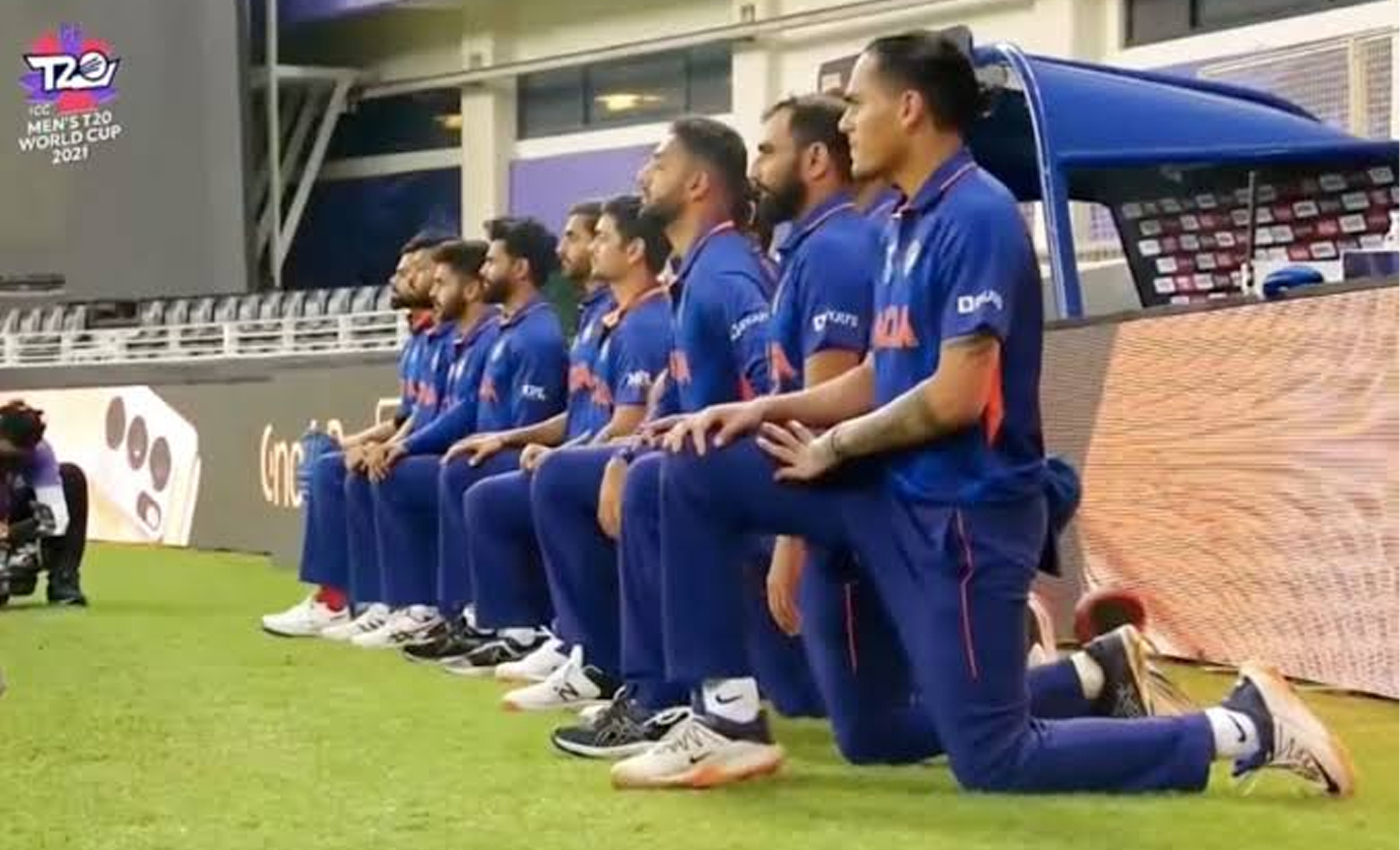 The image of the Indian cricket team kneeling was taken during the T20 World cup in 2021, in support of the BLM movement.
Context:
Recently, a Hindu man from Udaipur, Rajasthan, was beheaded by two Muslim men, sparking massive protests across India. The victim, a tailor named Kanhaiya Lal, was murdered by the two men who later uploaded a video of the killing on social media. In the video, the men accused the tailor of blasphemy against Islam. After the killing, social media users condemned the incident. One Twitter user posted an image of the Indian cricket players kneeling, saying that the players had expressed support to the slain Hindu tailor. However, we found that the claim is false.
In fact:
The image shared in the tweet was taken during the T20 Men's World Cup Cricket held in 2021 in Dubai. The Virat Kohli-led Indian side took the knee outside the team dugout to show solidarity with the Black Lives Matter (BLM) movement. The opponent side Pakistan also paid tribute by holding their right hand to their heart. It was the first time the Indian side had made such a gesture. Sportspersons across the sporting world, including cricketers, had been taking the knee to condemn racism after the death of an African-American man, George Floyd, at the hands of the Minneapolis police in Minnesota, U.S.
The Indian cricket team last played two T20 matches against Ireland, wearing blue jerseys in June 2022. The killing of the Udaipur tailor occurred on June 28, when the second T20 match was played. However, there were no reports of the cricket players kneeling in respect of the slain tailor during that match.
Earlier in 2019, the Indian cricket team paid homage to the 40 CRPF soldiers killed during the Pulwama attack by wearing camouflage caps during a match against Australia.
Verdict:
An image from 2021 of the Indian cricket team taking the knee in support of the BLM movement has been shared with inaccurate claims that the players were showing solidarity with the Udaipur victim Kanhaiya Lal.