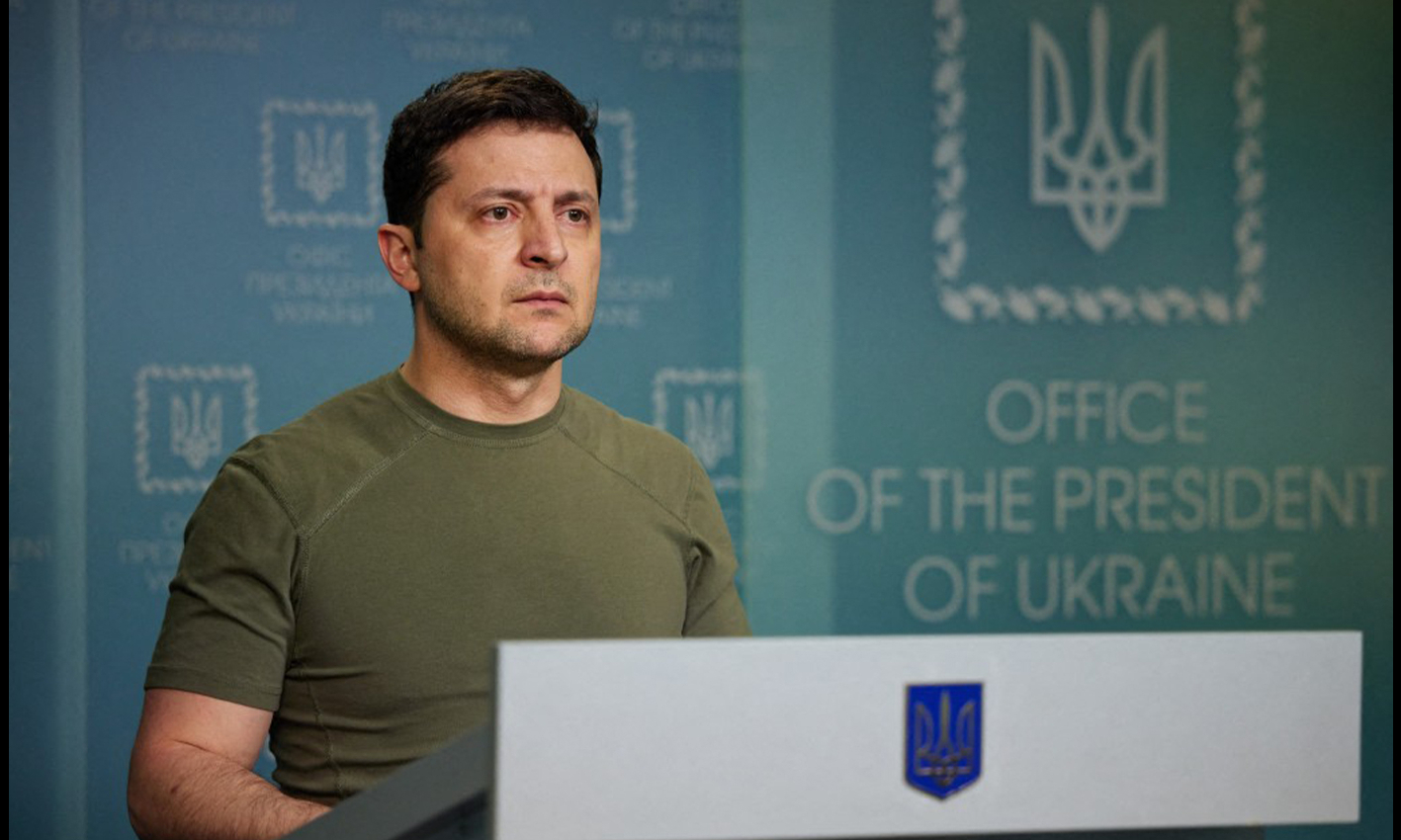 Zelenskyy did not call on NATO countries to use nuclear weapons against Russia. His statement about preventive action has been taken out of context.
Context
On October 7, 2022, a Facebook page named Russian American Daily shared a video of Ukraine President Volodymyr Zelenskyy with the caption, "Zelensky calls on NATO to launch "preemptive strikes" against Russia to "eliminate the possibility" of a Russian nuclear strike." Following this, the Russian government accused Zelenskyy of trying to provoke a nuclear war against the country amid the ongoing Russia-Ukraine conflict. This claim has also been shared on Twitter and Russian state-controlled news websites. However, Zelenskyy's statement has been taken out of context.
In fact
On October 6, 2022, Zelenskyy delivered a speech at the Lowy Institute, an Australian foreign policy think tank from Ukraine, via live video link. In the video, which is 20 minutes 25 seconds long, the executive director of the Institute, Michael Fullilove, asked Zelenskyy a question about nuclear blackmail of Putin, "do you think that the likelihood of the use of Russian nuclear weapons against Ukraine has increased and what more does NATO want to do to dissuade Russia from using nuclear weapons?"
Zelenskyy answered by stating, among other things, that NATO must prevent and discourage the use of nuclear weapons by Russia, referring to the fact that there would be a need for "preemptive strikes so that they know what will happen to them if they use nuclear weapons, and not the other way around." The Ukrainian president also has added that NATO should reconsider the order in which it applies pressure on Russia. During Zelenskyy's remarks, his interpreter said he called for "preventative strikes" but then corrected himself to say "preventative action." Zelenskyy did not call for a preventive nuclear strike against Russia.
Zelenskyy's office issued a statement on October 6, clarifying that he did not call for nuclear war but was talking about the period before the start of a full-scale invasion. Serhiy Nikiforov, the president's press secretary, said in the statement, "Colleagues, you have gone a bit far with your nuclear hysteria, and now you hear nuclear strikes even where there are none. The president spoke about the period until February 24. Then it was necessary to take preventive measures to prevent Russia from starting a war. Let me remind you that the only measures discussed at the time were preventive sanctions." Nikiforov added that Ukraine would never ask for the use of nuclear power.
Many news reports have stated that Russia's president Vladimir Putin has repeatedly hinted at the use of nuclear weapons, creating fear that he might use a small or "tactical" nuclear weapon in Ukraine. On October 4, NPR reported that while Ukraine has multiple nuclear power plants for civilian use, the country does not have nuclear weapons. Ukraine inherited a sizable nuclear arsenal when the Soviet Union dissolved in 1991. But in 1994, Ukraine gave up its nuclear weapons in an agreement under which Russia pledged to respect Ukraine's borders.
The verdict
President Zelenskyy did not declare that NATO should consider a "preemptive nuclear attack" but spoke of "preventive action." Hence we have marked this claim as misleading.