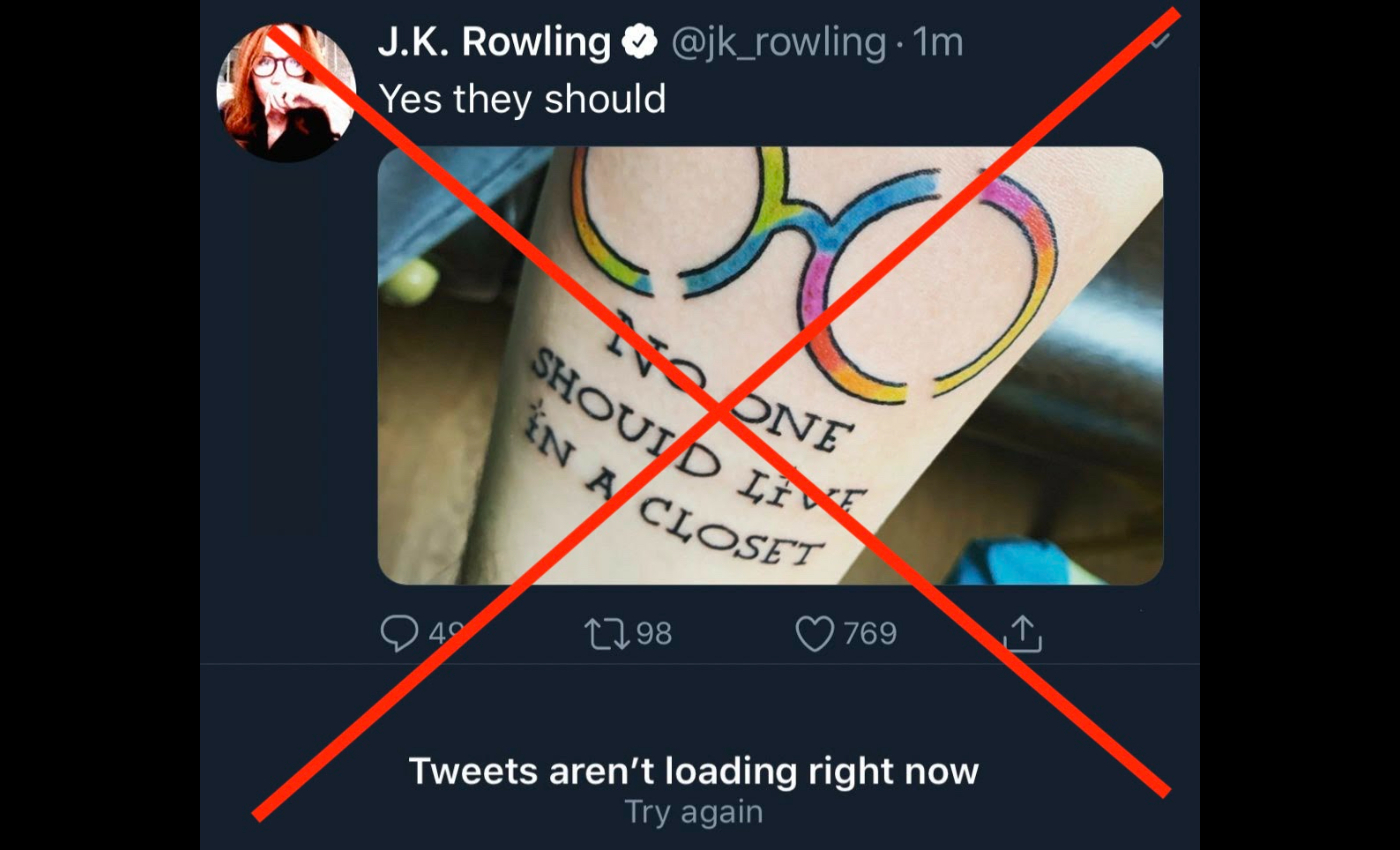 A screenshot purporting to show J.K. Rowling implying LGBTQ people should live in a closet is fake.
Context
The bestselling children's author J.K. Rowling has been a controversial figure since December 2019 due to her stance on transgender rights that many have claimed are transphobic, and for her support for U.K. organizations that many understand to be working against transgender rights. Rowling denies accusations of transphobia, and instead points to her history of support for other LGBT causes.
In 2014, she tweeted an image containing the quote, "If Harry Potter taught us anything, it's that no one should live in a closet." The image also contained rainbow colors and was in response to people asking if she supported LGBTQ people. In August 2022, an image surfaced on Twitter containing a tattoo of the same quote and appears to depict Rowling's quote, with Rowling apparently tweeting it with the caption "yes they should." However, the screenshot is fake.
In fact
This is not the first time this supposed screenshot has circulated on social media. In 2020, shortly after Rowling had revealed anti-trans sentiments, a Twitter user circulated the same screenshot in a now-deleted tweet. A similar pattern follows in the August 2022 tweet by a different user, who had used the trending hashtag #ICantStandJKRowling to claim the screenshot is real. They state it was sent to them by a friend who had notifications for Rowling's tweets turned on, meaning they were able to screenshot it before it was deleted.
However, the screenshot in question has some glaring errors. To begin with, there is no timestamp on the screenshot, which all tweets normally have. Reverse image search reveals only one copy of the screenshot, all with the same amount of engagement – 49 replies, 98 retweets, and 769 likes. Rowling's profile picture in the screenshot also differs from her current profile picture, so even if the tweet were real, it would not be recent as claimed.
BBC disinformation journalist Shayan Sardarizadeh has also confirmed that the tweet is fake, stating, "A different tweet she deleted because of a typo was edited to make the screenshot. This fake screenshot has been shared on Twitter on several occasions since 2020."
The verdict
There is no evidence that J.K. Rowling tweeted the image to say people should live in the closet. This screenshot has circulated previously, and we have determined it to be false.
Reference links
truthorfiction
Twitter
Twitter
The Cut